Posted by Francois Pistorius on 6th Oct 2023
Spring and summer arrived both at once. Mornings are warm, and the days are longer with loads of sunshine. It's the perfect weather to open a light wine next to the pool. Try a light Portuguese wine. And, while you pop a bottle, why not light this cigar from Mexico?
A new cigar. Recently released. It is the 1910 Cuchillo Parado.
When it comes to companies making cigars in Mexico, the list of names is short. In 2021, a new company called Casa 1910 entered the premium cigar industry. The goal, change the way cigar smokers think about Mexico. While at the same time creating a brand that celebrates the country's heritage and culture.
The company gets its name from the year of the Mexican Revolution. The 1910 debut cigar, the Cuchillo Parado, references the town in Chihuahua state where the revolution began.
It is a Mexican puro with a Sumatra seed wrapper aged for three years. The binder, which comes from the San Andrês region, ages for five years. Once those two leaves combine with the San Andrés-grown filler, the finished cigars ages for another six to eight months. The ageing process helps ensure a smooth and flavourful experience. That ageing happens at a factory in San Andrés Tuxtla in the state of Veracruz.
Casa 1910 Cuchillo Parado is a Mexican puro. The cigar comes in only one size, a 5 x 50 Robusto. The blend uses a three-year-old Mexican Sumatra wrapper, with the binder and filler of all different varietals. The varietals are from San Andres negro tobacco aged five years. The cigars age for six months after rolled.
Casa 1910 Start
The company's first release was the Casa 1910 Cuchillo Parado. A Mexican puro and rolled in Mexico. Since then, they released several other lines. Some made outside of Mexico and using tobacco from other countries.
Juan Manuel Santiago Casillas blends the cigars.
He worked as a marketing manager for Importadora y Exportadora de Puros y Tabacos S.A. de C.V.
The Mexican distributor of Cuban cigars. He is also a "Master in Habanos," the highest rank given to graduates from Habanos S.A.'s Habanos Academy, a training program run by Habanos S.A.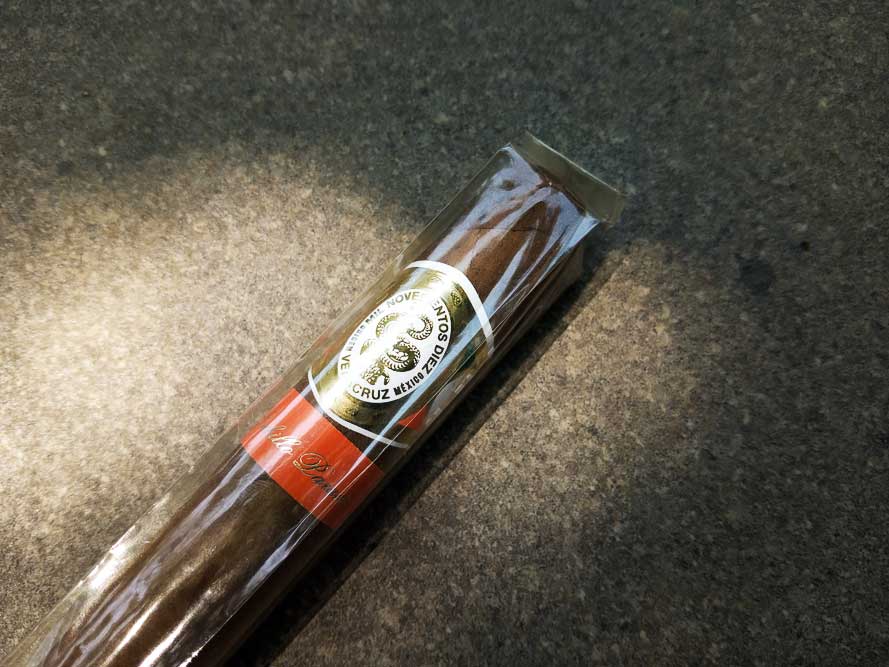 Cigar Details
Vitola: Robusto
Length: 5″
Ring Gauge: 50
Country of Origin: Mexico
Wrapper: Mexican Sumatra
Binder: Mexican San Andrés
Filler: Mexican San Andrés
Factory: Undisclosed
Blender: Manolo Santiago
Casa 1910 Cuchillo Parado Details
Appearance
The wrapper has some seams and veins with a smooth caramel shine.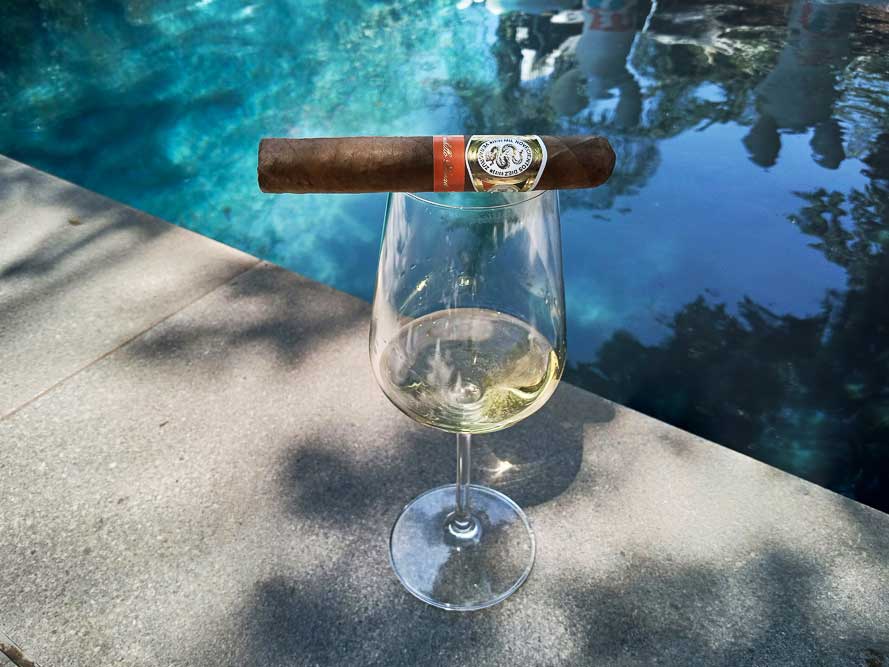 Casa 1910 Cuchillo Parado Aroma Scent
There are light sweet, earthy, and floral notes on the foot.
Earthy nutty notes
Cocoas and Caramel
Cumin spice and dried grass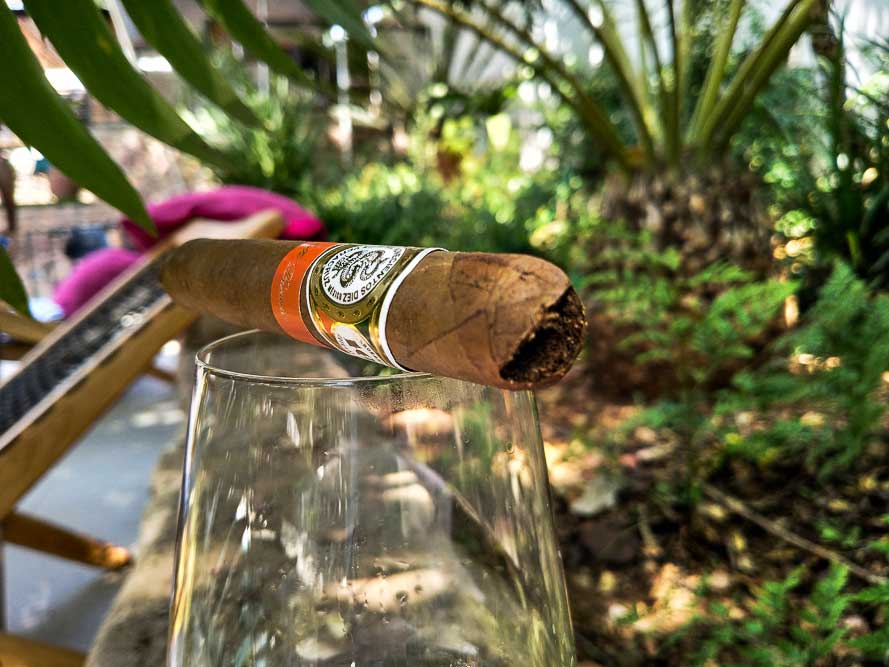 Casa 1910 Cuchillo Parado Dry Draw
Nutty spice
Cream caramel
The draw is smooth but firm with hints of barnyard-dried grass and oaky tastes.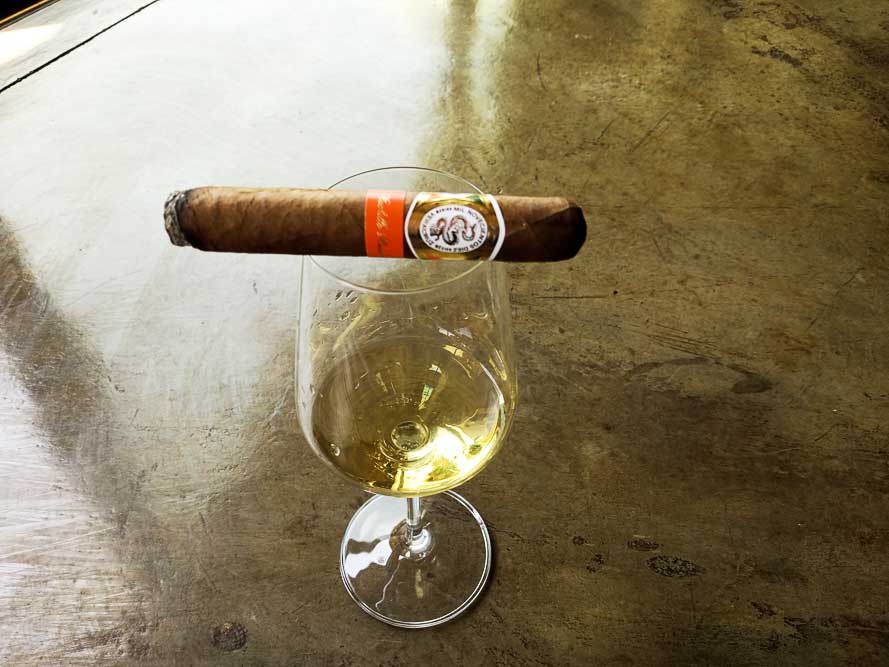 Casa 1910 Cuchillo Parado First Puff
First Puff
Strength: Mild-Medium
Body/Complexity: Light-Medium
The first taste is cocoa. A mix of caramel and cocoa blends into the taste. The wine adds beautiful fruity flavours that a coffee mixture comes through. Retrohale is a strong spice a lot of black pepper spice.
There is a delicious sweet floral dry draw that makes me excited to light this cigar up. The first puffs open with that sweet floral flavour along with a bit of cedar and earth in the background. A light spiciness mixes in and lingers on your tongue with each puff.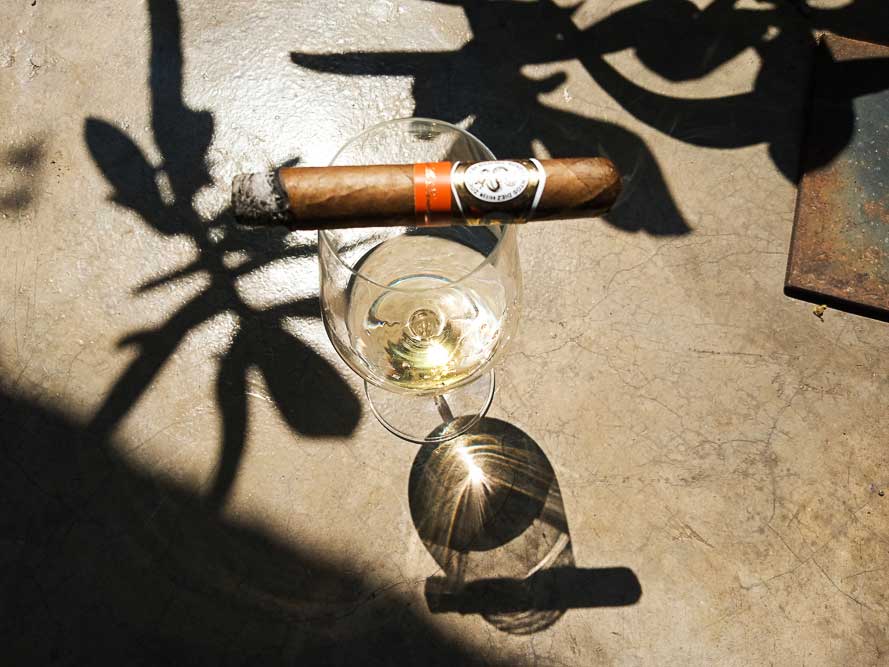 Cigar evolution
The flavour continues with light caramel notes and coffee, but there is a hint of faint liquorice. Retrohale has calmed down on the spice and has mild cumin spiciness.
The second part stays consistent and smooth. There are undertones of dry straw and smokey barnyard flavours. The smoke is still thin, and the mouthfeel is medium.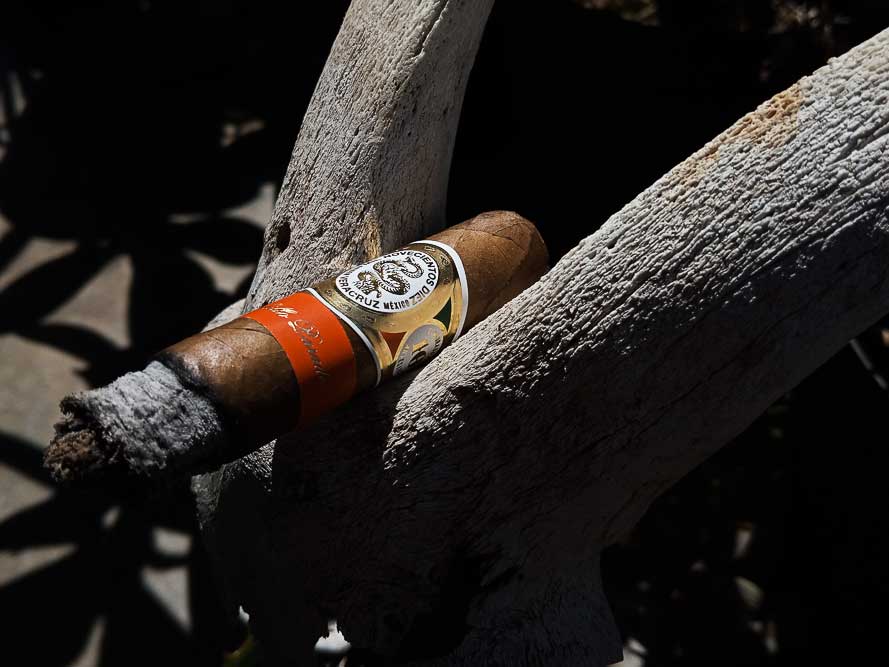 Final Part
The final third evens out the flavours with the muscadel tastes in the wine. There are hints of bitterness, but the wine's fruity character counters the bitterness. It's a smooth and easy-smoking cigar with hints of caramel chocolate and a medium smooth finish.
The spice level intensifies towards the end. Pair the cigar with an espresso and a 1920 Brandy, and the pairing ends with a smooth caramel cocoa finish.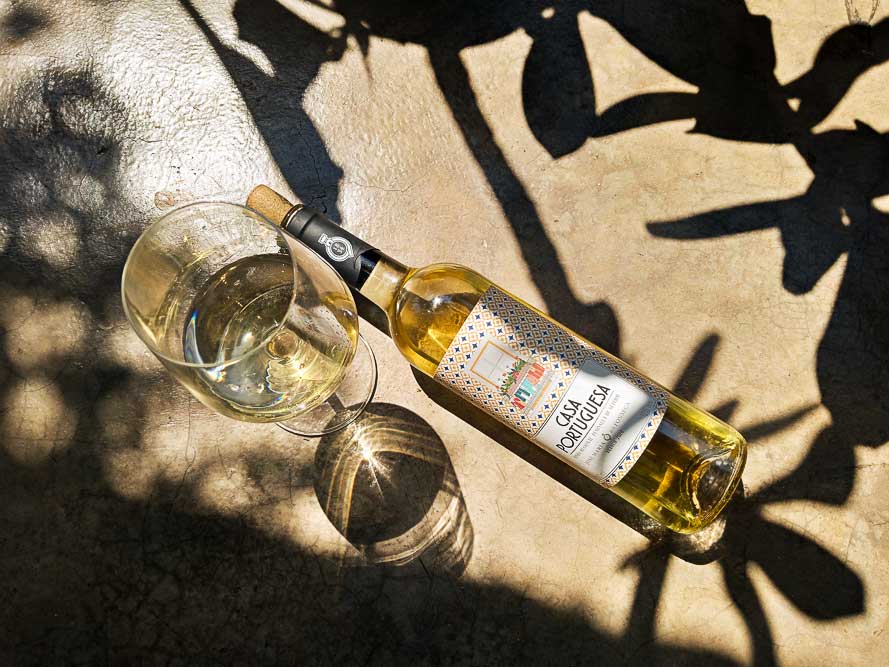 Casa Portuguesa White Wine
Casa Portuguesa is a toast to the character of Portuguese wines.
VINTAGE: 2021
GRAPES: Fernão Pires (80%) | Moscatel de Setúbal (20%)
TYPE OF SOIL: Sandy
WINEMAKER: Winemakers team of José Maria da Fonseca
SHELF LIFE: Drink while young
SERVING SUGGESTIONS: Serve at a temperature of 11/12oC with fish and seafood
12,5% Alcohol
Tasting Notes
Colour, Citrus Yellow
Aroma, Tropical fruits
The palate is fruity with a very persistent freshness
Finish, Medium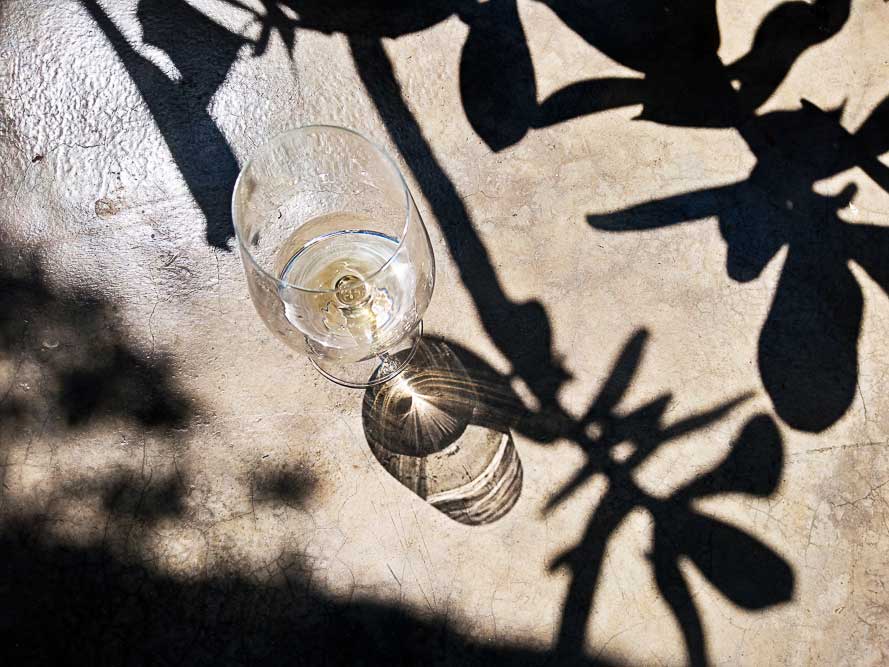 Casa Portuguesa White Wine Scent
Pears
Pineapple
Fruity nose
Tropical fruits
Summer tropical fruity to enjoy by the pool.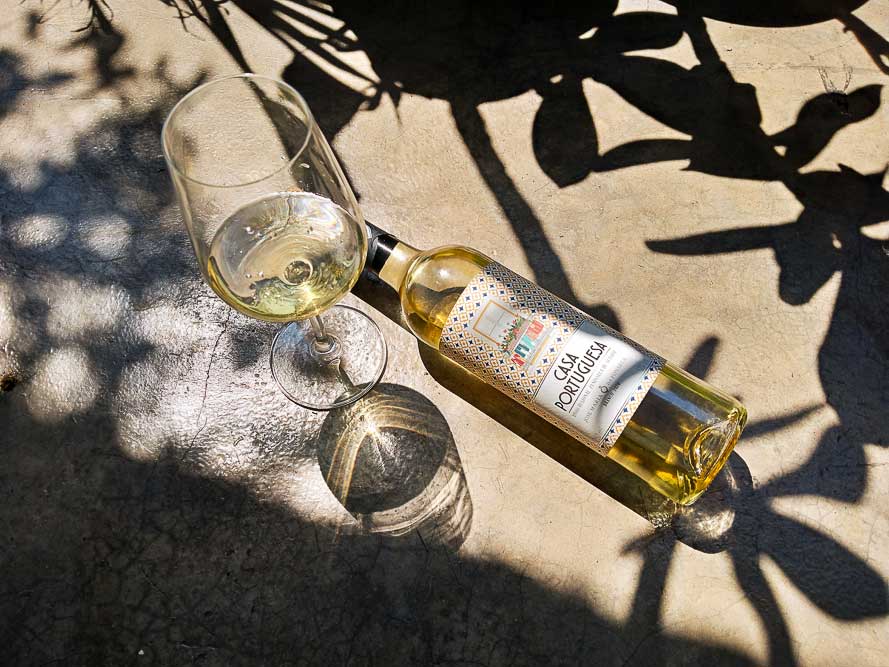 Casa Portuguesa White Wine Taste
Soft acidity
The Moscatel grape adds a rounded sweet taste blended with Fernao Peres. The wine has a delicious waxy coating on the palate.
Overall Casa 1910 Cuchillo Parado Cigar review
Draw:
The draw was easy and smooth from start to finish. It allows you to enjoy the medium-bodied caramel-tasting cigar.
Burn:
A great burn with no touch-ups needed.
Construction:
Well-made cigar. The Ash shows beautiful construction and burn lines.
Strength: Mild-Medium
Body/Complexity: Medium
There is a slight bitter note. But the fruity wine and espresso did counter the bitter notes.
It is a cigar ideal with a morning coffee or a slow lunch. Light this cigar on a warm summer evening with your favourite drink.
There is a wonderful sweet caramel opening with a slight spice moving into a rounded cigar profile. The ending does add some heavier spice although it is not overbearing. The cigar stays smooth and consistent.
Caramel and coffee is the main flavour. The spice comes and goes. It depends on what you pair the cigar with. The fruity Portuguese wine makes an excellent pairing that adds hints of sweetness to lift the cigar's caramel notes.
A cigar with a colourful wrapper. It is a cigar with a refined profile and a smooth puff. The raw nuts and spice combo keeps your interest.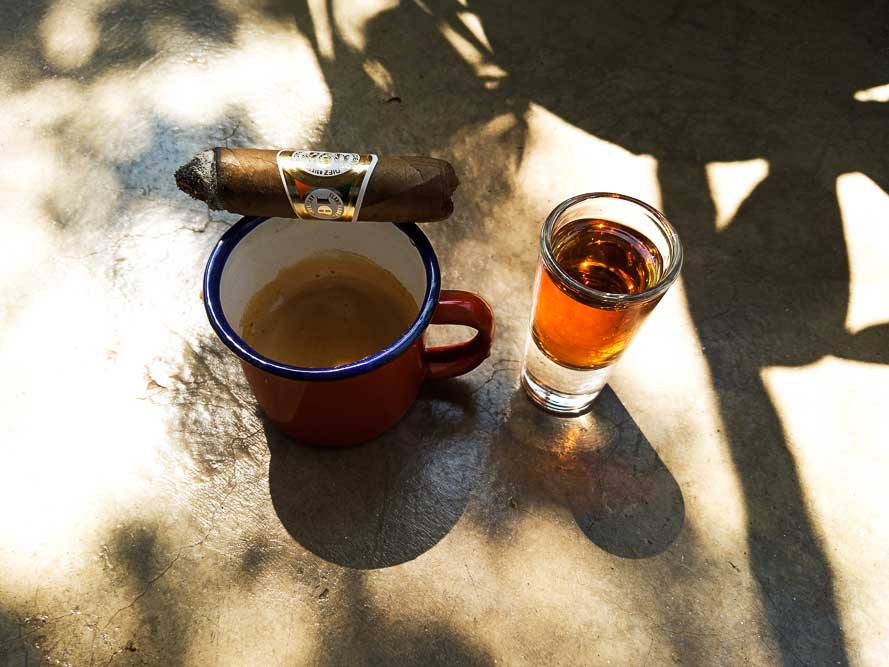 Casa 1910 Cuchillo ParadoThe last puff
The cigar nears the end. What is better than pairing your cigar with an espresso? While enjoying the espresso pairing, add a shot of 1920 Portuguese brandy to finish with a smooth, sweet caramel and cocoa pairing. Toasty and easy smoking right to the end.
Grab one try it for yourself and make your own decision.
Visit the new store to buy the full range 1910 Cigars...