Posted by Francois Pistorius on 26th May 2022
El Septimo Short Dream Topaz and Cape Rock White 2017 Pairing
A smokey taste of Costa Rica
It's a country known for its rainforests, waterfalls and volcanoes. Between the spectacular nature, El Septimo grows premium tobacco.
The dark roasted cigar blend shows veins and glistens with a dark shade. It is a thick 60 ring gauge cigar in the Diamond range.
The Short Dream Topaz is hand-rolled with four leaves of the finest vintage tobacco. A cigar characterized by a shiny dark wrapper. It has a perfect draw and an even burn. The cigar will pair well with white wine or bourbon whisky.
The cigar is full of spicy notes and roasted nut flavours.
If you love a short and punchy cigar, the El Septimo Short Dream Topaz is a must light cigar.
Would I recommend it?
Yes, for sure.
But not if you are new to cigar smoking. It is a big and bold, punchy cigar.


Short Dream Topaz Cigar
El Septimo Short Dream Topaz Diamond Series
Country of origin Costa Rica
Wrapper Costa Rican
Binder Costa Rican
Filler Costa Rican
Size: 103mm / 4 Inches
Ring Gauge 60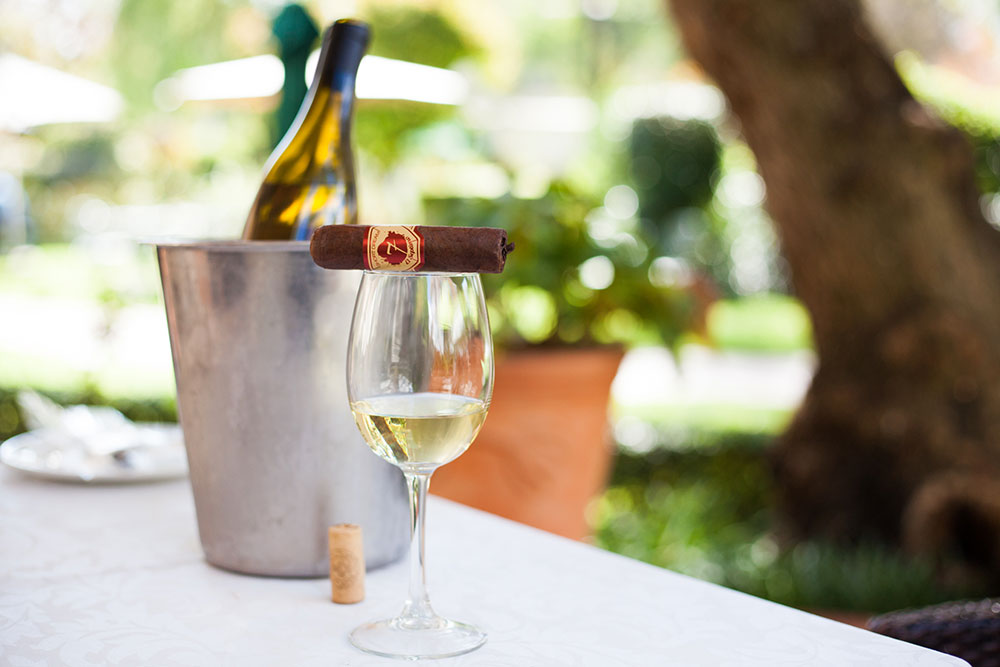 Short Dream Topaz Cigar
Review
The El Septimo cigar has flavours you've never tasted before. The cigar wrapper leaf is dark and oily and rolled to perfection. All the El Spetimo tobacco age at least five years.
It is an expensive cigar but offers rich aromas, flavour and construction. Each cigar has a closed semi pigtail foot.
The cigar starts toasty. I am sure the wrapper leaf of the closed foot contributes to the toasty notes.
It is flavourful and bold. Dark and rich smokey meat flavours emerge and morph into smokey, savoury tobacco tastes.
The cigar is not a quick smoke even though it is short. Subtle flavours of sage develop, herbal and earthy. There is prominent white pepper spiciness throughout the cigar.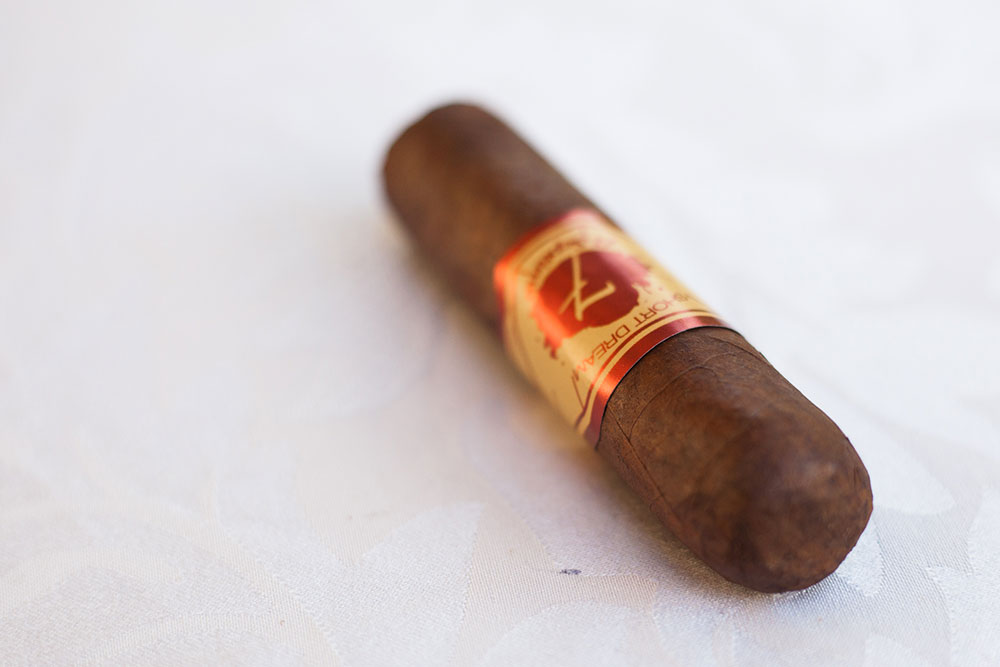 El Septimo tobacco profile, premium aged tobacco cigar
It is a different tobacco flavour profile compared to other full strength cigars. It is darker and stronger. The extra strength is not from the heat. I smoke very slow. It is a pure full-bodied cigar.
The tobacco has a musky tobacco flavour unique to the Short Dream Topaz.
El Septimo cigars need time and appreciation for every single draw. It often takes decades for other tobacco houses to achieve the same quality. El Septimo achieved greatness in only ten years.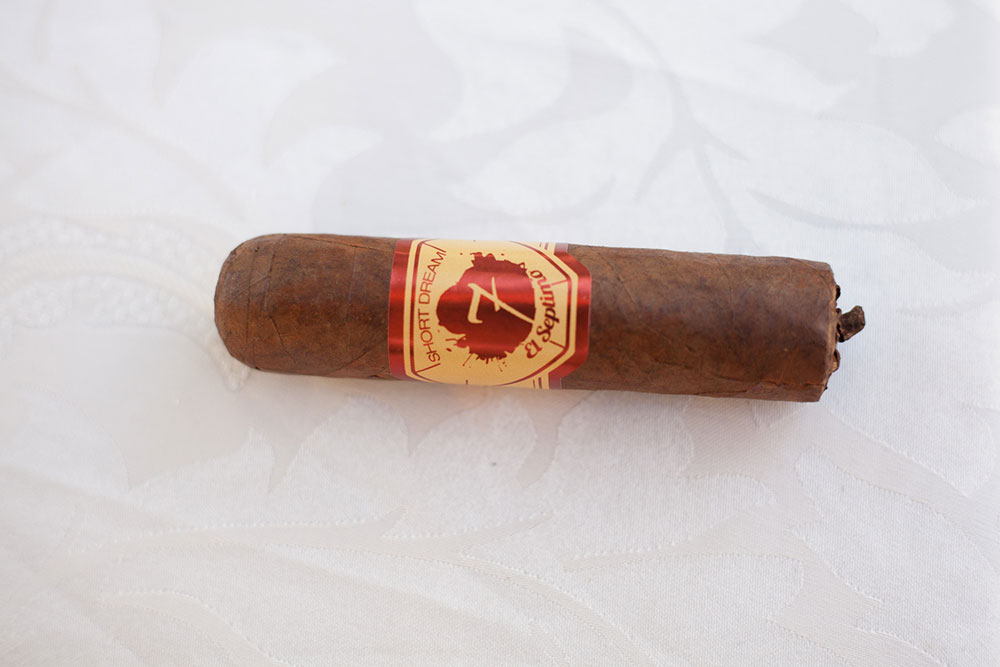 El Septimo Story
The Foundation For A New Concept
At the beginning of the century, El Septimo launched a life-long project to offer the best cigars in the world. El Septimo evolved by cigar connoisseurs and master blenders.
Tired of the same flavours, premature stocks, low-level manufacturing, lack of detail and quality control, the El Septimo team decided to start from the beginning.
The first step was to find the perfect tobacco leaf.
Boosted by the growing demand for cigars globally, it was urgent to find new soil.
Years of intensive research and visits to available land worldwide made the El Septimo team conclude that they needed to create their supply from their plantation. As a result, the team found the ideal place to begin the process in the lush mountains of San Jose, Costa Rica.


El Septimo Cigars Tobacco
In Costa Rica, the tropical climate, high altitude of 6,500 feet above sea level, and fertile soil create the perfect terroir. By adding the best seeds to the most gifted producers and winders, El Septimo was born.
El Septimo has over 40 puros blends. The Cigars are hand-rolled with 100% long filler tobacco using the traditional Entubar Method. Each cigar undergoes strict quality control.
Oscuro wrappers are grown in a high-altitude process, giving cigars a silky texture with a rich, deep shade and flavoursome leaf. Collections differ in tobacco leaf blends and tobacco ages ranging between five and fifteen years. El Septimo Cigars are organic, with zero preservatives or chemicals added. The cigars are free from tars and impurities.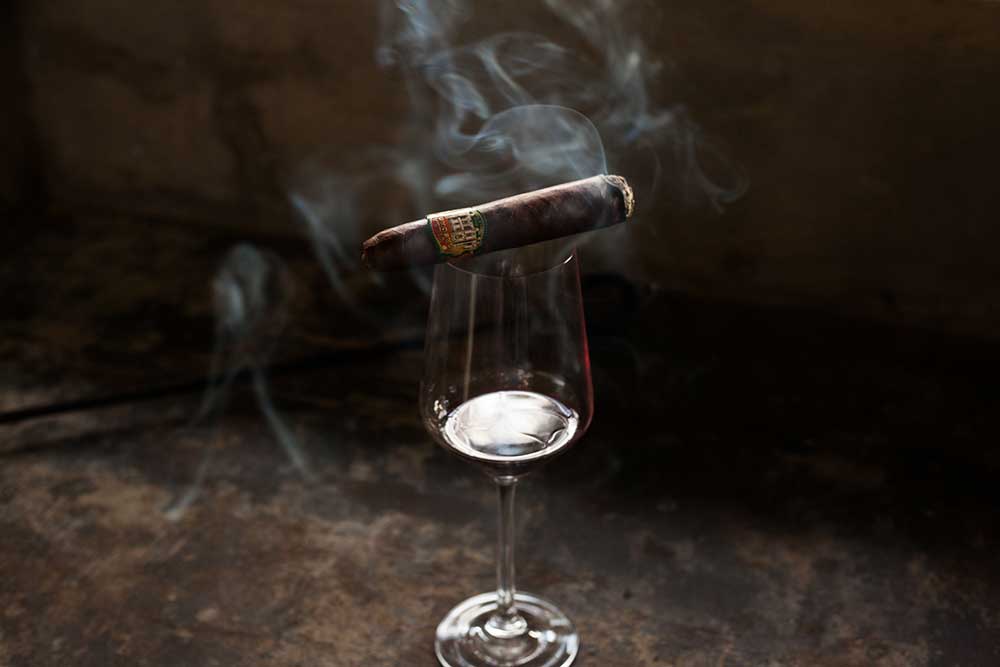 A New Era
Zaya Younan, cigar lover, entrepreneur, and CEO of Younan Collection, an international investment firm and manager of luxury hotels, golf courses, and resorts, bought El Septimo in March 2019.
By listening to the stories and opinions of premium cigar smokers worldwide, El Septimo created a boutique cigar.
The premium cigar and tobacco company continues to break boundaries by creating new products to meet and exceed the growing demand of premium cigar smokers.


A World Renowned Brand
El Septimo is a name cited in exclusive groups and is a brand followed by faithful lovers who can find premium cigars worldwide. El Septimo's customers describe the aged cigar as having a superb construction and excellent burn with a rich, creamy flavour.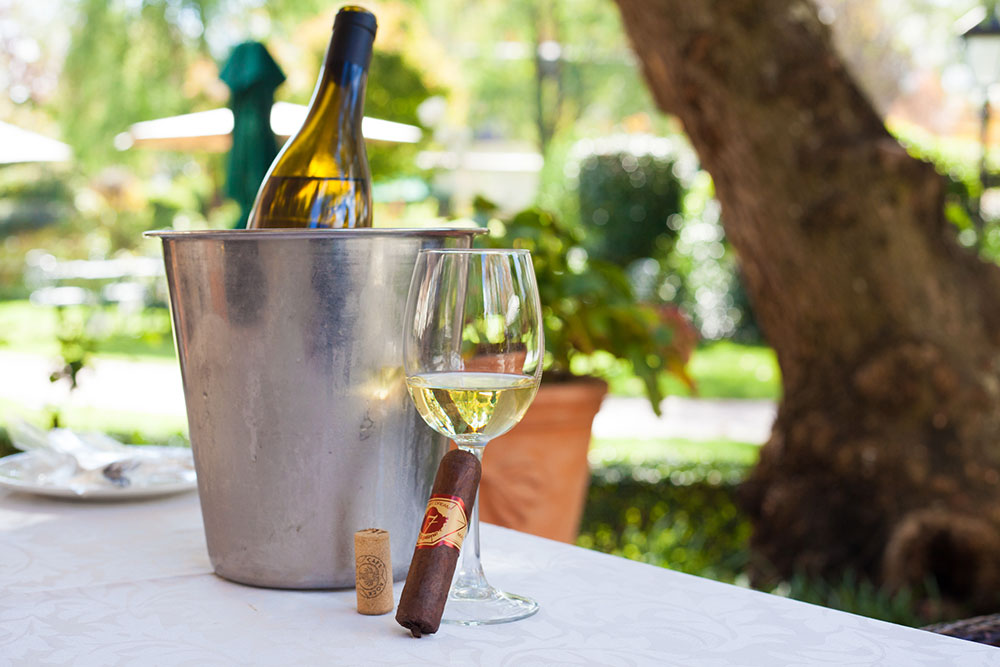 El Septimo Story
El Septimo symbolizes the seventh day of creation when God rested and appreciated his work, creating a unique smoking experience that represents the joy of living.
In the biblical story of creation in the first chapters of Genesis, God created night and day, the heavens and the earth, every kind of life and humanity in six days.
At the end of each day's work, He surveyed His creation and declared it good. On the seventh day, He rested from all his work. Only God knows how He spent His day of rest. Zaya Younan likes to think that he relaxed with a cigar. The Great Creator's seventh day of rest and relaxation is the inspiration for El Septimo Cigars.
In Latin, "El Septimo" means "the seventh," Since founding the company in 2005, the Swiss-based company has gone to great lengths to redefine the standards in making an excellent cigar.
El Septimo Cigars is a brand of ultra-premium, luxurious cigars that encompasses more than 40 different variations. The cigars contain all the tobaccos necessary to blend the elegant but complex flavours and aromas distinctive to El Septimo Cigars.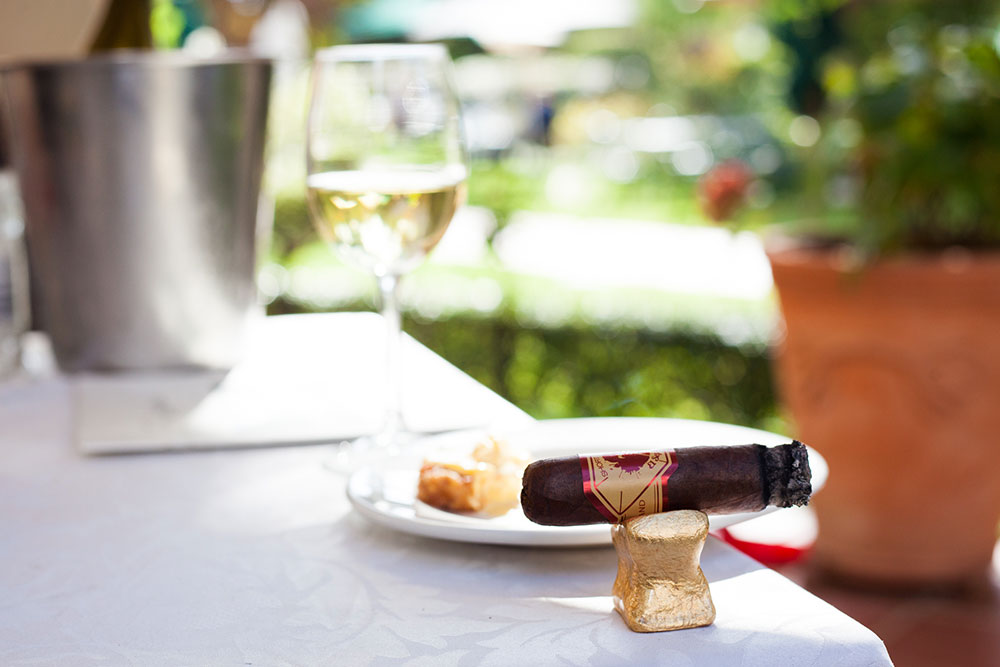 A trip to Paris signed the deal.
A cigar smoker for 30 years, Younan came across El Septimo while visiting Paris a few years ago. After smoking the cigar, Younan enjoyed it so much that he bought the company. Younan believes the brand's popularity will grow in the United States, like Europe and Asia.
"Smoking that El Septimo was an incredible experience," Younan explains. "On the flight home from Paris, I couldn't stop thinking about it. When I got home, I tried smoking my other cigars, and I could not forget the flavour and experience I had when smoking an El Septimo."
"It is an exceptional cigar, and nothing comes close to it."
Passion, the Driving Force
Zaya Younan is the chairman and CEO of The Younan Company. He owns a private equity firm and a commercial real estate management company. La Grande Maison Younan Collection includes hotels, resorts, golf courses, a luxury design firm, wine and spirit companies, and El Septimo Cigars.
Younan bought the company in March 2019. He devotes more time to El Septimo's daily management because it's the one business closest to his heart.
"I love the product." Younan.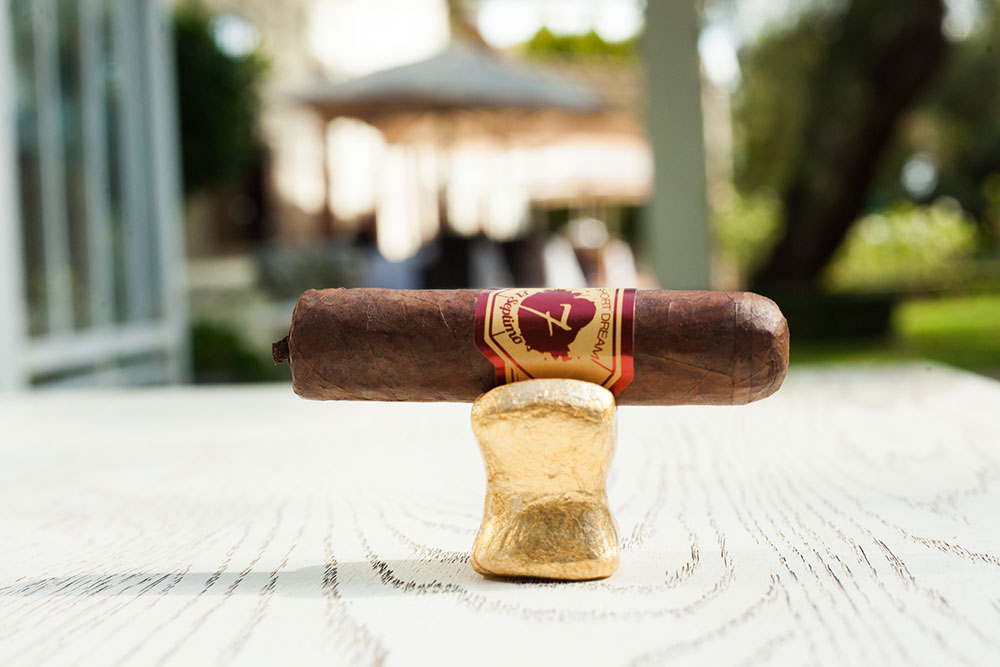 Zaya Younan
Zaya Younan obtained a degree in mechanical engineering from the University of Illinois in 1985 and then began working for General Motors. While at GM, Younan spearheaded the development of automobile airbags and spent much of his career perfecting the devices. He worked on inventions, such as keyless entry systems, navigation systems and variable temperature seats, to name a few.
His engineering education allowed him to become an innovator and a great problem solver. I learned that every problem has a solution, and the challenge is finding it.
Since 2015, Younan has expanded his business interests by venturing into the luxury and leisure realms within the European market. Younan has done an impressive amount of good with inventing products such as airbag systems, an invention that has saved millions of lives. He loves the luxury and leisure industries for their ability to improve the quality of people's lives.
A glass of champagne or a fine wine with a cigar makes memorable moments. Luxury products and experiences offer a lot to improve people's lives.
The hotels, golf resorts, restaurants, champagne and wine vineyards, and El Septimo Cigars that Younan owns offer people unique and premium products and experiences.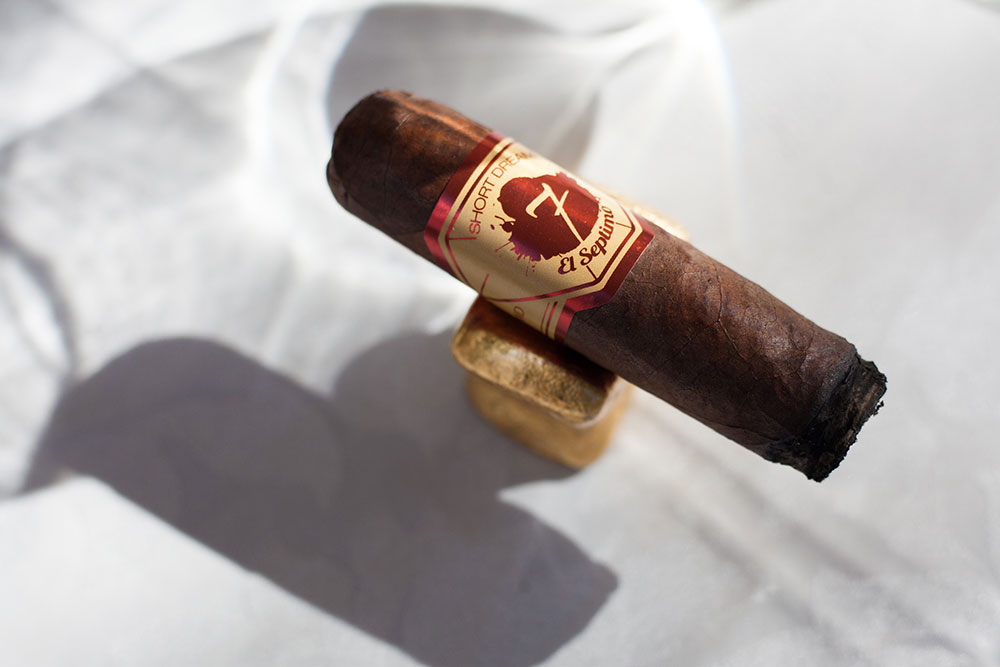 El Septimo's Way
The company's tobacco farm is in San Jose, Costa Rica mountains. The rich soil of the volcanic mountains is perfect for tobacco growers. The land offered El Septimo's agronomists and tobacco growers a nutrient-rich field. The farm's high altitude also provided the perfect climate. The location has ideal natural humidity for tobacco growing without fertilizers, herbicides and insecticides. The chemicals can affect the tobacco's flavour and aroma.
El Septimo's grows organic tobacco. These blends contain tobaccos aged five to 15 years. The cigars offer unique flavours and aromas that discerning cigar smokers demand.
Each new plant receives a lot of attention and love. The tobacco ages on the farm, ourselves. We blend and hand-roll the cigars ourselves.
Before Younan purchased El Septimo Cigars, the brand was only available in a few retail shops in Europe, Asia and on the El Septimo website. Younan's immediate goal is to expand El Septimo's market presence is growing.
The brand is very well-known globally but not in the U.S. The U.S. is the biggest market globally, so the focus is to grow the brand in the U.S.
El Septimo's team of expert cigarmakers hand-select aged tobacco for use.
Another feature of El Septimo's cigars is that even the fullest-bodied offering never overwhelms a smoker's palate.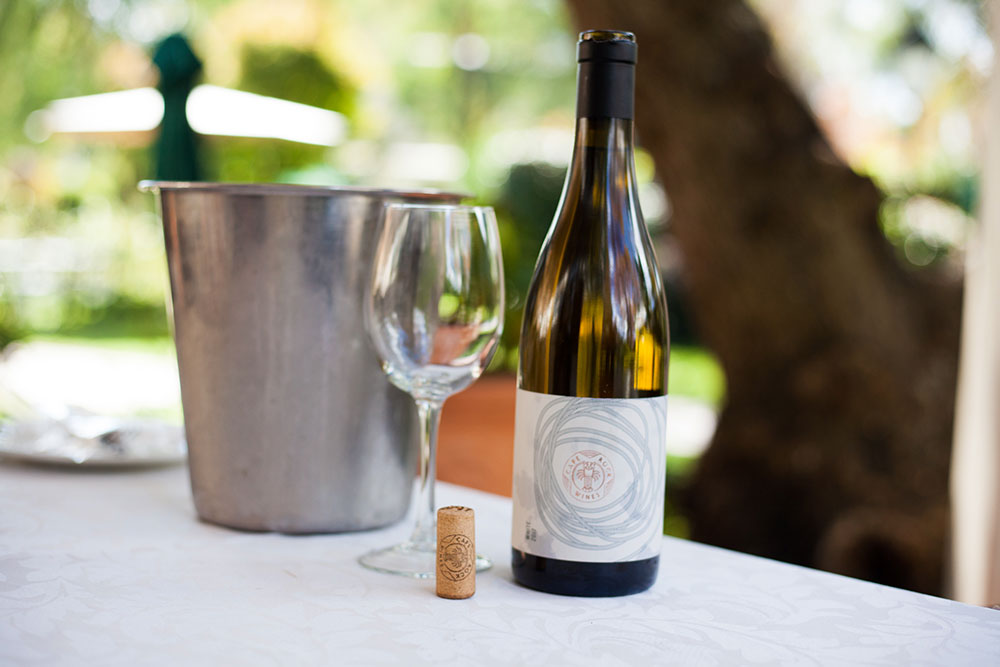 Cape Rock Wines
You can find Cape Rock wines between the towns of Vredendal and Klawer, 300km north of Cape Town. It is 30 km inland from Doringbaai on the West Coast of South Africa.
Gavin and Willie are self-taught winemakers. Learn by doing. You can look at all the diagrams of vines you want, but only winemaking experience will educate you.
Self-taught or not, this South African White Rhone blend is ripe while retaining good natural acidity and an elegant mouthfeel. On the palate are melon, white peach, pear, pineapple and apricot flavours.
The farm grows a variety of red and white grapes.
Syrah,
Viognier,
Carignan,
Grenache,
Marsanne,
Mourvèdre,
Roussanne,
Colombard,
Grenache Blanc,
Cabernet Sauvignon.
The vines grow on a single 11-hectare farm above the banks of the Olifants river floodplain.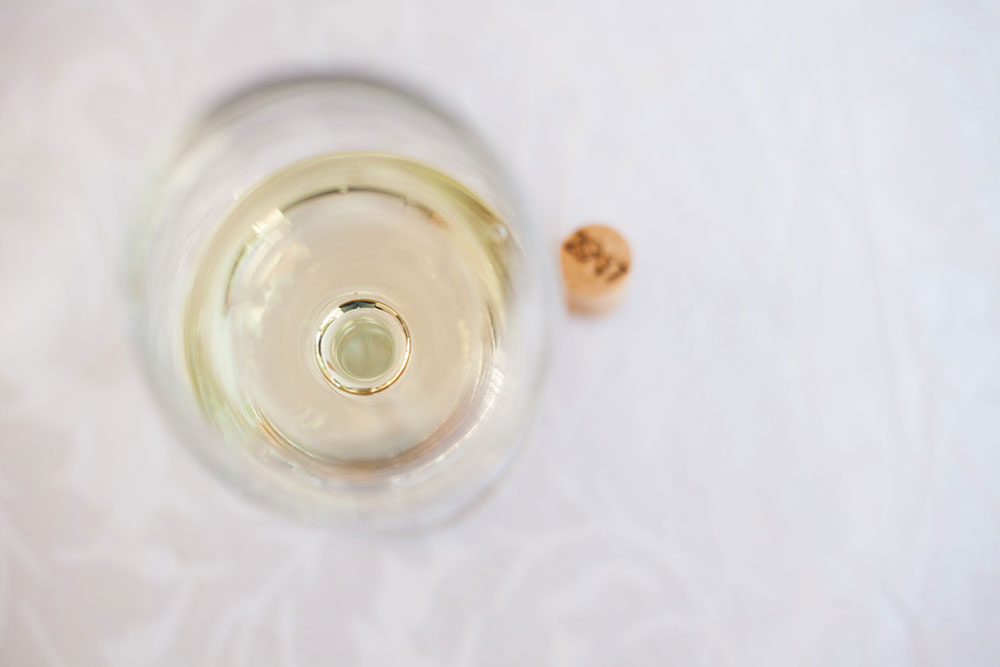 Cape Rock White 2017
Rhone white blend with 46% Viognier, 26% Grenache Blanc, 21% Roussanne and 7% Marsanne.
4410 bottles produced
Handpicked grapes
Naturally fermented
Aged in old French barrels
Unfined and lightly filtered at bottling


Average Yield
Ave. 11 T/Ha


Soils
Fertile, well-drained red silt and clay with broken hardpan underlying layer.


Vinification
The team handpicks the grapes for the white blend in the morning on the 4th of February. After whole-bunch pressing, the juice settles overnight in a stainless steel tank. The clean juice taken off the gross lees transferres to 3rd fill 300L French oak barrels in which natural fermentation started and completes after +-14 days.
The wine exists the lees and returns to barrels where it matures for a further five months. The barrels get a monthly stir to suspend fine lees and improve mouthfeel. The wine leaves the barrel two weeks before bottling and gets filtered at bottling. The wine was not cold stabilized to keep the best flavour.


The Wine
The team picks the grapes at full ripeness, resulting in a full-flavoured wine, displaying intense fruit flavours like melon, white peach, pear, pineapple, lychee and apricot on the nose. The mouthfeel is full but smooth with good staying power. Enjoy the wine young to enjoy the fresh fruit flavours. The wine is brilliant. You can pair the wine with white meat, roast pork, cream-based dishes or a variety of light seafood dishes.


Cape Rock Wine Philosophy
Cape Rock aim to make wines in the simplest possible way.
The winemaker uses natural fermentation, resulting in a broader range of flavours in the wines. The team use farm grapes and add as little sulphur as possible during the winemaking process.
They handpick the grapes and press them with a small-batch pneumatic or ancient champagne press. They use free-run juice or wine and stop pressing before any harsh tannins release. It is silky mouthfeel wine that you can enjoy from a young age.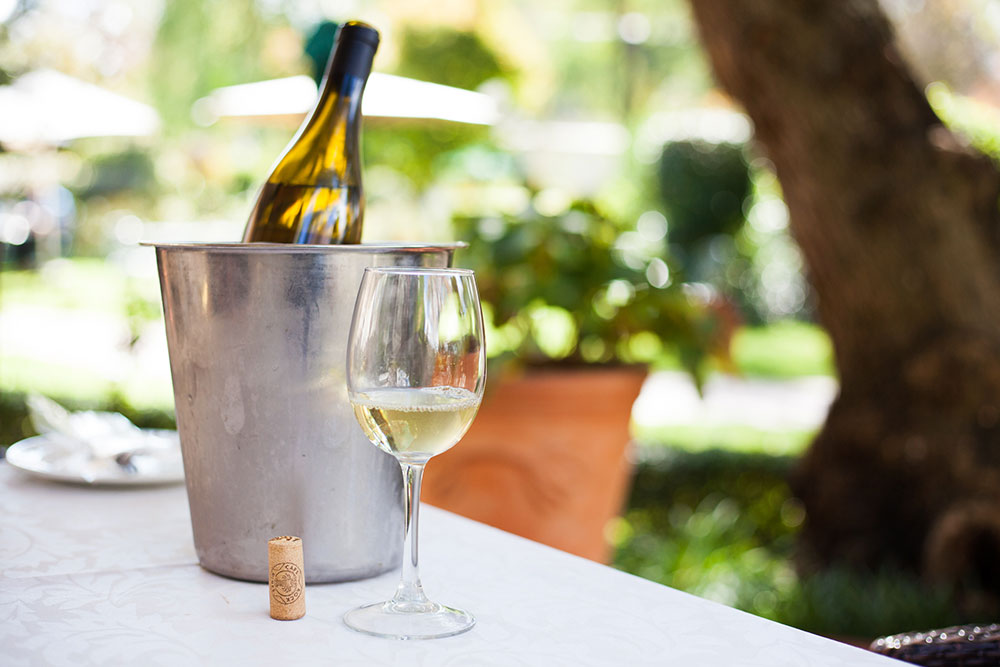 Cape Rock White 2017 Aroma
limes
lemon
salty air
misty air
seashells
lemon cake
waxy saltiness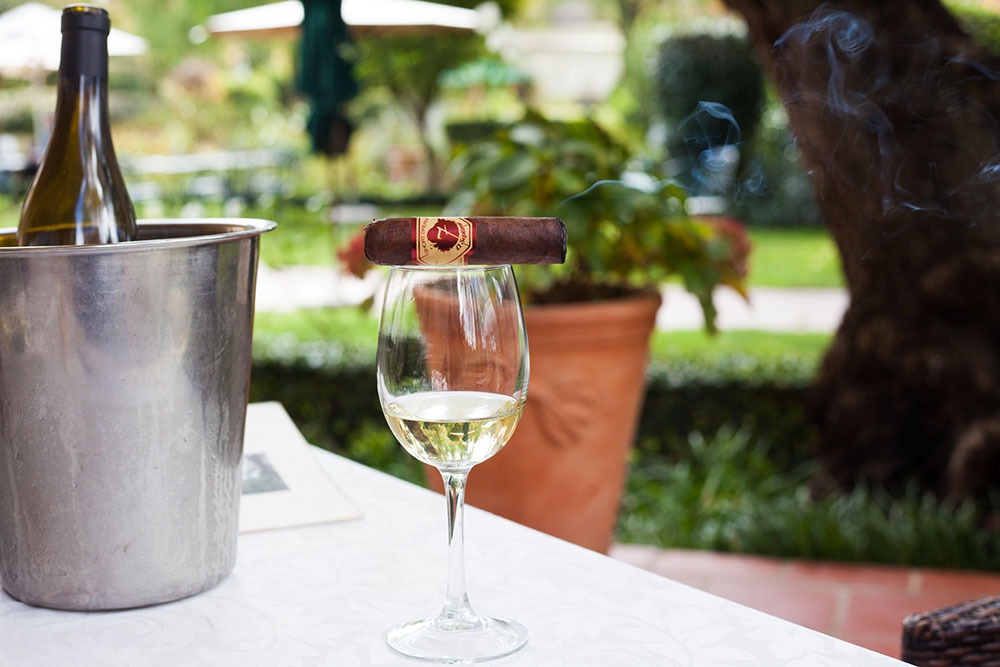 Cape Rock White 2017 Taste
full flavour
waxy taste
lemon cake
fried peaches
balanced ph
crusty, salty sugar
lack of alcohol significant
European styled Rhone blend
Long ageing potential for a white wine
The wine is incredible. I would say one of the best white blends tasted up to now.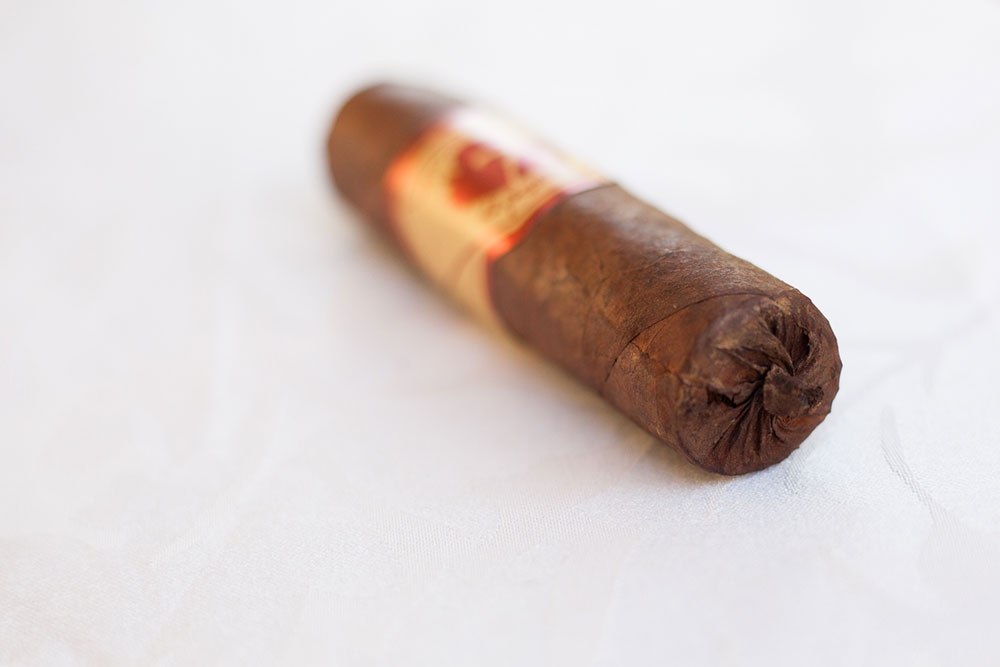 El Septimo Short Dream Topaz Cigar Appearance
Stocky cigar
Roasted flavours
Walnut wood colour
Sun-grown tobacco
Oily sheen in the sun
Bold, rough, woody texture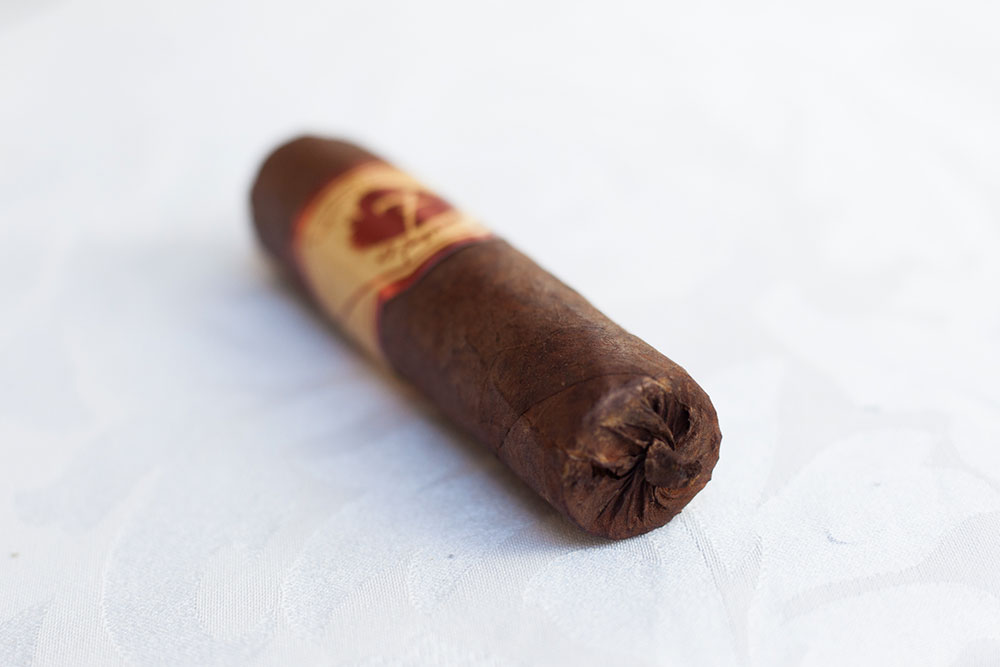 El Septimo Short Dream Topaz Dry Aroma
Charred smokey aged tobacco aroma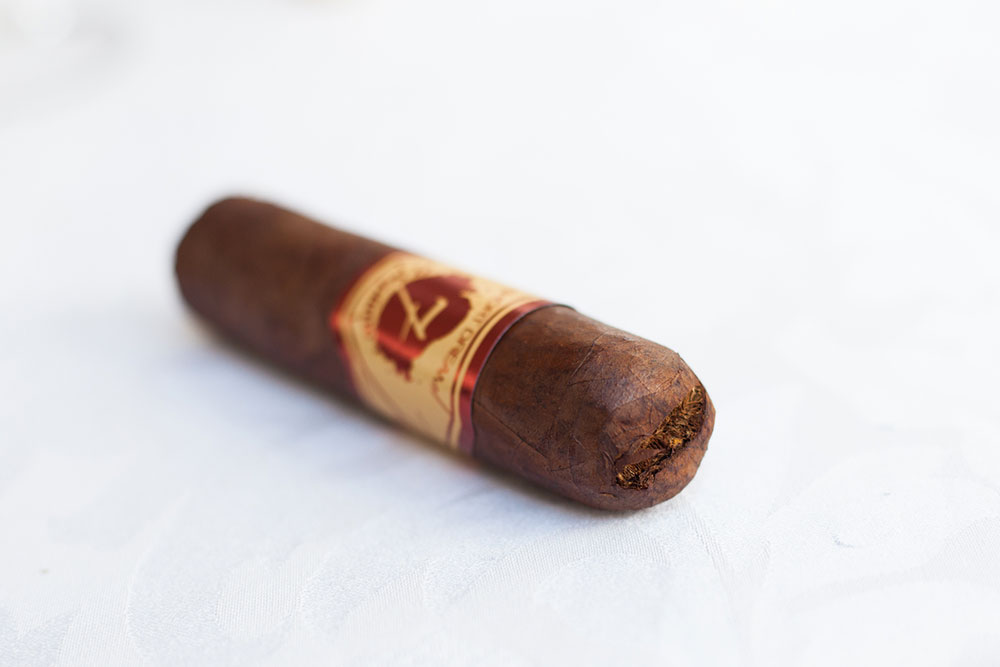 El Septimo Short Dream Topaz Dry Draw
Easy light draw
Charred flavours
Roasted vegetables
Dry cereal flavours like corn flakes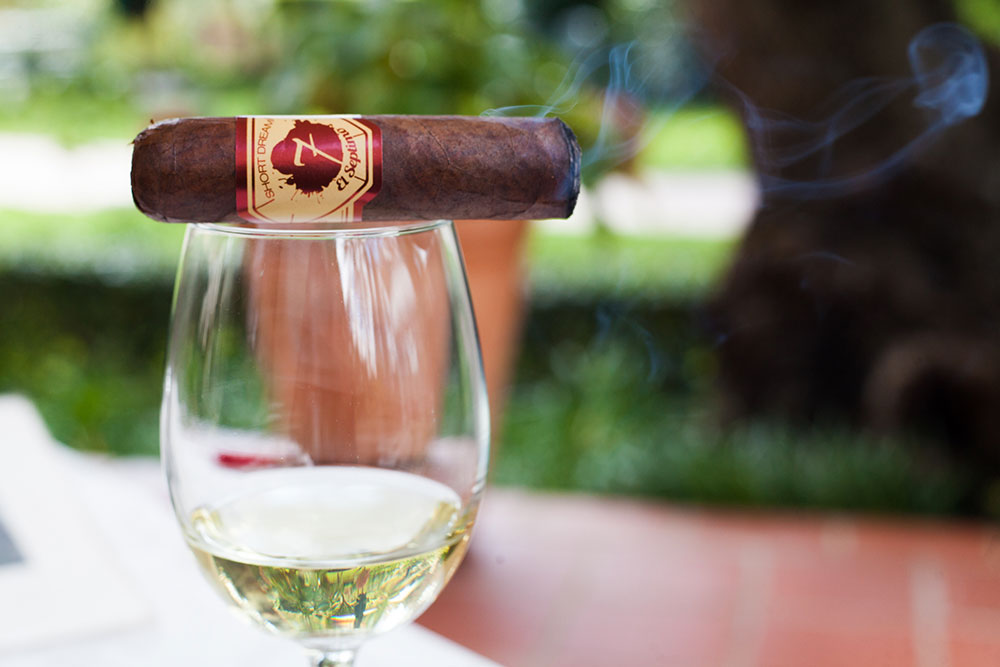 El Septimo Short Dream Topaz First Puff
Charcoal fire aroma with slow-cooked rich meat flavours.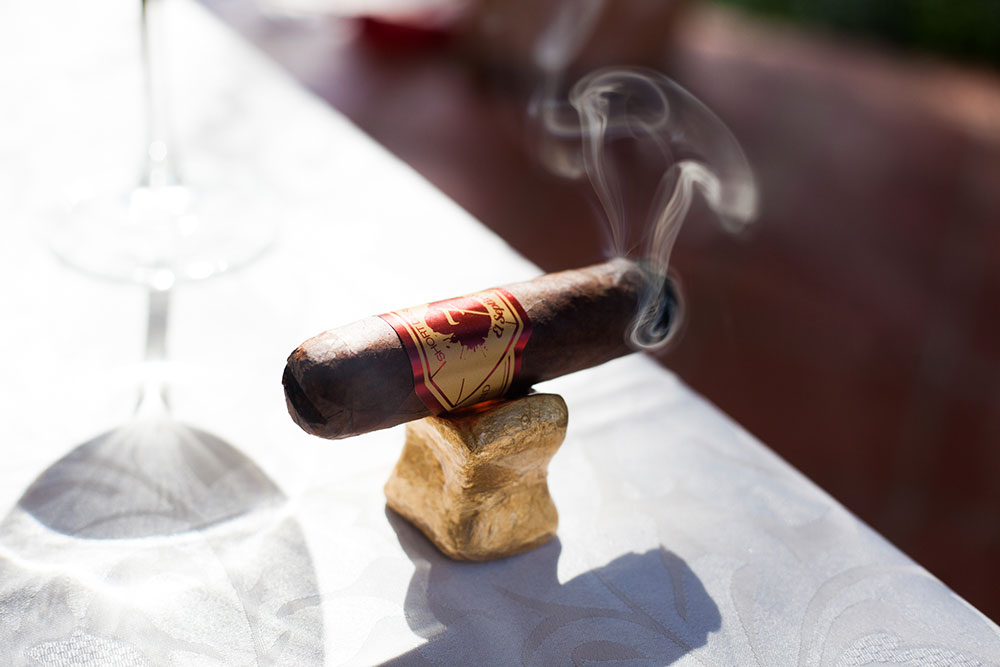 El Septimo Short Dream Topaz and Cape Rock White 2017 Pairing
The cigar has smokey meat and char-grilled vegetable and meat flavours. There is no sweetness in the cigar.
It is rich dry smokey flavours from the aged tobacco.
Each puff is a smoke bomb with meaty biltong and cured meat flavours.
The cigar's rich flavours intensify after the pigtail disappears. The smoke is peppery and full-strength with an airy draw and smoke.
The final tastes remind me of frying baking brown sugar with undertones of cooked oats. The flavours blend with rich smokey meat tastes. The fruit and waxy mouthfeel of the wine is a balanced addition to enjoying the El Septimo short dream cigar.
Cigar and Wine Pairing at Buitengeluk in Broadacres, and the wine bought at Eighteen Thirteen wine shop in Fourways.
Light up and taste the aged Costa Rican tobacco