Posted by Francois Pistorius on 14th Apr 2022
Alec Bradley Trilogy Exotic Maduro and Hamilton Russel Ashbourne Sandstone white blend
Alec Bradley recently revamped their Trilogy line. These cigars feature a unique triangle press.
The Trilogy Exotic Maduro is part of a series of triangular-shaped cigars. They are back after a brief hiatus, and it was well worth the wait. Alan Rubin, the founder of Alec Bradley cigars, designed the cigar. He even developed the mould that shapes the cigar.
The Exotic Trilogy features a tasty, oily, dark chocolatey Nicaraguan Maduro wrapper.
The full-flavoured cap covers a Honduran Connecticut-seed binder. It is a cigar with long-filler leaves from Honduras and Nicaragua. The exotic Trilogy Maduro toro delivers marshmallow tastes with an underlying sweetness. The Alec Bradley Trilogy Exotic Maduro is handmade by Plasencia Cigars in Honduras.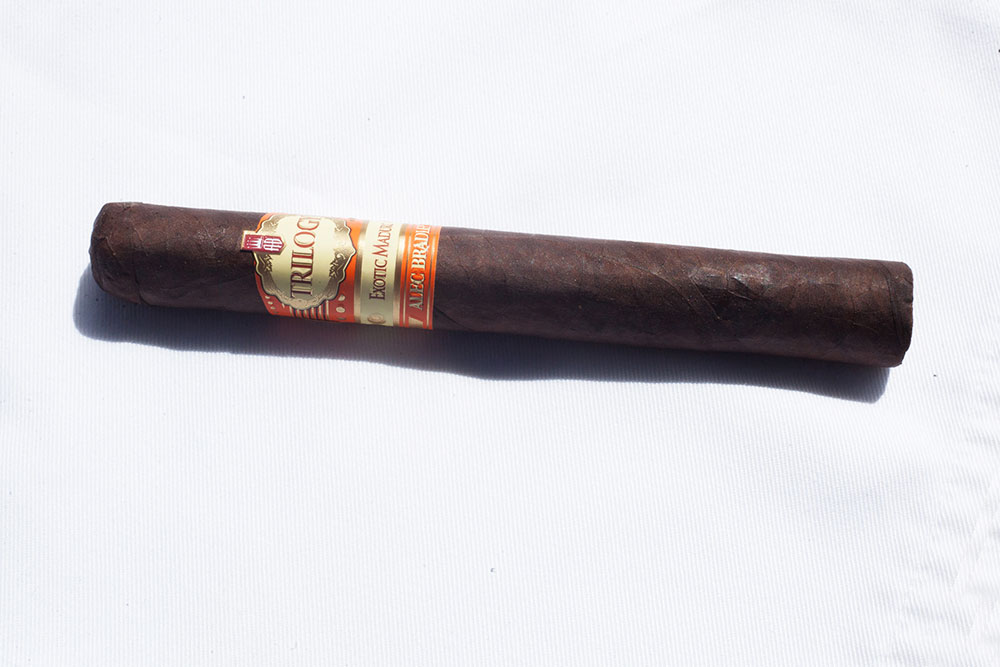 Alec Bradley & Trilogy Cigar series Story
Trilogy gets its name because there are three blends and the cigars have a triangular shape. The Alec Bradley Trilogy hit the market in 2002 but discontinued soon after. In 2019 the process generated momentum, and the Trilogy released in 2021.
All three blends, Authentic Corojo, Native Cameroon, and Exotic Maduro, made a return.
Alec Bradley first thought of the Trilogy idea during a fishing trip. While fishing, they talked about cigar shapes being round. Back home, he created a unique triangular mould. The Trilogy cigar has a slight triangular pressed shape.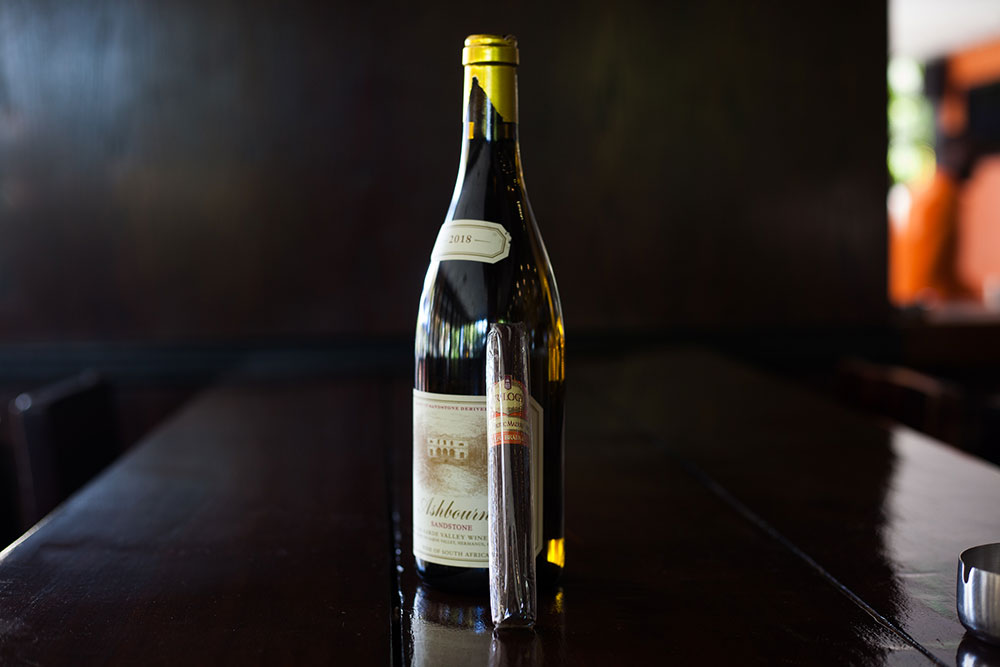 A bit of Alec Bradley Cigars history
Alec Bradley Cigars started when Alan Rubin sold their hardware business. Alan loved cigars and had a desire to begin producing cigars.
As cigars lost their mass appeal in the late nineties, Alec Bradley needed to change. Alan needed help. So after knowing known Ralph for only a few months, they decided to join forces.
Ralph Montero and Alan met in the early 2000s. They knew of each other. The ten-second instore encounter made them realize they had to join forces. Ralph was running his cigar brand, Montero Cigars. They both needed each other's expertise.
They released Occidental Reserve. The cigar sales allowed the company to begin to support itself.


Alec Bradley cigars name
Alec and Bradley are Alan Rubin's sons. Alan is the founder and driving force behind Alec Bradley with Ralph and his sons. It is a family business with a family-run ethos.
The cigar struggle
With the struggle to survive, Alan turned to flavoured cigars.
Gourmet Dessert Cigars
There were buyers for flavoured cigars. So that is what they produced. Gourmet Desserts were small cigars made in Miami. Alan wasn't happy and got out of flavoured cigars at the first opportunity.


The Breakthrough
Ralph, Henke Kelner and Occidental Reserve.
The combination helped Alec Bradley move from flavours into the traditional cigar market. People bought Occidental Reserve because Henke Kelner made it.
Occidental Reserve carried the company through the difficult period. It was a solid traditional made cigar that sold.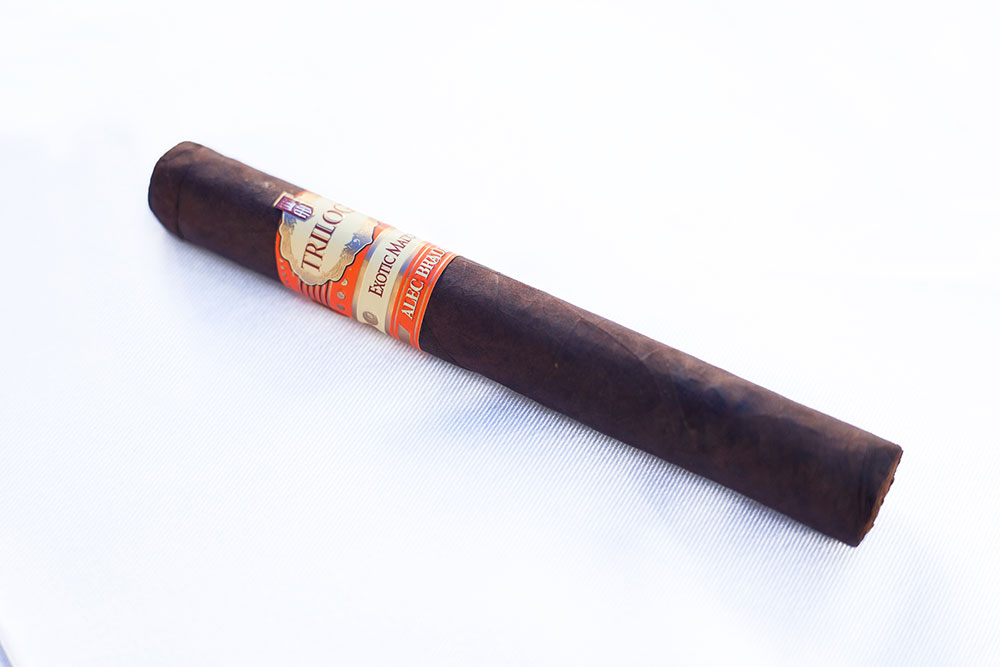 Today's Cigar Lines
Trilogy line.
Trilogy captured the cigar world's attention. Everyone wanted to try the new cigar shape. It has three sides, three wrapper options, and three sizes.
American Classic, Black Market, and Fine and Rare.
American Classic is a classic style cigar. This cigar delivers loads of American flavour with finesse and balance.
Alec Bradley produces an extensive range of cigars today.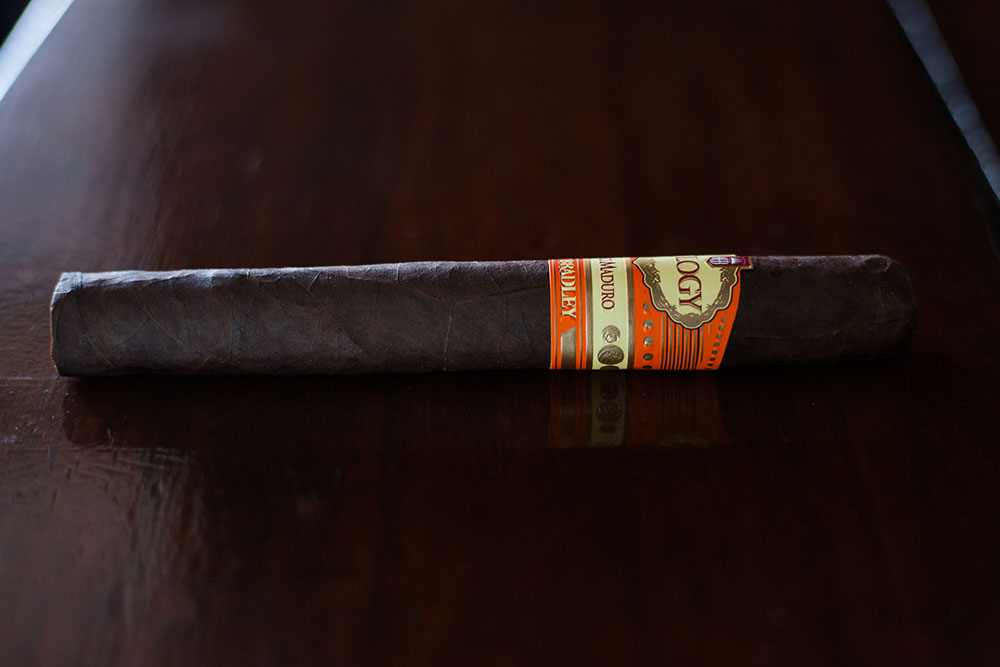 Alec Bradley Exotic Trilogy Maduro Cigar
Gauge 52
Size (mm) 152
Wrapper Color Maduro
Wrapper Nicaraguan Jalapa
Binder Honduran
Filler Honduran, Nicaraguan
Exotic Trilogy Maduro Dry Aroma
cocoa coffee
Dried mango
smokey barnyard
fruit flavoured tea leaves
floral fynbos or dry dessert flower scent


Exotic Trilogy Maduro Appearance
The Exotic has a Dark Maduro Oscuro looking wrapper with prominent veins. Yet the wrapper is smooth and glowy.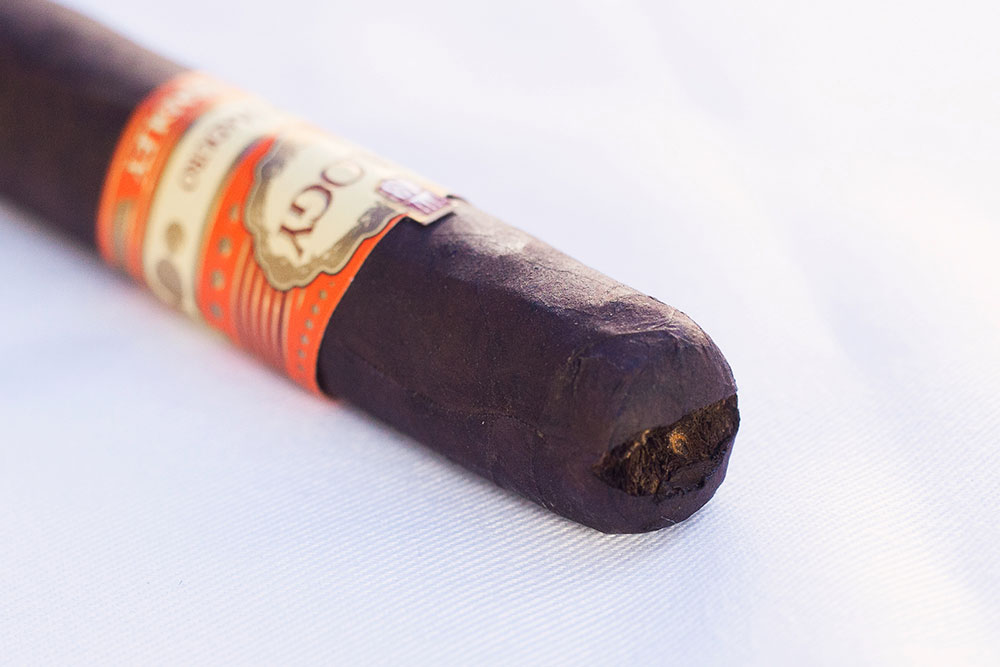 Exotic Trilogy Maduro Dry Draw
The First taste reminds me of hot chocolate. There is a sweet fruit flavour like dried mango and fruit flavoured tea leaves.
The pre-light draw is floral and light.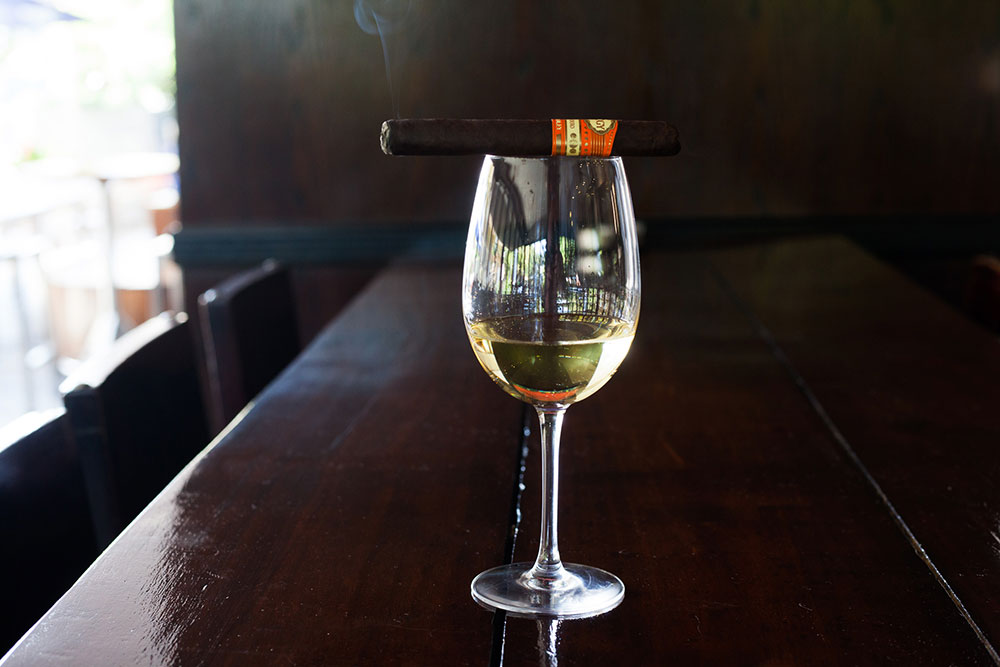 Exotic Trilogy Maduro First Puff
The first puff is smooth with hints of chocolate and fruits. Dark chocolate with fruit centre. It starts a little earthy and sweet. The cigar gives aromas of hot coffee and melted cocoa.
Orange Lindt chocolate and easter egg marshies are a good way to describe the taste. The light, fluffy marshmallow's chocolate taste combined with dried mango is incredible.
It is a perfect Maduro option for an Easter cigar.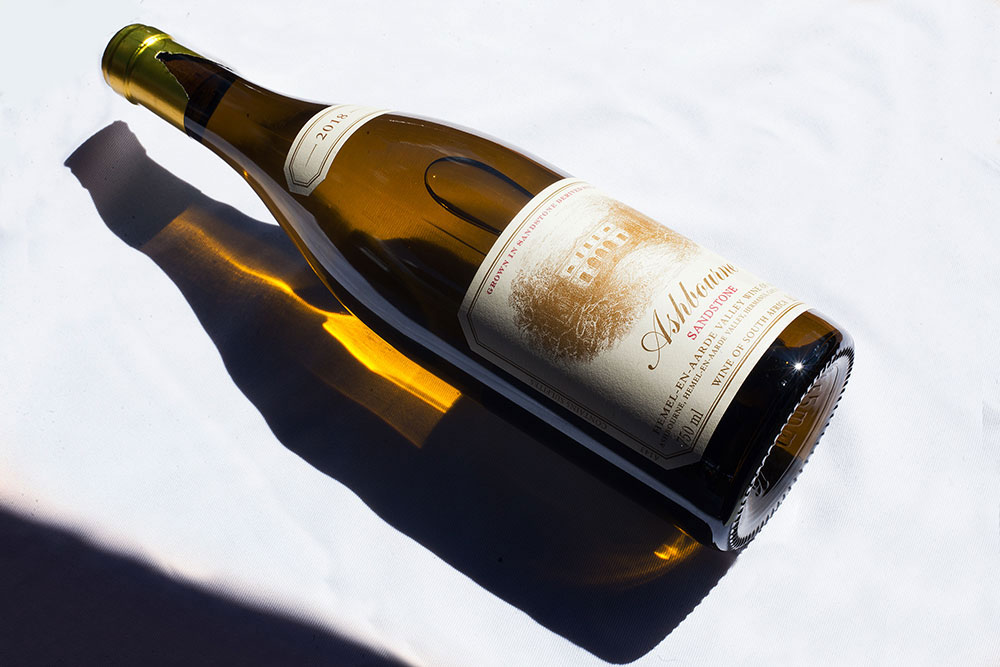 Hamilton Russell Ashbourne Sandstone White Blend
Located in the Hemel-en-Aarde Valley, you will find Ashbourne vineyards. It is a beautiful property on the eastern border of Hamilton Russell Vineyards. The soil produces classic styles and age-worthy blends.


1996
History
Anthony Hamilton Russell founded Ashbourne wines in 1996 and planted the first Pinotage in the area. The vineyards receive wind and cool air from the cold South Atlantic Ocean.


2001
Ashbourne makes It Debut.
The first Ashbourne Pinotage released in 2001. It is grown on iron-rich and clay-rich, stony soils. The soil is ideal for producing refined and classic styled Pinotage.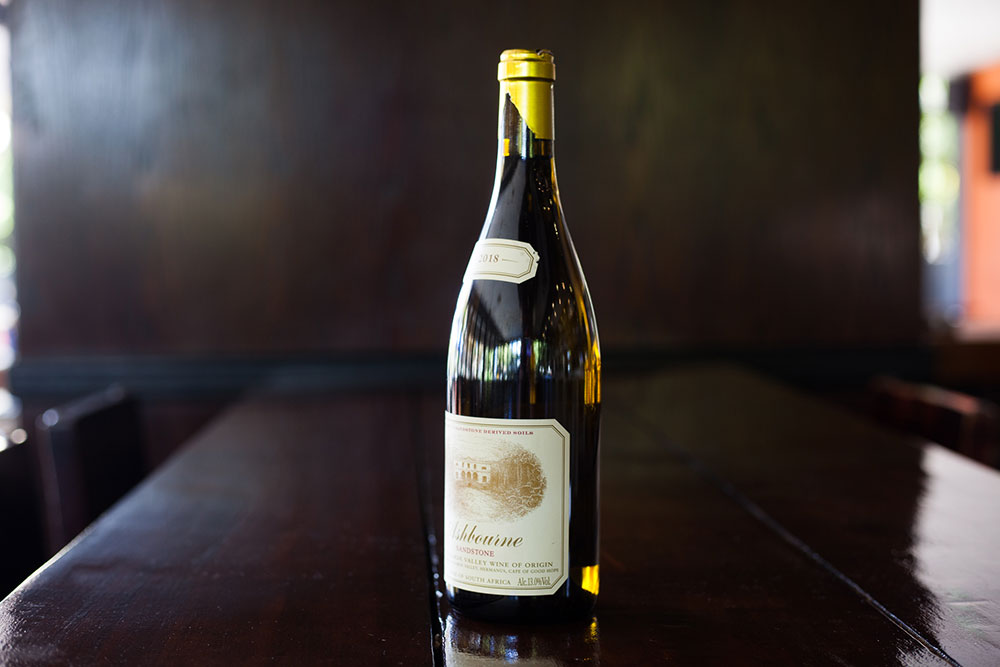 2006
Ashbourne Sandstone White Blend
The Ashbourne Sandstone expresses the quartzite sandstone soils on the property. The soil emphasizes Sauvignon blanc's minerality. The soil adds density and a fuller texture like Chardonnay and Semillon. The Ashbourne white blend ferments with natural and endemic yeasts in amphorae.
It is the first South African wine that ferments and ages in amphorae. It is an elegant and layered white blend with minerality and lightness.


Sandstone
It is a low-alcohol, unwooded wine with character. It is a Sauvignon blanc driven blend. The wine ferments in small stoneware amphorae for extra complexity.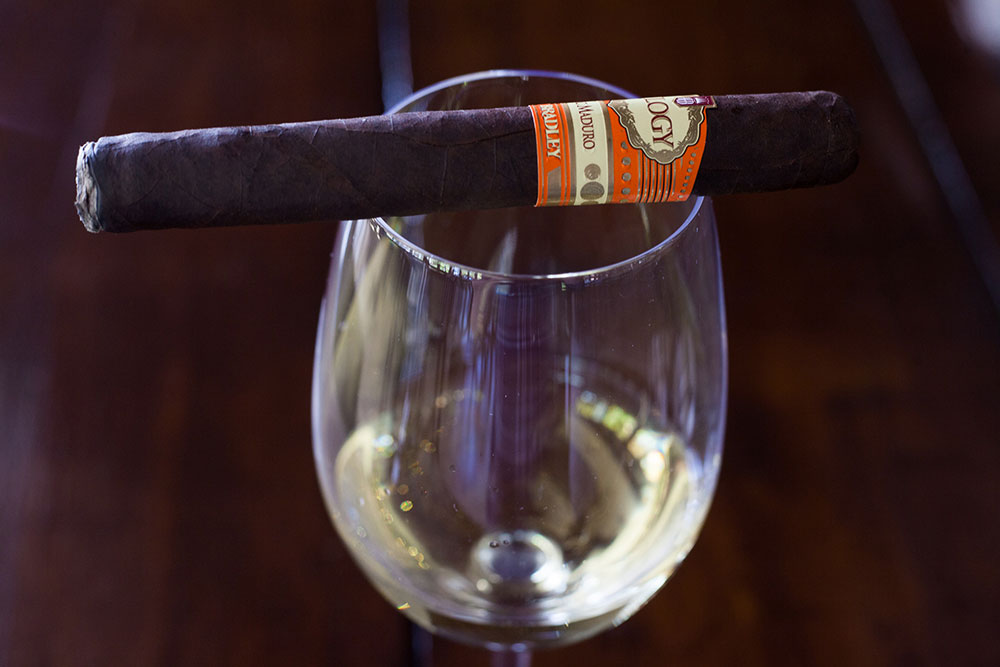 Ashbourne Sandstone White Blend Scents
Floral
lemons
mineral
honey
mayonnaise aioli
vanilla with light oak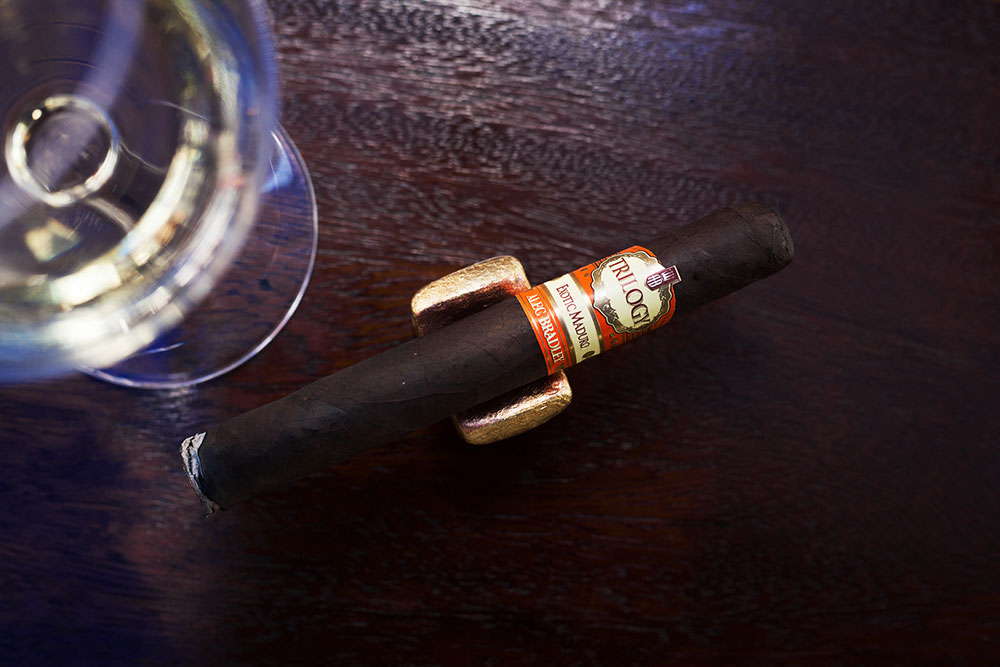 Ashbourne Sandstone White Blend Taste
The first taste is light with hints of oak, even though it is an unoaked white wine. That is due to the unique soil on the farm. The wine has well-balanced acidity.
It is a refined and elegant white blend.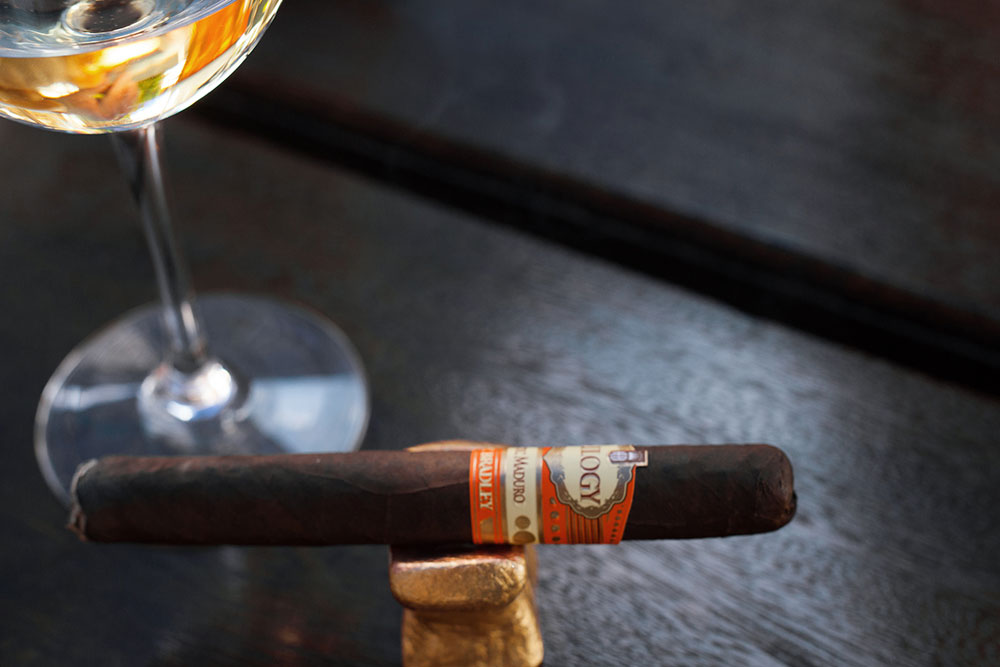 Exotic Trilogy Maduro and Ashbourne White Blend pairing
The Maduro Cigar flavours are more assertive, which is good. The wine adds a coated mouthfeel with light oak tastes. The balanced wine flavours lift the mango sweetness of the Maduro. The Ashbourne enhances the fruit tea flavours while smoking.
There is a candied lime mixed with minerality present. The wine has a fresh misty fog character where the forest meets the ocean. The wine evolves into toasted, thick buttered ciabatta and marmalade flavours.
The best way to describe this pairing experience and flavour combinations is mild camembert or goat's cheese.
The white blend is available at Norman Goodfellows. You can buy online and at the Illovo branch. The Illovo branch offers a magnificent variety of wines to try with each cigar pairing.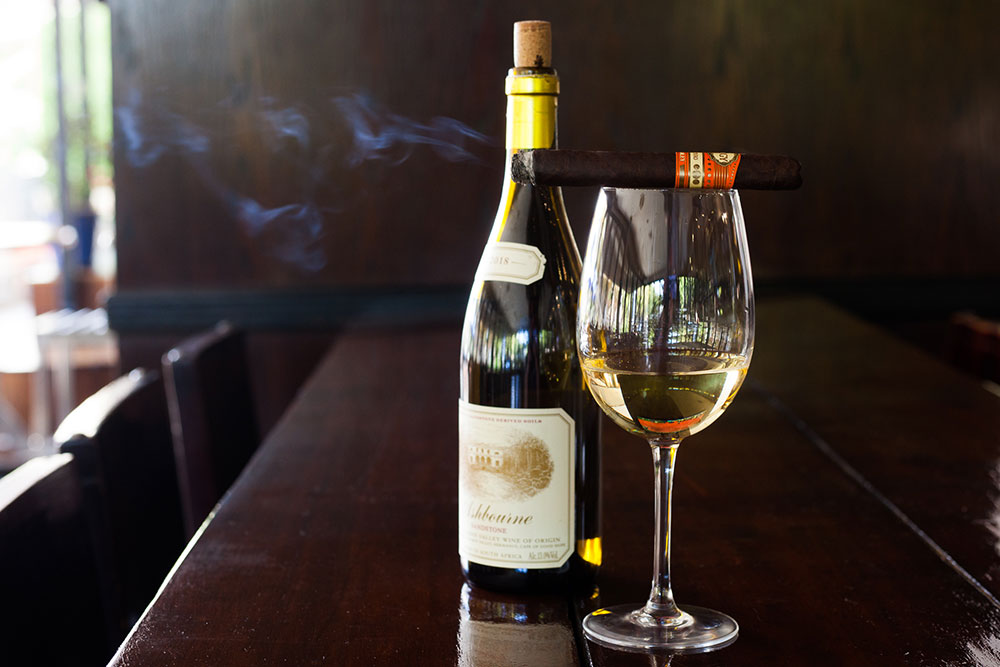 Exotic Trilogy Maduro Evolution
The cigar burn is very good, even in the wind, while smoking slow. It is a comforting creamy smooth smoke for a Maduro. There are tasty flavours of dried fruit and chocolate flakes with voluminous smoke. The cigar evolves into a peaty smoke and light barbecue marinade flavours.
Years ago, when I met Anthony on his wine farm, he told the story of how he would open a bottle of wine in the vineyards during the morning. In the morning, your palette is fresh, and it is the best time to experience all the finesse of the wine.
Cigars I tend to light after a meaty breakfast, lunch or dinner, but that is also a personal preference.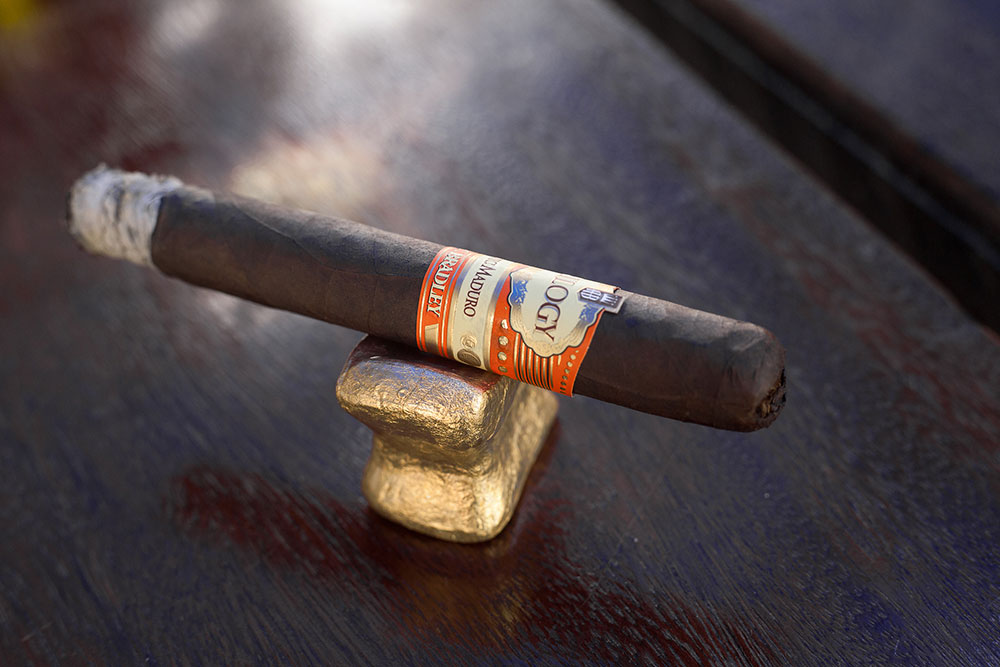 Exotic Trilogy Maduro Conclusion
The Exotic Maduro smokes light but with full flavours.
The draw is smooth and delivers flavours with each puff. The prominent flavours are fruit tea, dried mango and easter marshmallows.
There is a burned butter and caramel taste that evolves. The tri-press feels comfortable in your hand. It is a brilliant cigar accompanied by a subtle white blend ideal for any time of the day.
Happy Easter weekend.
Light up the Exotic Maduro this Easter