Posted by Francois Pistorius on 12th May 2022
Cohiba Siglo VI & Laurent Perrier La Cuvee Brut Champagne Pairing
If you think cigars, Cuba is first in line. I remember my first cigar. It was a Cuban. But that was many years ago before all the incredible new world cigars found their way into almost every corner of our cigar world.
There is a certain nostalgia while smoking any cigar, but a Cuban feels special even if it is only due to the hype. Some Cuban cigars are not that great, but some are exceptional, and the Cohiba Siglio Six is one.
Cohiba Siglo VI
Gauge 52
Size (mm) 150
Wrapper Color Colorado
Wrapper Cuban
Binder Cuban
Filler Cuban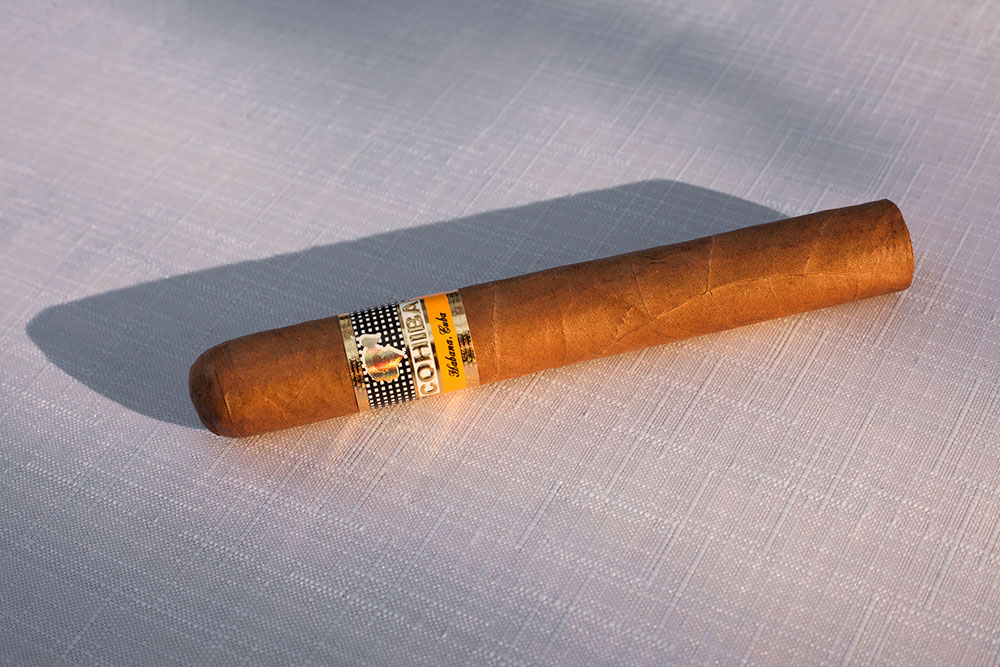 The Cohiba Siglo VI has toffee and toasted caramel flavours that emerge from the first puff. The cigar is creamy and mild with dense smoke. The smoking experience is slow and luxurious.
As the Cohiba evolves, the warm melted caramel flavours with a mix of pecan nuts emerge stronger. The Champagne and Cohiba is a blend of delicious fruit mousse with melted toasted toffee caramel.
The last puff reminded me of chocolate flakes dissolving as the cigar nears the end.
This Cohiba Siglo VI is one of the best Cohiba cigars, if not one of the best Cuban cigars.
Light up the Cohiba Siglo VI cigar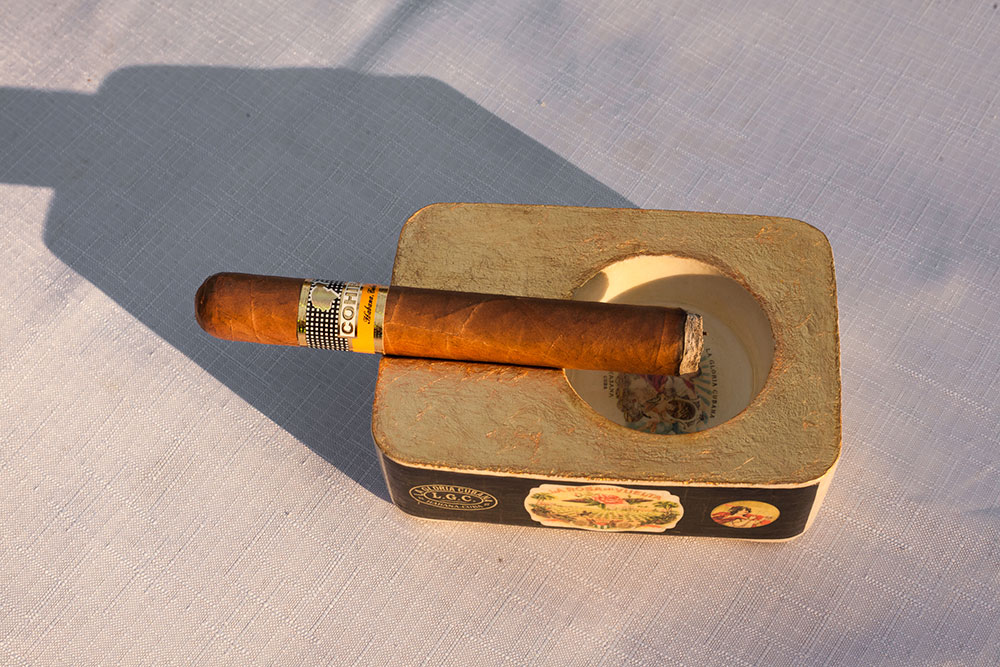 Cigar Tasting
This piece of content consists of personal experience. Each flavour and taste while smoking makes its way into the content. I have to admit that some reviews baffle me. I have never bit into a piece of leather or cedar. Every week while reading about cigars, I notice that many reviewers refer to cigars as having leather and cedar tastes.
Oaky, woody and smokey barnyards do resemble woody flavours. And a leather chair or couch full of leather aromas can provoke leathery scents. I guess you can say the cedar and leathery tastes evolve from smokey barns, cigar lounges, and truffles' pungent flavours.
I relate cigar flavours to food flavours. As we all do, if you love food, some primary flavours form part of your taste buds. It is different for each cigar smoker.
And it is a challenge to myself while enjoying each cigar to look a bit deeper into what flavours evolve while smoking.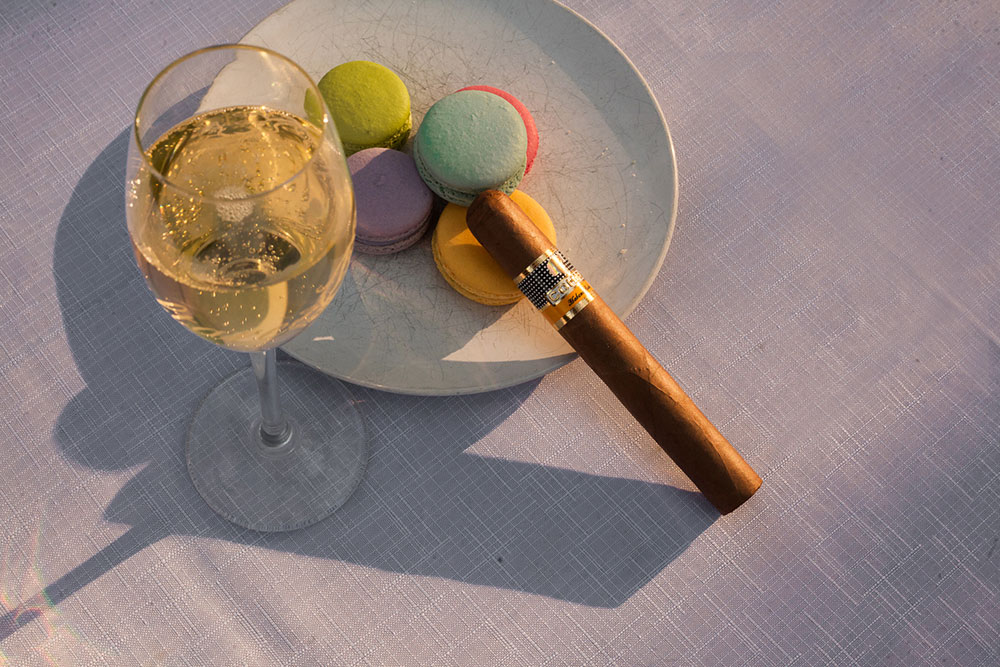 Identify a few primary flavours connected to cigars.
Spices:
chilly
herbs
pepper
turmeric
rosemary
barbecue spice
vegetable spice
cayenne pepper
The odd one out:
Truffles
Fruits Flavours:
Citrus
Mango
Apples
Grapes
Cherries
Peaches
Fruit skin
Dark berries
Vegetable Flavours:
Spinach
Potatoes
Butternut
Roasted vegetables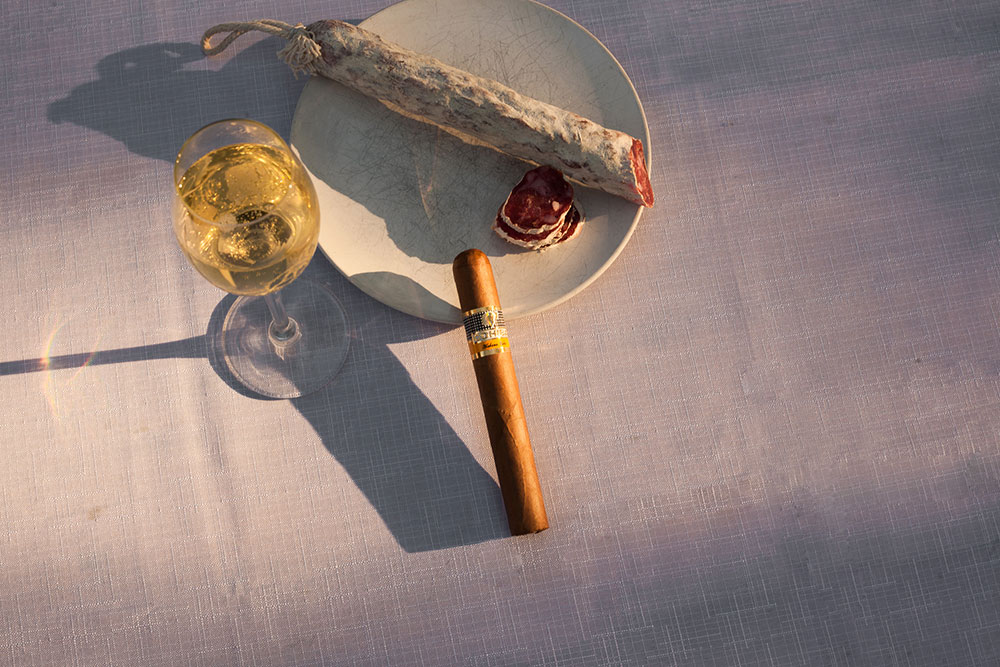 Meat flavours:
Biltong
Raw meat
Cured meat
Roasted meat
Barbecued meat
Slow-cooked meat
Seared meat or fish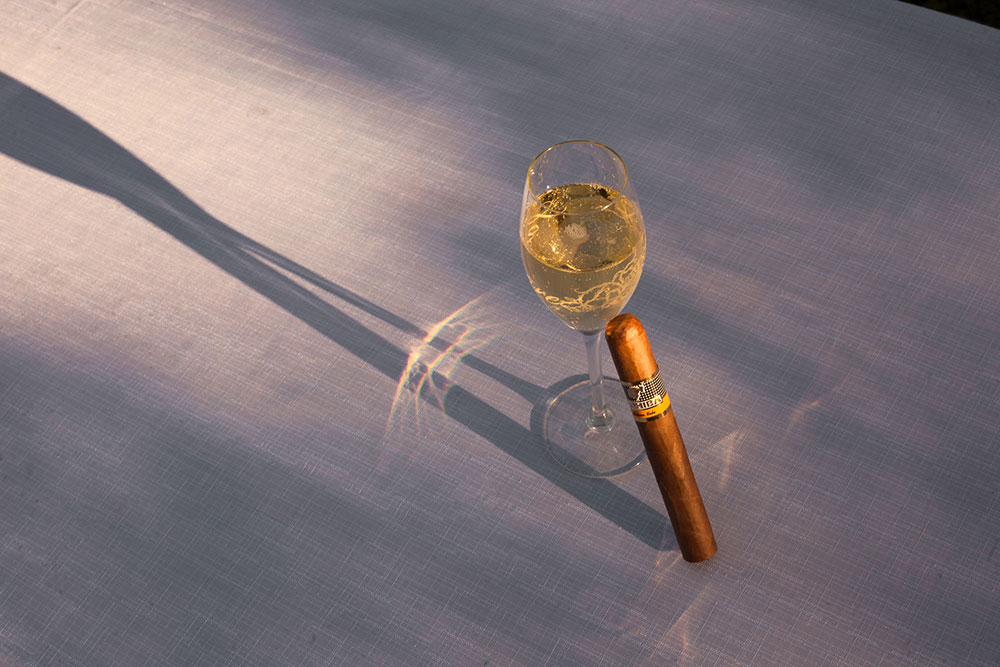 Drinks:
Tea
Gin
Vodka
Brandy
Cognac
Whiskey
Campari
Beers ( From lagers to ales and stouts )
Coffee ( From mild creamy coffee to strong espresso )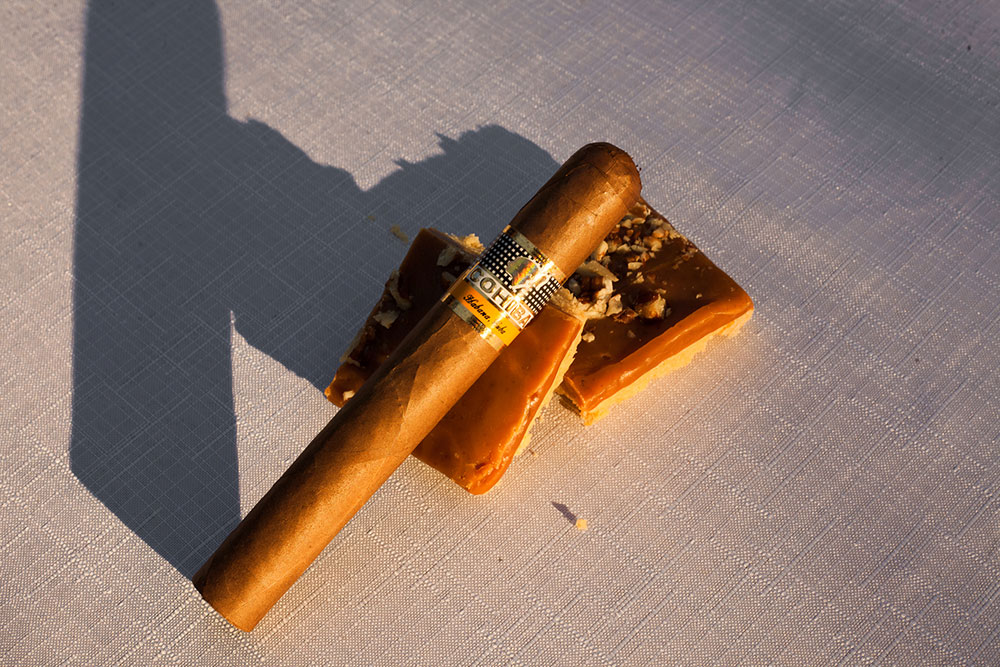 Sweet flavours:
Toffee
Caramel
Shortbread
Raspberries
Jelly sweets
Strawberries
Creamy biscuits
Chocolate ( From white to dark chocolate )
There are many more, but these are a few basic ones.
Why do I do this? Well, if you are going to light up a premium aged cigar, the idea is to enjoy the complete experience. Enjoy every flavour that emerges. A cigar moment is an escape. To smoke a premium cigar with tasty flavours is a treat.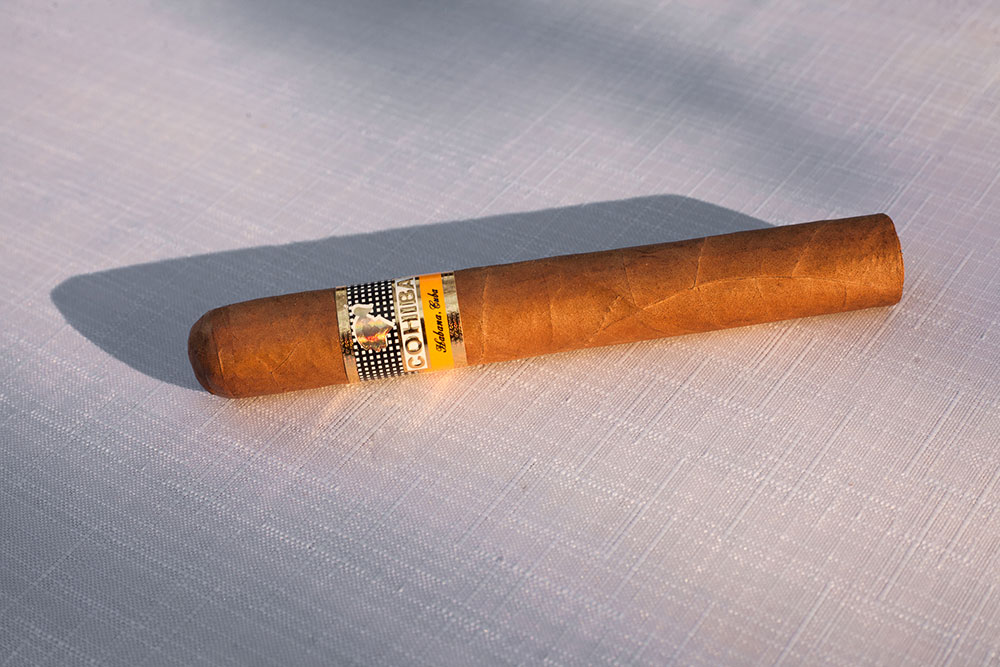 Cohiba
The Cohiba Story
Cohiba went from a private-label brand for Fidel Castro to becoming the most recognizable and sought-after cigar worldwide. The Cohiba name is synonymous with luxury goods. Think Champagne houses, Rolls Royce, sports car brands, Patek Philippe watches and more. The Cohiba gold and black branding will appear somewhere close to you if you walk into most cigar lounges.
As far as trademarks go, Cohiba might be Cuba's prize possession.
Here are a few facts about the mysterious Cohiba brand.
Cohiba Means Tobacco
Cohiba (Koh-HEE-bah) is so easy to say. It flows rhythmic when you pronounce the name Cohiba. It is the word for tobacco in Taíno, the native language of Cuba's indigenous Arawak people before the Spanish conquest.
It's Quite New
As far as Cuban cigar brands go, Cohiba is young.
Before the revolution, many private owners owned Cuban cigar brands, but not Cohiba. Cohiba originated after the revolution in 1966. The cigar brand is symbolic of Castro's Cuba and an icon of the Revolution.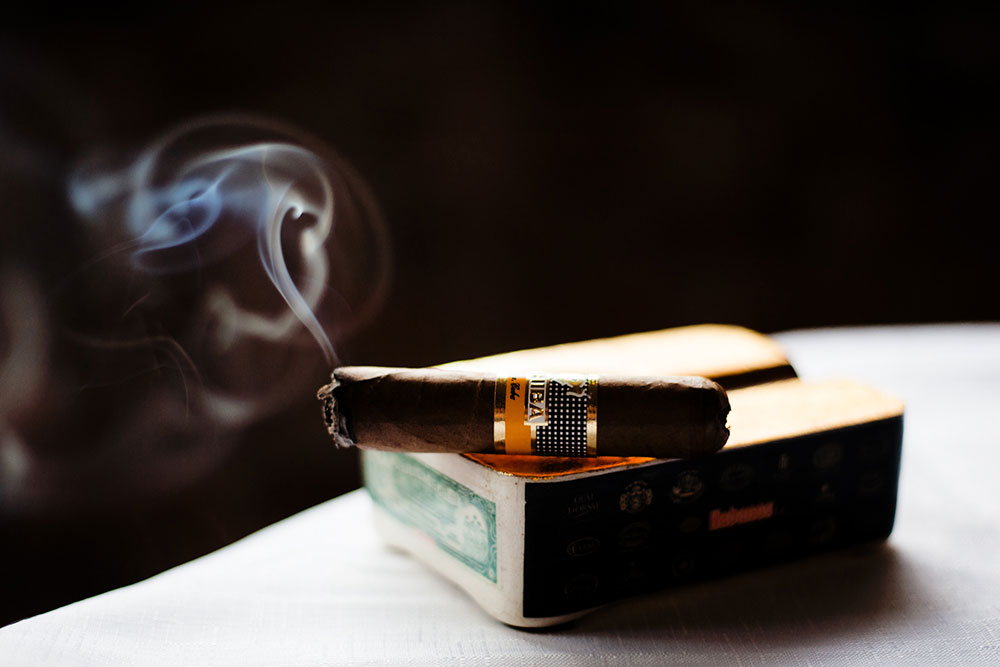 Money Couldn't Buy You Cohiba.
The only way you could get a Cohiba for many years was if Fidel Castro gifted you one. Only diplomats and dignitaries, heads of state, or anyone who Castro thought worthy of smoking a Cohiba, received one. The cigar came in one thin Lancero size.
Cohiba's Mother Factory Is El Laguito
The yellow mansion, El Laguito, is in Havana's Miramar region and only produces Cohiba cigars. Alberto Casimiro Fowler built the Estate. He was a Cuban industrial magnate. The Cohiba logo displays on the building staircase and walls as you walk in.
El Laguito produces the best Cohibas. However, due to the demand, Habanos had to spread manufacturing.
The Plantations Are Secret
Very few tobacco plantations in Cuba produce tobacco used for the Cohiba brand. Habanos keeps it a secret from which plantations they source Cohiba tobaccos. The plantations are in the Pinar del Río region, but details are vague.
It's Cuba's Most Expensive Brand
Cohibas are some of the most expensive cigars sold around the world.


Cohiba Production
Habanos S.A., the Cuban state-owned tobacco company, produces Cohiba cigars.
US-based General Cigar Company produces Cohiba cigars in the Dominican Republic for the USA market.
There is a pending court case about the brand name. The Cuban Cohiba is unhappy about General Cigar Company using the brand name.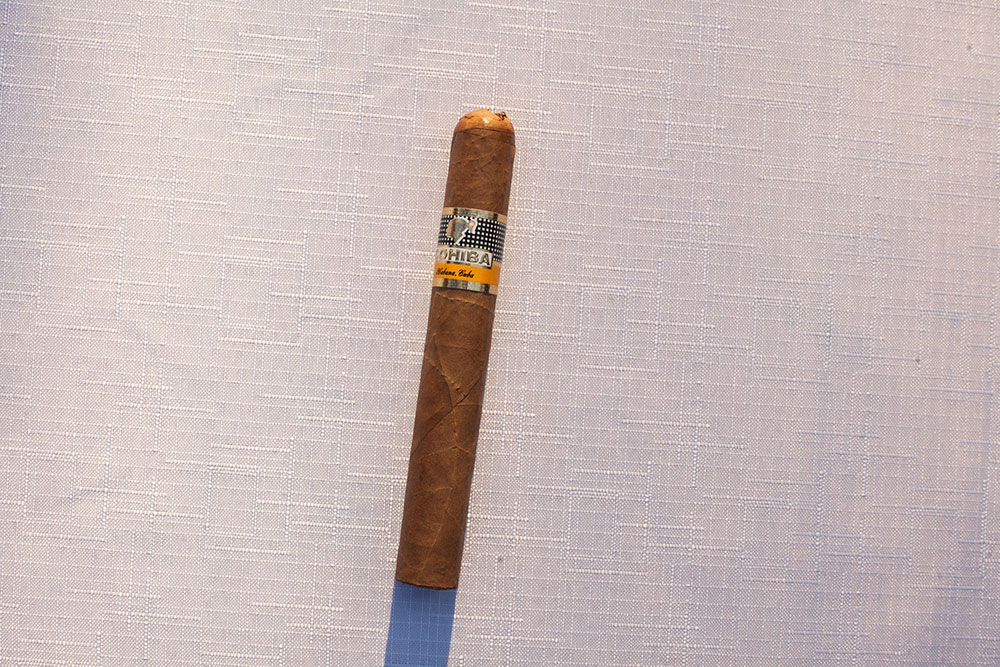 Cohiba Tobacco
Cohiba cigars started in 1966 as a limited production private brand only for Fidel Castro. The Cuban brand contains tobacco from the Vuelta Abajo region of Cuba.
The tobacco goes through an extra fermentation process.
The Cohiba brand has a "cult" status worldwide among cigar aficionados. Cohiba released for sale to the public in 1982. The Cohiba Siglo VI has received some of the highest scores from Cigar Aficionado and other reviewers.
The factory selects tobacco fromfirst-class tobacco fields in the San Luis and San Juan y Martinez regions. It is in the Vuelta Abajo region of Pinar del Río Province.
In 1992, 700 acres of selected fields supplied tobacco for the Cohiba brand. The fields produce exceptional quality. Only five of these tobacco fields make it into Cohiba production. The field's exact location is a guarded trade secret.
The tobacco goes through a unique third fermentation in wooden barrels at the El Laguito factory. The process produces smoother flavours than other cigars.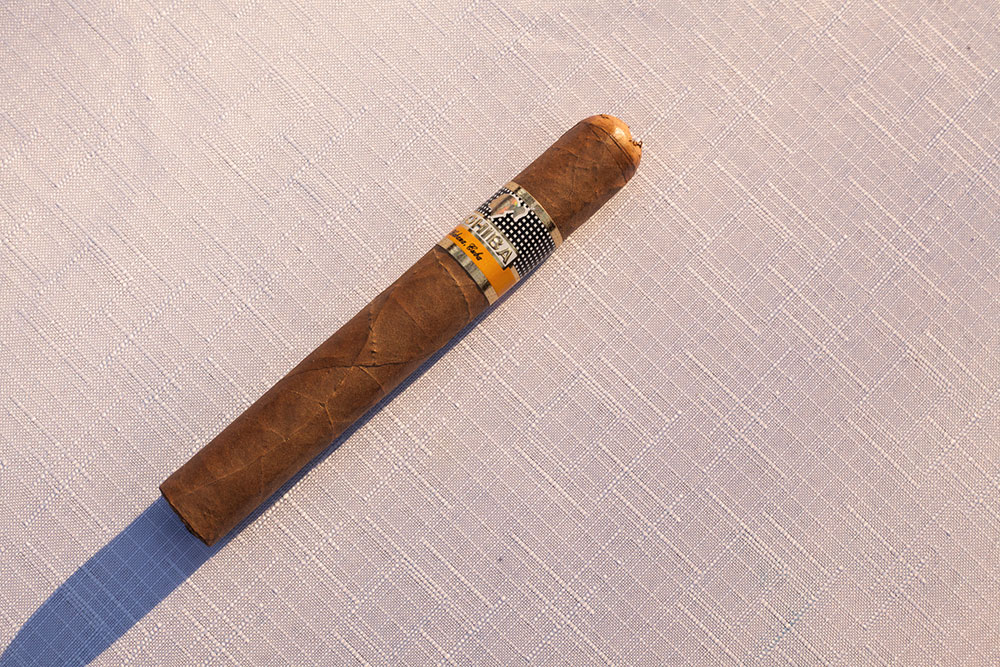 The Mysterious Origin of Cohiba Cigars
Fidel Castro's bodyguard shared some of his private supply of cigars made by a local artisan named Eduardo Rivera. The cigars pleased Castro so much that he commissioned a special production under tight security. The cigars were exclusive to Fidel Castro and other top government officials.
The distinctive black-and-yellow band of the Cohiba was the favoured smoke of Cuba's revolutionary elite. Che Guevara's pronouncement that he had never smoked a better cigar.


Fidel Castro in 1994
"I used to see the man smoking a very aromatic, very nice cigar, and I asked him what brand he was smoking. He told me that it was a unique blend, but it came from a friend who made cigars and gave them to him. I said, let's find this man. I tried the cigar, and I found it so good that we got in touch with him and asked how he made it.
Then we set up the house at the El Laguito factory, and he explained the blend of tobacco he used. He told which leaves he used from which tobacco plantations. He also told us about the wrappers he used and other things. We found a group of cigar makers. We gave them the material, which is how the factory originated. Today, Cohiba is known all over the world."


Habanos SA limited releases
Besides regular production, Habanos SA often releases limited release Cohíba cigars. In 2007, Habanos released a new Maduro-wrapped Cohibas, called "Maduro 5," in three sizes.
The Cuban Cohiba brand also carries two machine-made cigarillos: the Mini and the Club.
There Are No Cheap Cuban Cohibas
There are no discounted Cohibas. The demand is high, and the cost to produce a Cohiba is high. If you find a cheap Cohiba, the chances are that the cigar is fake. Buy from reputable dealers to ensure you buy authentic Cuban cigars.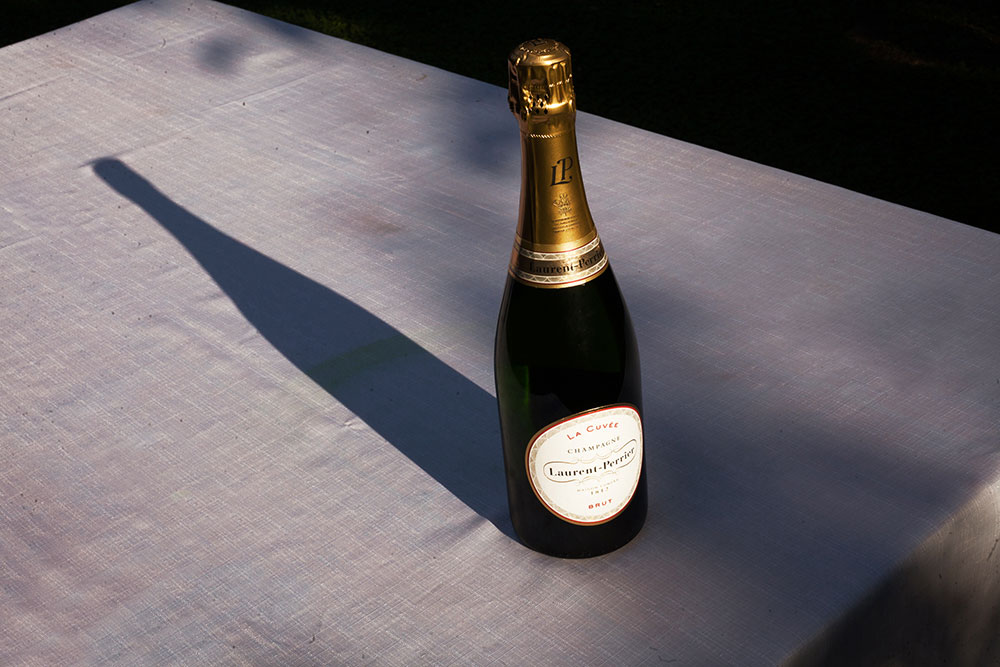 Laurent Perrier La Cuvee Brut Champagne
Birth
André Michel Pierlot established the House of Laurent-Perrier in 1812. It took the name Vve Laurent-Perrier when Mathilde Emilie Perrier, the widow of Eugène Laurent. He combined the two family names after she decided to expand the business.
Eugénie Hortense Laurent, her daughter, inherited the House in 1925 and sold it to Marie-Louise Lanson de Nonancourt in 1939.


Rebirth
In 1939, Marie-Louise de Nonancourt, widow and mother of four children, acquired the Domaine Laurent-Perrier.
During WWII, Marie-Louise Lanson de Nonancourt ran the business while two of her sons, Maurice and Bernard, joined the French Resistance. In 1945, Bernard de Nonancourt began learning every aspect of winemaking, from vine to cellar. The cellar appointed him as Chairman and Chief Executive in October 1948. At that point, the House was employing around 20 people and shipping 80,000 bottles a year.


Expansion
Bernard de Nonancourt inspired Laurent-Perrier with his passion for Champagne.
He established good working relationships with the grape growers, combining innovation and tradition. He created the signature Laurent-Perrier style of freshness, finesse and elegance. The cellar exported the unique range of champagnes to 160 countries.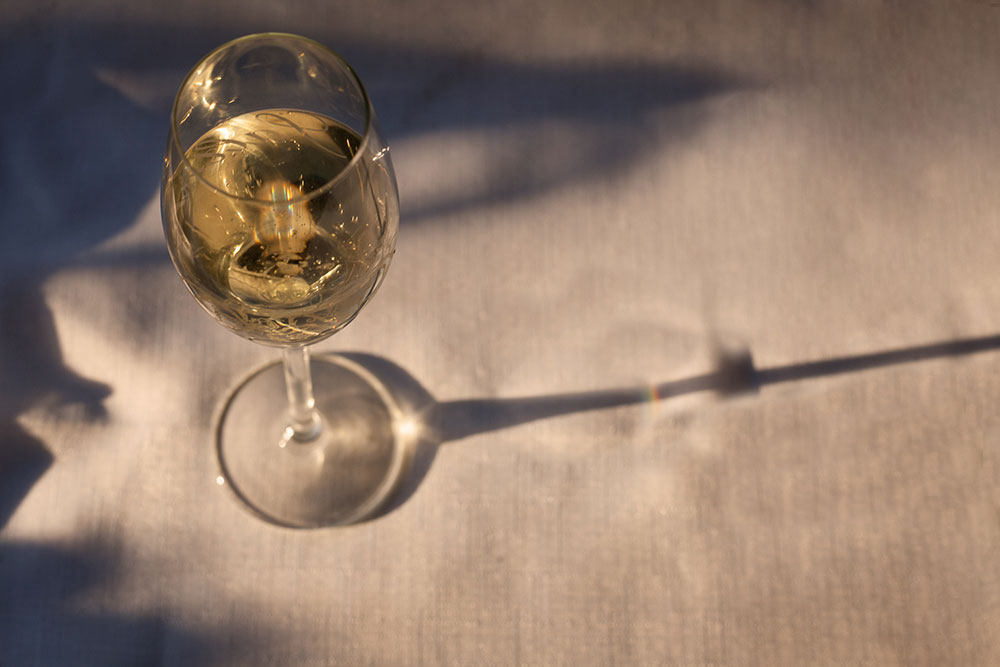 The Estate, the House
In 1881, when Cellar Master Eugène Laurent inherited the Alphonse Pierlot Champagne House, he started to produce great champagnes.
He purchased vines in the very best terroirs of Bouzy, Tours-sur-Marne, and Ambonnay.
That is how the Domaine Laurent-Perrier (the Estate) originated in Tours-sur-Marne. This picturesque village lies at the crossroads of the three main wine-growing areas.
Marne département:
The Montagne de Reims,
The Vallée de la Marne,
and the Côte des Blancs.
It is also part of the 17 Champagne villages ranking in the prestigious 'Grand Cru' area.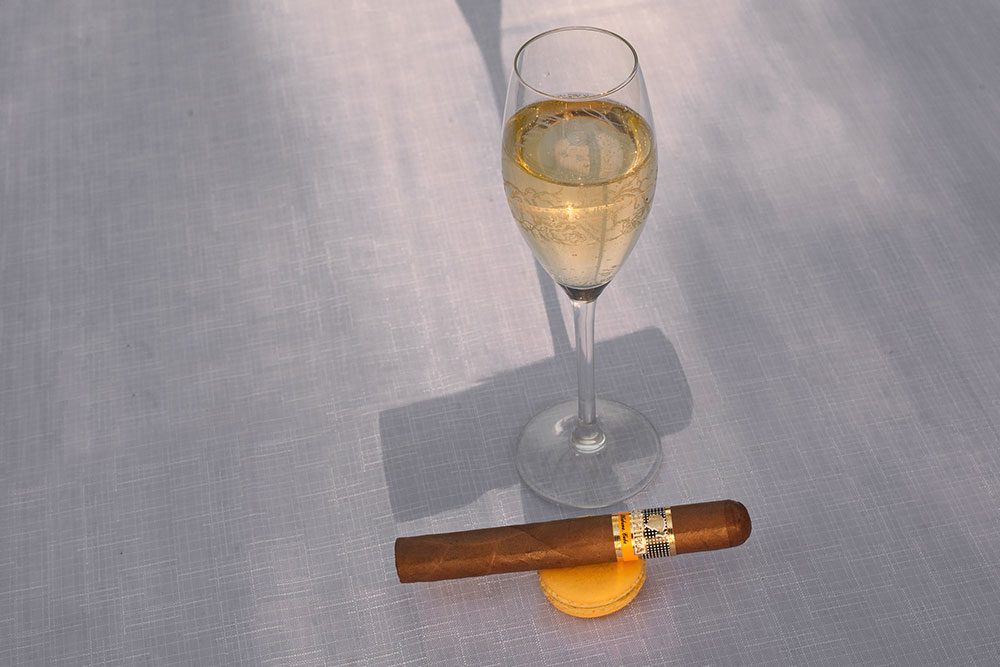 An Epicurean Vision of Champagne
The three founding values of the House:
Passion,
creative boldness,
and free spirit and elegance through simplicity.
Laurent-Perrier champagne suits every occasion.


Laurent-Perrier style
Bernard de Nonancourt created the Laurent-Perrier style.
The world celebrates Laurent-Perrier for its style and quality, cuvée after cuvée. With new ethical blending methods, Bernard launched new champagnes. He created a range of unique Champagne with history and personality.


An inimitable savoir-faire
Everything starts in the vineyards, but the Cuverie revise produces the exceptional champagne wine. Blending is the art of Champagne. It is the expertise of Laurent-Perrier and the Cellarmaster Michel Fauconnet. Winemaking means selecting the best juice from the press.
The cellar works with three main Champagne varietals: Chardonnay, Pinot Noir, and Meunier.
The aim is to achieve the perfect balance year after year of Cuvees. The Champagne Cuvées age for long periods to release excellent wines at optimal times, ready to drink.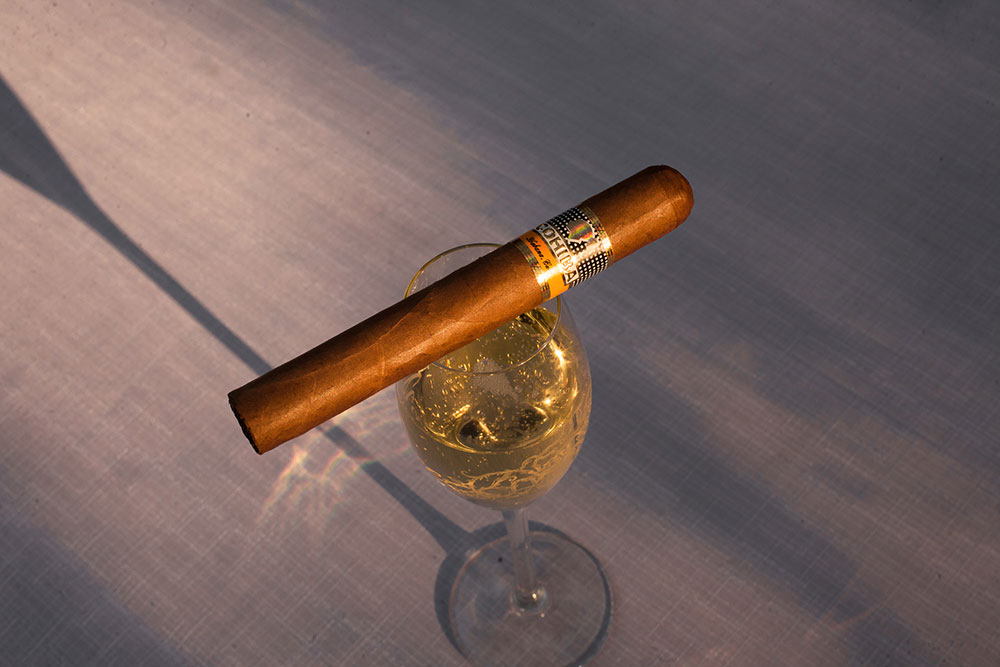 Laurent Perrier La Cuvee Brut Champagne
The Perfect Balance
This wine comes from the purest grape juice. It is Champagne with great finesse and a beautiful freshness obtained after a long ageing process in the cellars.
The high proportion of Chardonnay defines Laurent-Perrier's style and personality. The essential characteristics of purity, freshness, and elegance embody the House's spirit.


Vinification, Blending and Ageing
Grape varietals:
A majority of Chardonnay,
Over 50% Pinot Noir,
Between 30% and 35% rounded out with Meunier,
La Cuvée is a blend made from over 100 Crus selected by Laurent‑Perrier.
La Cuvée benefits from ideal ageing of around four years in the cellar.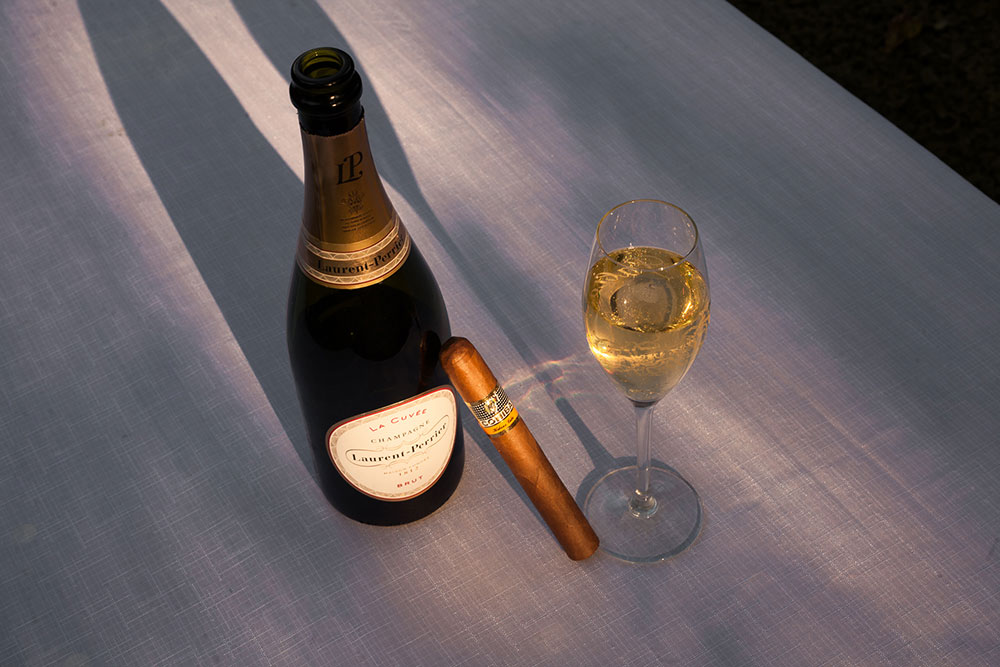 Visual and Sensory Character
The Champagne has a pale gold colour with persistent fine bubbles. It has a delicate nose with hints of fresh citrus and white flowers.
The wine expresses finesse with notes of vine peach and yellow fruit. There is a perfect balance between freshness and elegance with fruity flavours.
Best served between 8°C and 10°C.
Wine & Food Pairings
This fresh and pure wine is perfect as an aperitif.
The citrus and yellow fruit notes have remarkable balance, making the Champagne an ideal accompaniment to poultry and fish.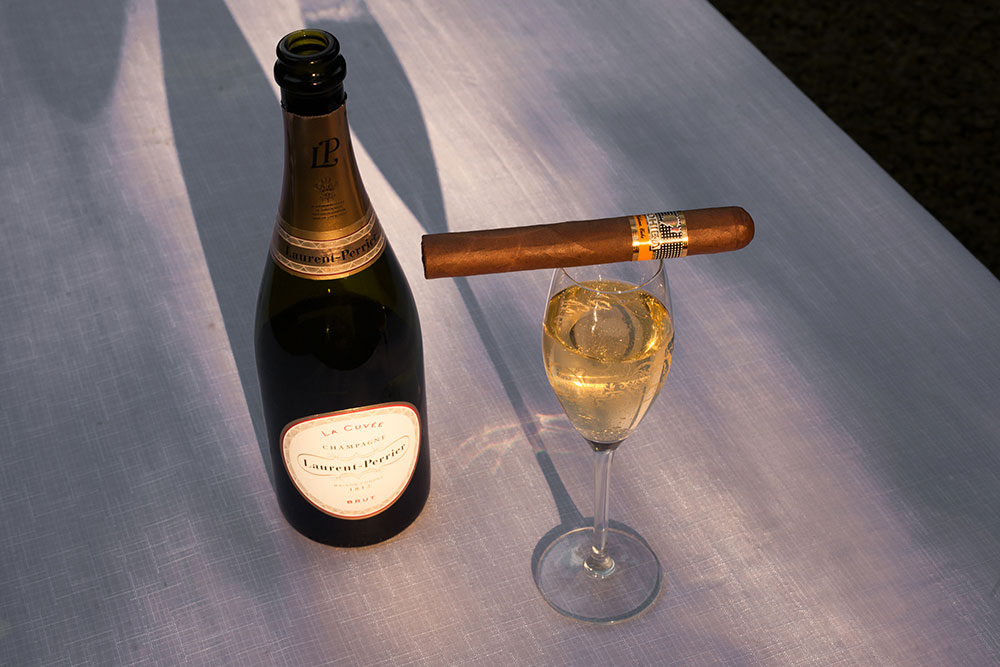 Cohiba Siglo Six and Laurent Perrier La Cuvee Brut Champagne Pairing
Laurent Perrier La Cuvee Brut Champagne aroma
The luxurious Champagne bubbles scents of yellow melted marshmallows and fresh ripe tropical fruits.
The Champagne has a distinctive sweet ripe peach aroma.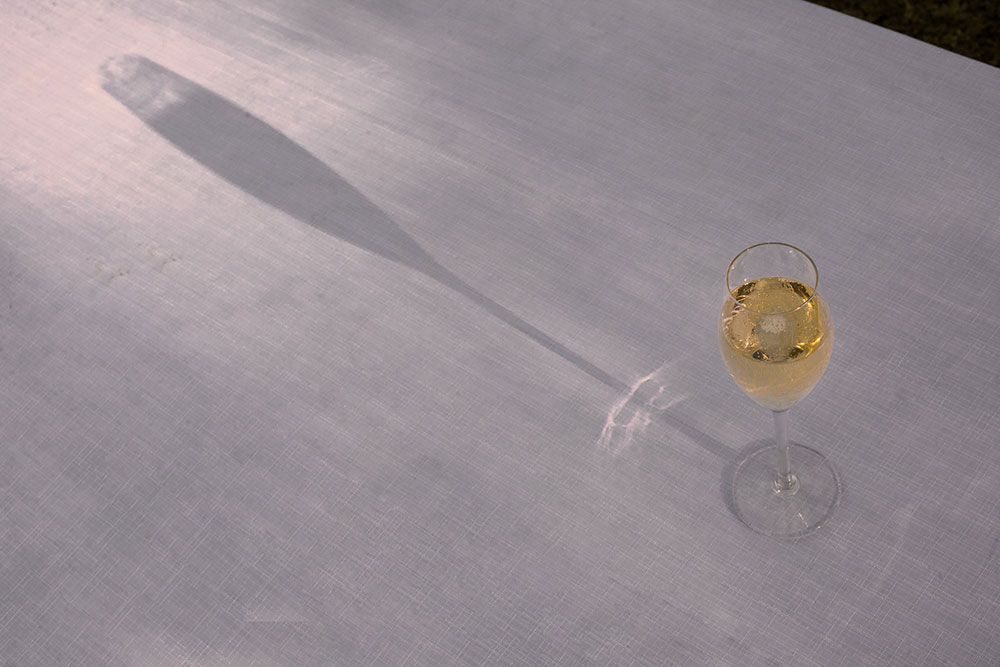 Laurent Perrier La Cuvee Brut Champagne Taste
The Champagne tastes are smooth, subtle and refined.
The ripe peach tastes emerge with each sip. There is a prominent lemony, creamy mayonnaise taste which is the effect of the yeast.
With a bit of warmth in your glass, the Champagne becomes fruitier with almost no acidity. The citrus fruit evolution is juicy fruity delicious.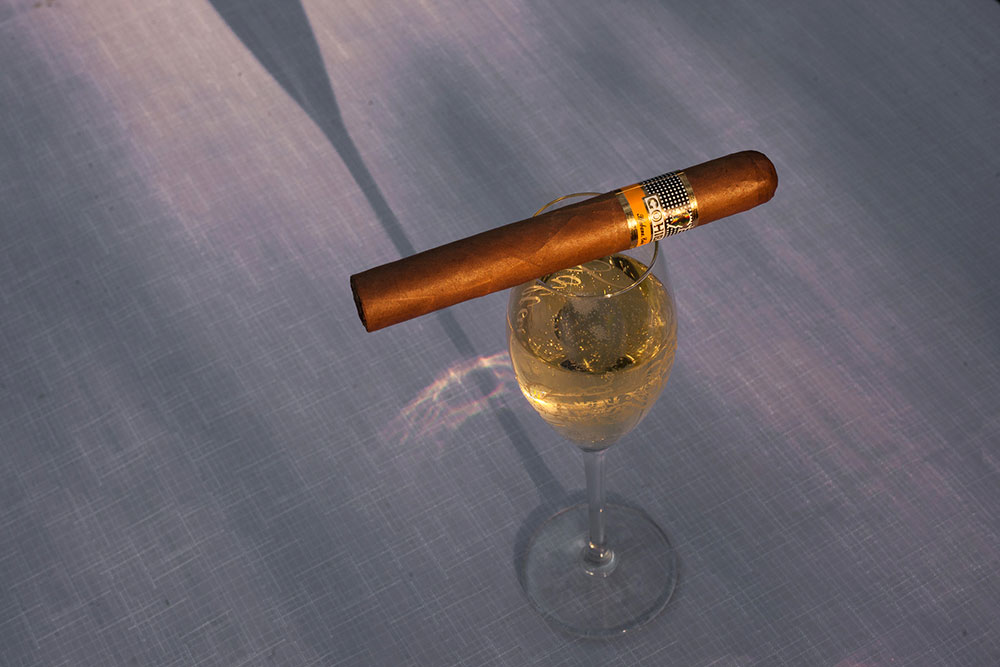 Cohiba Siglo VI Cigar


Cohiba Siglo VI Dry Aroma
The classic Cuban cigar is humidor aged.
The dry draw releases mild roasted nutty, and creamy coffee flavours.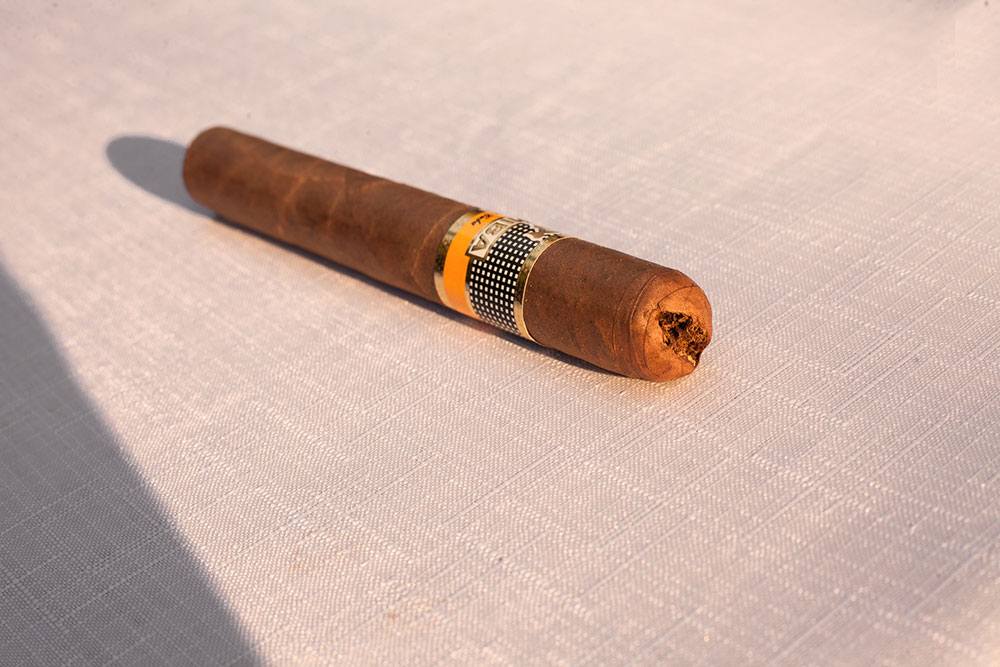 Cohiba Siglo VI Dry Draw
The dry draw is smooth but tight. The dry draw has creamy coffee cappuccino with toffee flavours.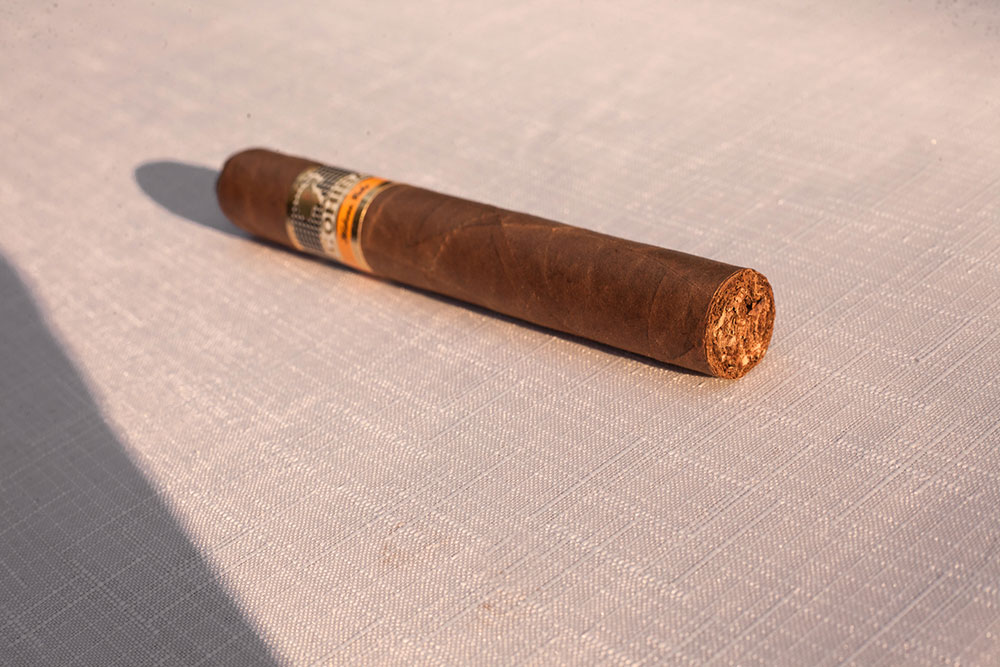 Cohiba Siglo VI Smoke Aroma
The Cohiba Siglio VI smoke aroma releases toasty frying toffee and caramel scents. The cigar has a golden glow with a beautiful wrapper showing light veins in the autumn sun.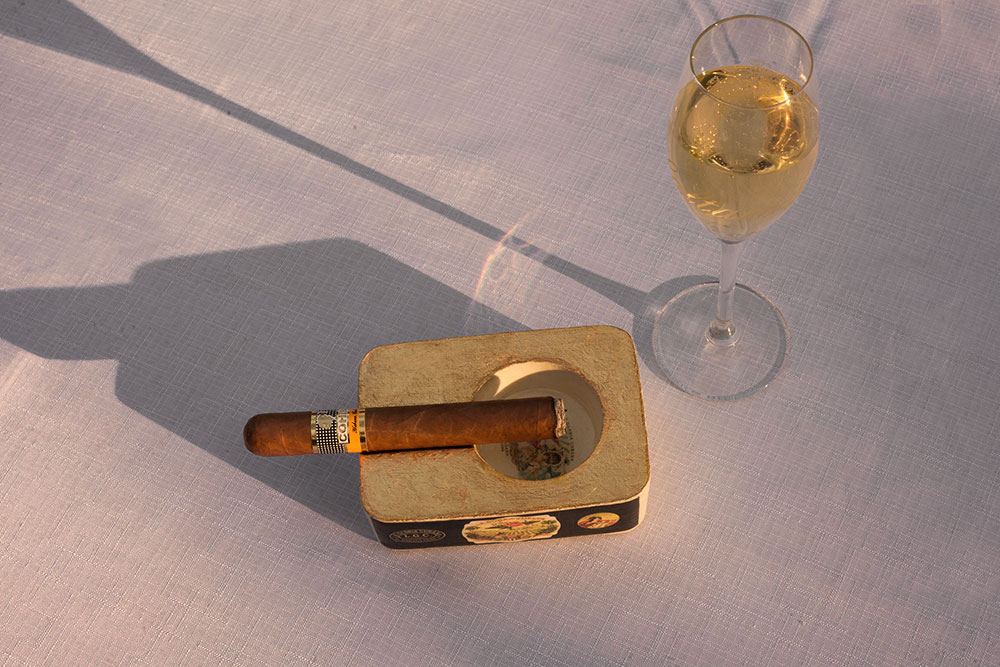 Cohiba Siglo VI First Puff
The first puff is dense, creamy and smooth. It is a Cuban cigar. The Cuban characteristics are prominent and very tasty. The cigar smokes mild with full caramel flavours and hints of fruit. Pecan nuts flavours are notable. The pecan nut shortbread is a great flavour pairing with toasty Cuban Siglio VI.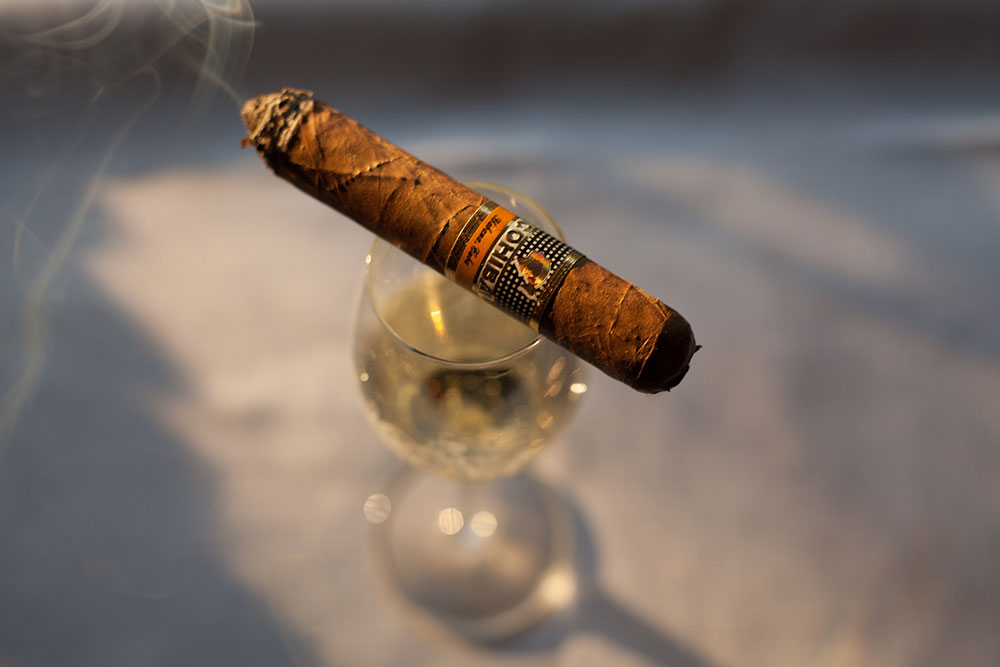 Laurent Perrier La Cuvee Brut Champagne Pairing
The Champagne offers fruity flavours, while the Cohiba Siglio VI offers toasty caramel tastes. I visualize fine dining restaurant food. Think of a chef serving champagne mouse with toasted melted toffee as a dessert plate.
The Champagne has no rich buttery tastes. Flavours of ripe peaches with voluminous bubbles are subtle and delicate.
The essence of Laurent Perrier La Cuvee Brut Champagne is purity, freshness and elegance in each sip.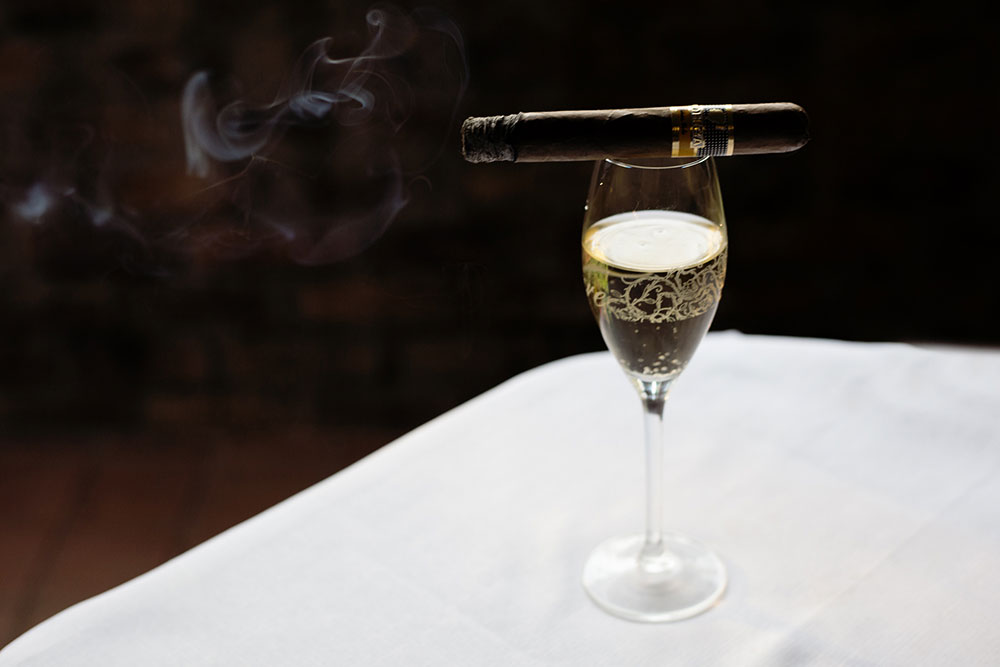 Pairing Evolution
Don't expect bold and pungent flavours if you decide to pair a Cuban cigar and a French Champagne. Everything about the pairing is subtle and elegant.
The light fruity Champagne and the Cohiba Siglio VI cigar combine macaroon, cappuccino cream, and toasted toffee caramel flavours. The Champagne and Cohiba evolve deeper into notable tastes and flavours.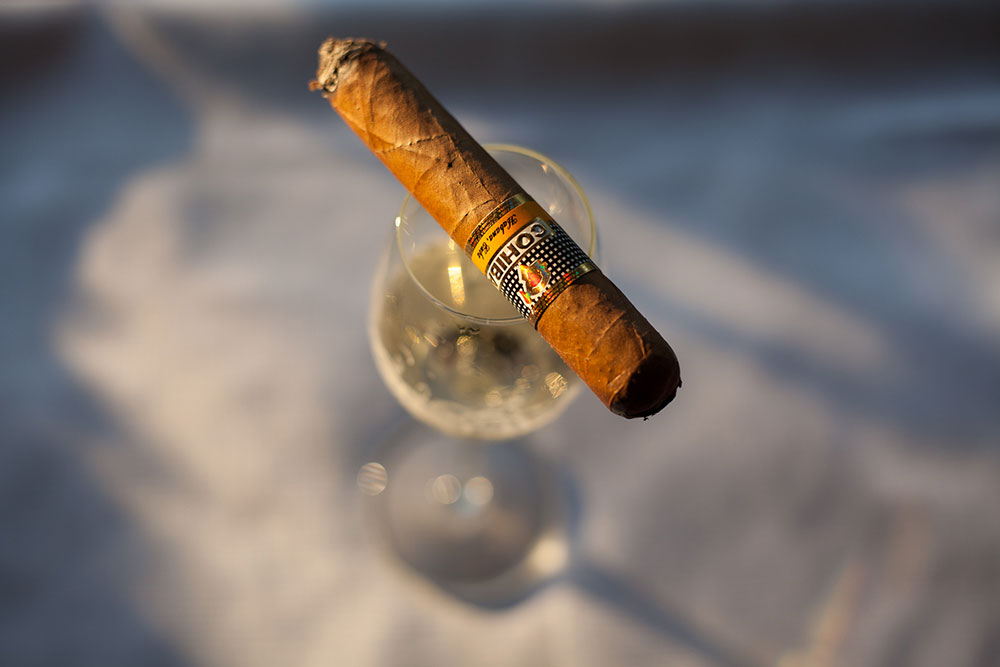 Champagne and Cohiba Pairng Conclusion
A Cuban cigar smokes creamy. Most Cuban cigars have a mild profile that delivers a creamy, toasty smoking experience.There is nothing like the taste of Champagne. That is if you enjoy alcohol and fine wines. Champagne embodies elegance.
The cigar pairing finished by delivering consistent melted toffee and caramel flavours with hints of creamy coffee.Towards the last puff, there were hints of melted darker chocolate flakes.
To put the final pairing notes in one phrase, I would say Fruit mousse with melted toasted toffee caramel.
You can order Laurent Perrier La Cuvee Brut Champagne by the glass at Pedrio Portia Cigar Lounge.
Enjoy the elegance and refined tastes of the Laurent Perrier Champagne and Cohiba Siglio VI.
Light up a Cuban classic, The Cohiba Siglo VI