Posted by Francois Pistorius on 26th Jul 2022
Condega cigar pairing
A pairing in two parts. Sometimes you find a cigar that tastes so good you want more. Most pairings are a single smoke. The condega series allowed for a double pairing to explore more of the tastes and flavours of the Nicaraguan gem.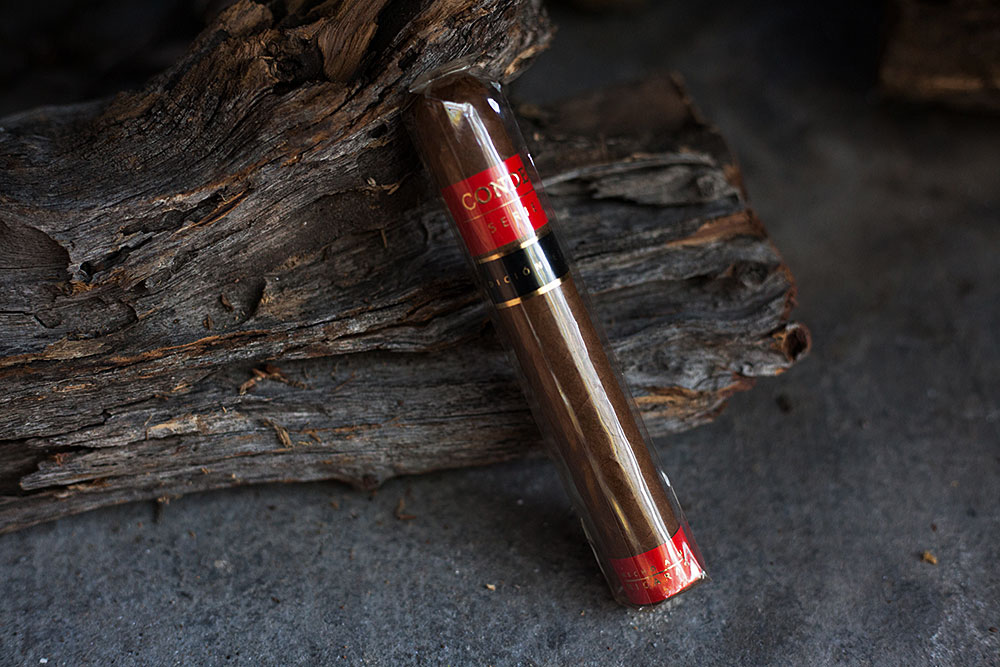 Condega Cigars
Condega is one of the three main tobacco-growing areas of Nicaragua. Condega, located north of Estelí, is a quiet town near the Cantagallo Mountains. The land, known for its orchids, and small cacti growing near the region's tobacco fields. Tobacco from Condega tends to be more medium-bodied than the tobacco grown in Estelí and stronger than the tobacco grown in Jalapa.
Condega is a cigar brand created to tribute to the great valley of Condega in Nicaragua's tobacco region. The goal has always been to provide high-quality cigars with an excellent price quality. This approach has allowed Condega to become Spain's #1 top-selling premium Nicaraguan brand. Condega is the result of the world-famous master blender Arsenio Ramos and supervised by Jacinto Iglesias.
The Cuban engineer responsible for Fernandez's plantations. He has over 30 years of experience in Cuba and almost 20 years working in Nicaragua.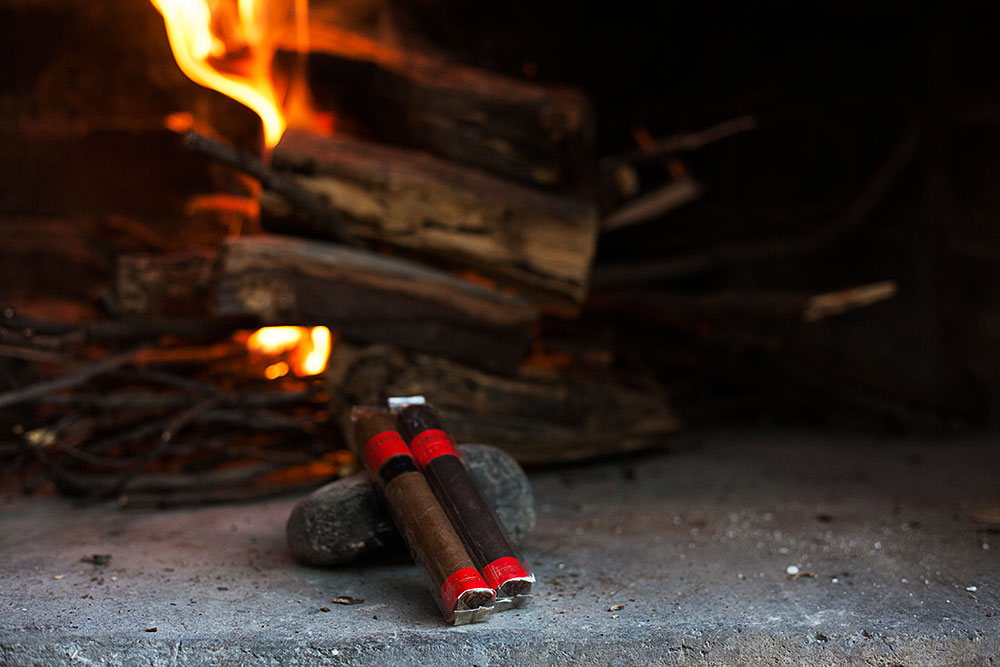 Taste, dimensions, tobacco and style
The Robusto of the Condega Series F Nicaragua's Casa Fernandez (Esteli) factory produces the premium cigars. All tobaccos for this cigar come from Nicaragua. On the tongue notes of cinnamon and a subtle sweetness. Combined with the medium strength, this results in a tobacco suitable for both beginners and advanced cigar smokers.


Condega Series F
cinnamon
cocoa
nutmeg
earthy
woody fruity
mild and sweet
coffee and pepper
chocolate flavours
The Condega Serie F line of cigars:
Condega Maduro and Condega Arsenio.
Format Robusto
Origin Nicaragua
Filler Country
Nicaragua Binder
Country Nicaragua
Production: hand made
Strength medium Cigar
Brand Condega Serie F
Wrapper Country Nicaragua
Taste Cinnamon, Sweetness
Type of filler Long-Filler Wrapper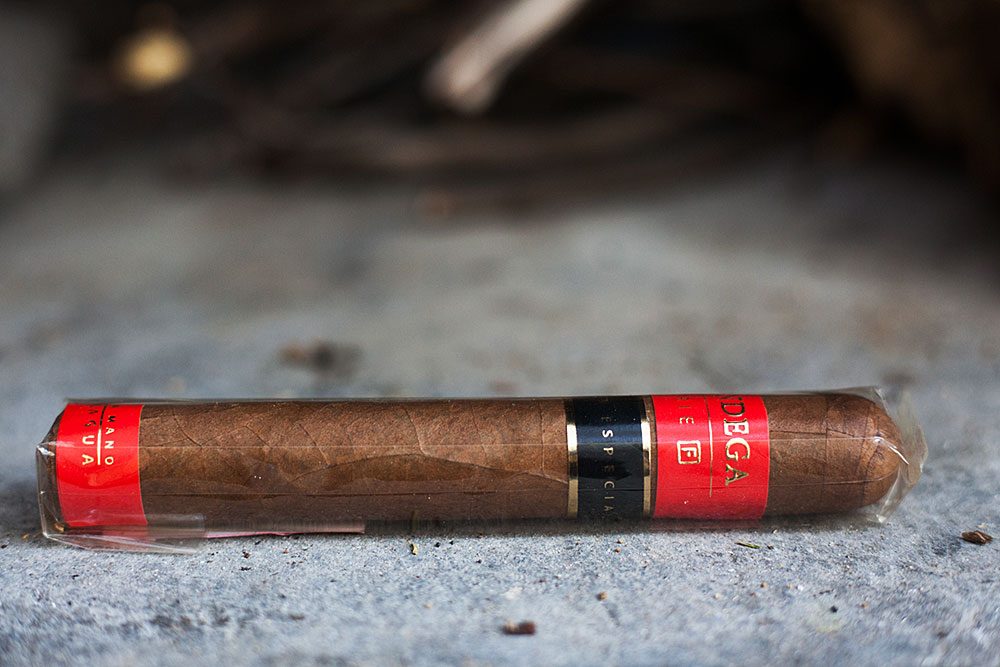 Haut-Medoc Cru Bourgeois Chateau Barreyres 2014
A jewel of the Médoc
A magnificent vineyard, a prestigious château, a timeless motto, and a selection of elegant wines made in the Médoc. The Chateau produces sustainable wine growing and winemaking under the gaze of mythological statues. It is a Chateau that embodies the French way of life.


Chateau Barreyres Sphynxes
Two mythological creatures have made their home in the space that divides the land and the estuary. It's a grand french Chateau producing magnificent wines. Two majestic female sphynxes watch over the château, its cathedral-like winery and luscious park. Swans glide on the surface of the large pond to add a sense of calm to the estate. The sphinxes guard the spirit and quintessence of Château Barreyres' wines.
Pierre Castel acquired the château in 1971. With patience and determination, he set about establishing a 101-hectare vineyard. He still enjoys strolling through the Barreyres vines as the sun rises. Wandering into the morning mist, immersed in the timeless spectacle.


The Splendour of the soil
As a mark of respect for the varied terroirs at Château Barreyres, the team has taken a plot-by-plot approach to winemaking. The plots are all treated unique to allow for the best fertile wine-growing soil. The vines extend around the château on soils, clay, and sandy gravel subsoils.
On soils composed of Pyrenean gravel thrives, the Cabernet Sauvignon. Cabernet Sauvignon makes up 55% of the vineyard. Clay soils provide the perfect conditions for Merlot, which makes up 45% of the vineyard. At Château Barreyres, the team works daily to protect the local flora and fauna. The environmentally-conscious approach supports sustainable agriculture principles.
The approach considers the natural surroundings, the vines, the men and women who work at the property, and the wines. Terra Vitis aims to maintain a living, fertile soil through methods that limit interventions.
Excellence in Winemaking
As harvest approaches, a rigorous selection and tasting process determine the optimal level of maturity for each plot of vines. The winemaker sorts the harvest in the vat-house. Sleek, modern stainless steel vats bring out the elegance of the terroir.
The maceration temperature reduces to prevent bitterness before the harvest transfers to 14 wooden vats. The final stage of the winemaking process is the ageing, carried out in 1,600 barrels, supplied by 5 of the region's finest coopers. The barrels age in the light of the cellar's stained glass windows, crafted by master glassmaker Raymond Miranda.
Château Barreyres has a reputation for remarkable wines with elegance and finesse.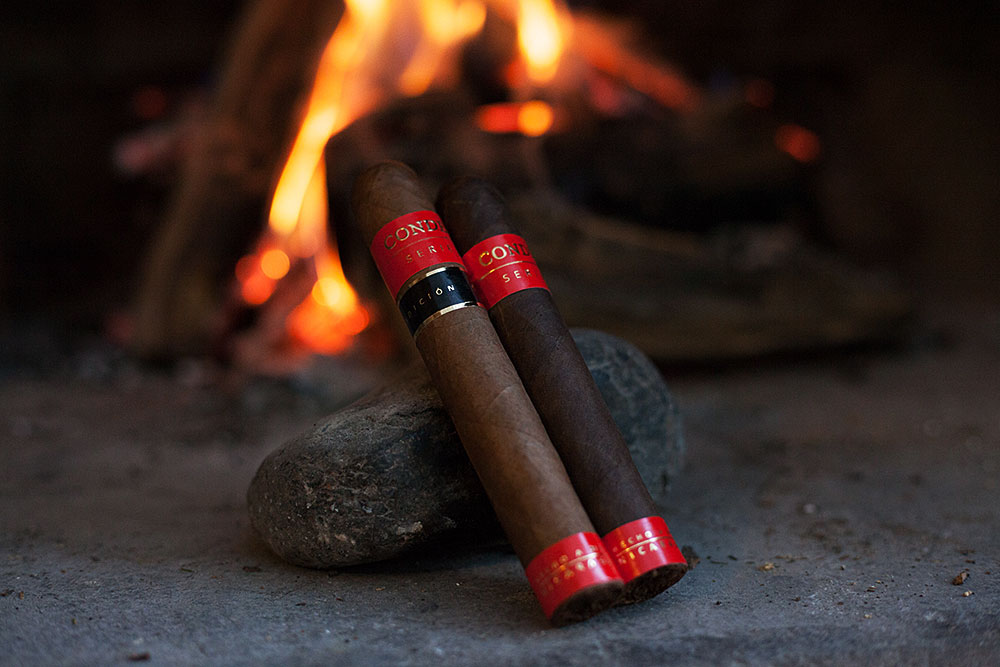 Château Barreyres, Cru Bourgeois
It is an intense, almost glassy dark red wine. With its deep fruit aromas, the nose is full of fruit scents. Notes of redcurrant balance smooth aromas of vanilla and autumn forest spices. This Haut-Médoc Cru Bourgeois is powerful, silky and lively on the palate.
The finish is long and balanced, with pleasant oak offering tobacco notes promising remarkable ageing potential.
91 pts – James Suckling – vintage 2017
Gold Medal - Concours de Paris – Vintage 2017
Gold Medal - Concours de Macon – Vintage 2017
90 pts – James Suckling – Vintage 2018
Gold Medal – Concours de Bruxelles – Vintage 2018
Gold Medal – Concours Prix Plaisir Bettane & Desseauve – Vintage 2018





Haut-Medoc Cru Bourgeois Chateau Barreyres 2014
pairings
The wines of Chateau de Barreyres pair perfect with charcuterie and duck terrine with hazelnuts. You can also pair the red with sautéed porcini mushrooms with fresh herbs. It is also perfect with salt-baked lamb or roast pigeon. Precision winemaking and barrel-ageing provide elegant tannins and excellent balance.
It enables Château Barreyres wines to stand up to dry-aged steaks.
And, of course, the wood ageing develops tobacco notes making this red Bourdeaux the perfect cigar pairing red wine.
Haut-Medoc Cru Bourgeois Chateau Barreyres 2014 red wine
Medium body, deep garnet colour. Elegant ripe fruits, oak and dried spices aroma. A plummy and peppery palate complements dark chocolate and an earthy finish. Silky and easy drinking, complex and balanced, lovely acidity and well-integrated tannins.
Serve at 15 – 18 degrees.
Castel, the largest drinks producer in France, owns the Chateau. It is a smooth and soft red wine that will develop quick. It has a light tannin structure behind the easy blackberry fruit.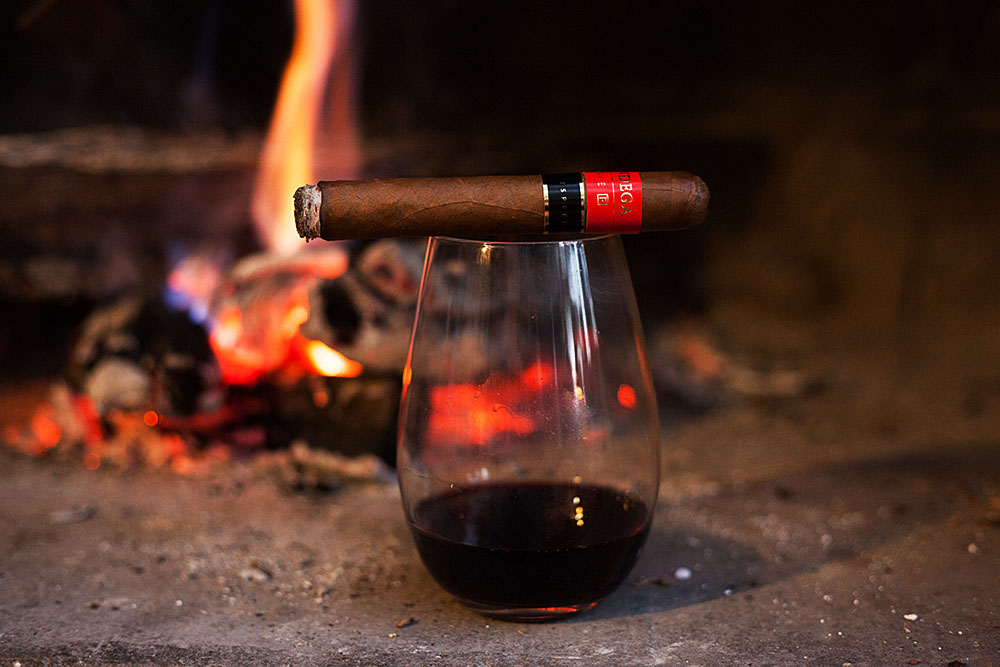 Haut-Medoc Cru Bourgeois Chateau Barreyres 2014 red wine aroma
The red wine has a velvet look. The wine release scents of traditional aged french wine. It's a delicious wine that pairs with almost anything and compliments the Condega cigars. wet soil Black fruit mushroom forest moisture milk chocolate sweetness the subtle sweetness of black fruit.
The Classic Bourdeaux nose presents aged red wine scents of truffles, black fruit and yoghurt.


Haut-Medoc Cru Bourgeois Chateau Barreyres 2014 red wine Taste
black fruit
silky velvety
sweet acidity
french camembert
dry fruit sweetness
A smooth wine with incredible balance.
There is a reason wine lovers celebrate french wines worldwide. The wines have balance and subtle characters. It is never too bold or bland, making the wines ideal to pair with food and cigars.


Independent Haut-Medoc Cru Bourgeois Chateau Barreyres 2014 wine reviews
Well-integrated oak adds a bit of complexity to the dark fruit profile. Smooth tannins and medium acidity. The drinks well now.
Full-bodied yet not overpowering. The wine drinks with a multitude of flavours. One of our favourites
Cabernet Sauvignon 55% and Merlot 45% Medium body, deep garnet colour. Elegant ripe fruits, oak and dried spices aroma. A plummy and peppery palate complements dark chocolate and an earthy finish. Silky and easy drinking, complex and balanced, lovely acidity and well-integrated tannins. Food friendly, rice peppers with truffle sauce staff best match. Serve 15º - 18º. Open about two hours ahead. Drink now.
Dry, fruits in the nose, medium body, ready tannins, medium finish. Love it.
Attractive berry aromas link to blackcurrant and plums, with smooth tannins.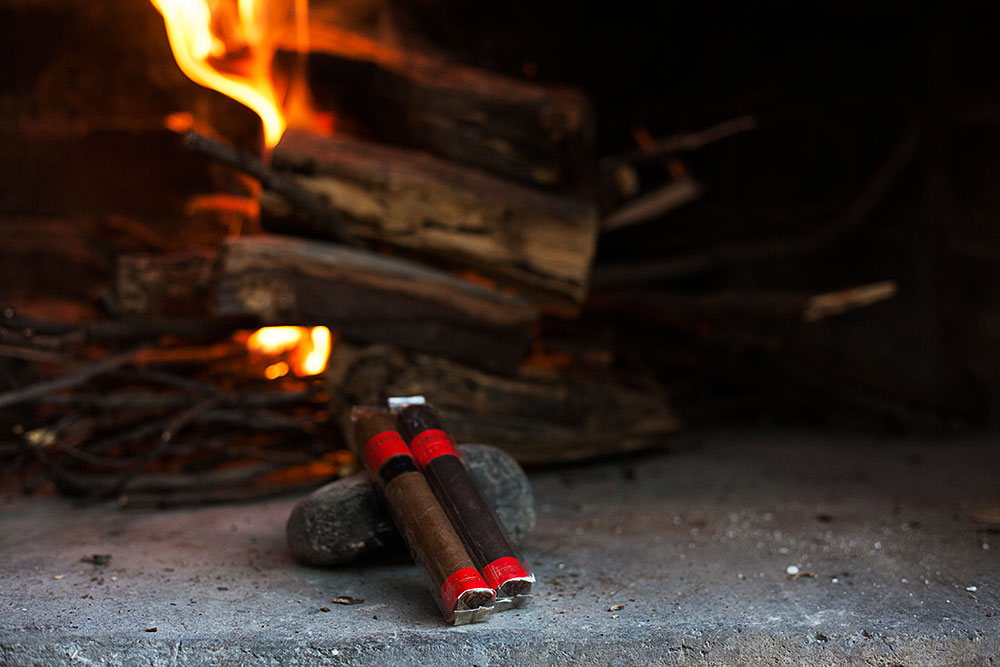 Condega Cigar Pairing Part 1
Condega Series F Maduro
Condega Series F Maduro dry aroma
Condega Maduro cigar dry aromas: vanilla dry wood fresh floral cinnamon notes subtle nutty tobacco notes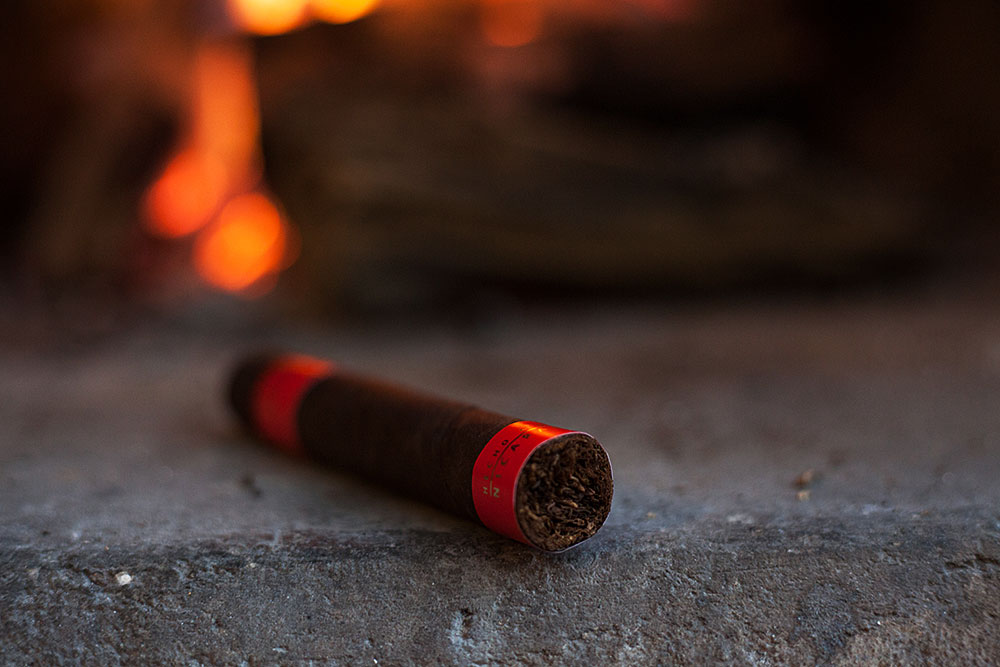 Condega Series F Maduro dry draw
cookies light tobacco hints of espresso coffee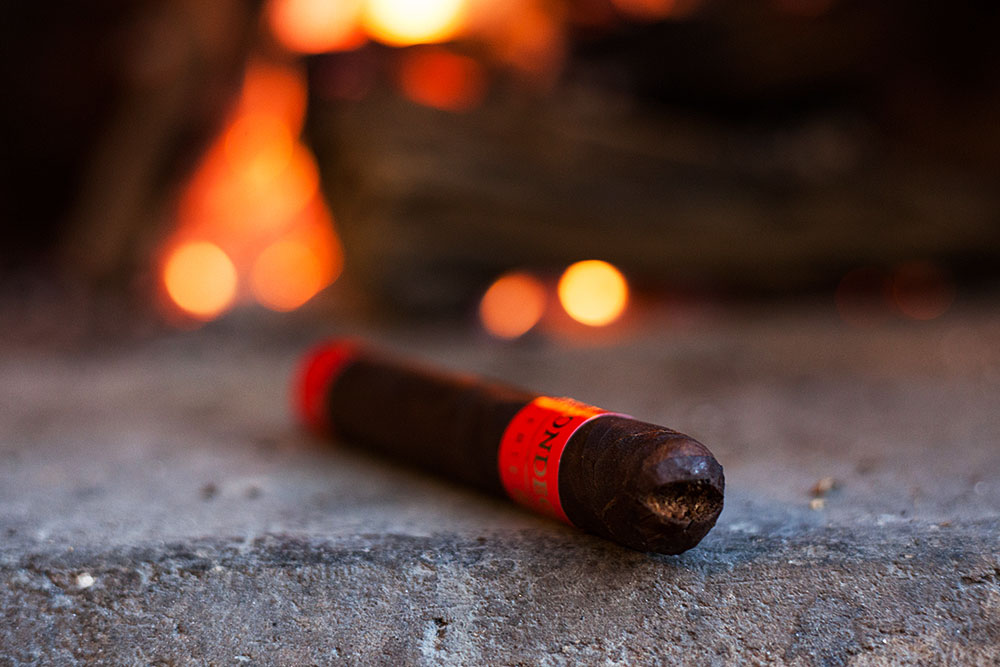 Condega Series F Maduro first puff aroma
The cigar release wonderful toasty and flamed marshmallows aromas. The Maduro sweetness balance the toasty notes.


Condega Series F Maduro & Haut-Medoc Cru Bourgeois Chateau Barreyres 2014 Pairing
Scents and tastes from the pairing: depth flavourful dark berries dark chocolate espresso notes dark chocolate mousse and berries It is a super Maduro with mushroom and camembert ripeness from the french red. The cigar has full body tastes and flavours but delivers a mild to medium smoking experience.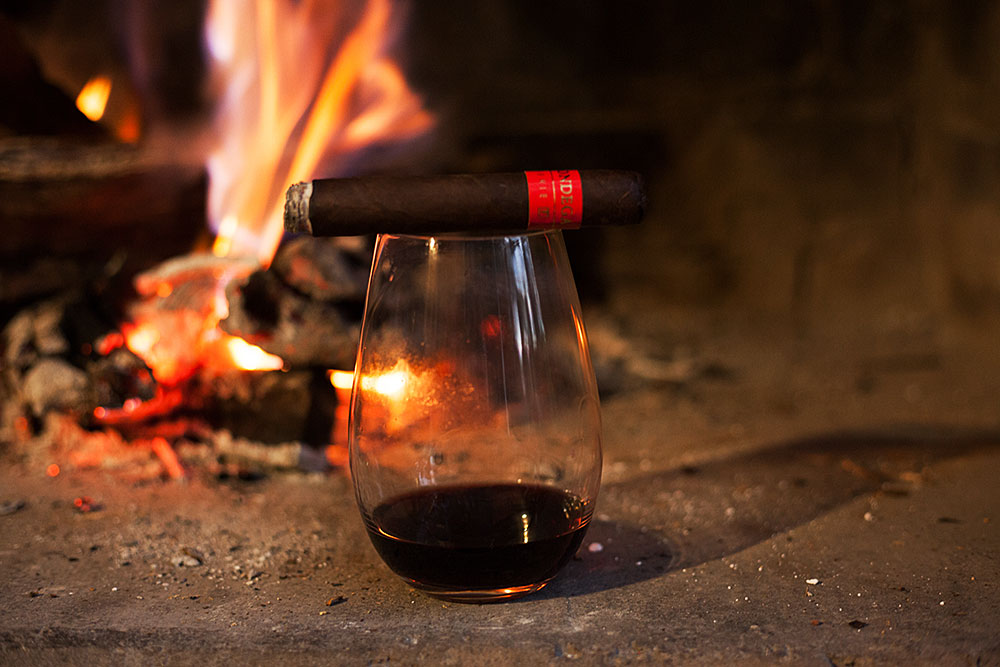 Condega Series F Edition Especiale Arseno
Hecho Amano Nicaragua


Condega Series F Edition Especiale Arseno Dry Aroma
The Habano Condega dry aromas: hazelnut light cocoa vanilla pods Light cookies meaty biltong flavours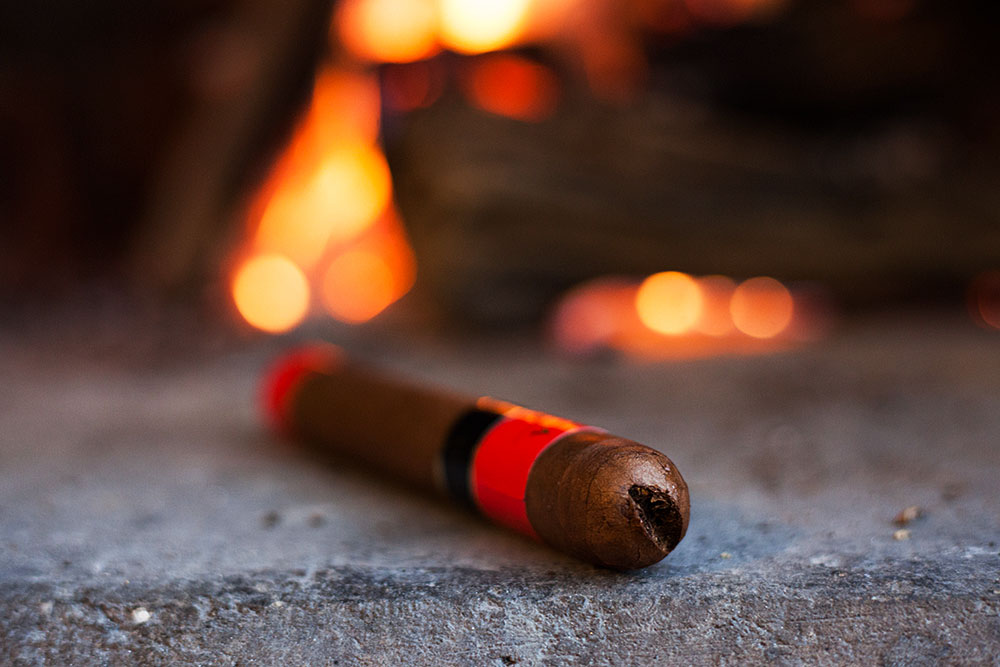 Condega Series F Edition Especiale Arseno Dry Draw
sweet vanilla hazelnut and milk chocolate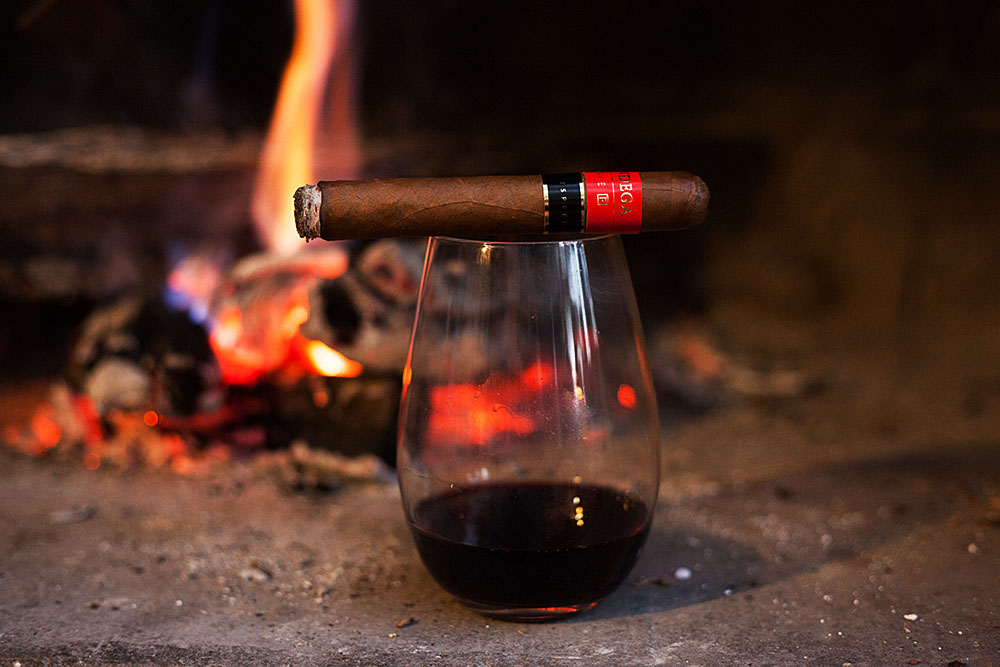 Condega Series F Edition Especiale Arseno First Puff
marshmallows light chocolate creamy Connecticut style and flavour cigar The Condega Arseno has lighter falvours. The cigar is toasty with a mild to medium strength and delivers wonderful smooth flavours.


Condega Series F Edition Especiale Arseno Haut-Medoc Cru Bourgeois Chateau Barreyres 2014 Pairing
Condega Arseno pairing notes: truffle pungent black fruit dry sweet toasty notes pairing berry skins with toasted marshmallows The Arseno Habano smokes dryer than the Maduro. It has a great balanced flavour that stays consistent throughout the pairing.
The wine fruit tastes lift the toasty cigar notes to add sweetness.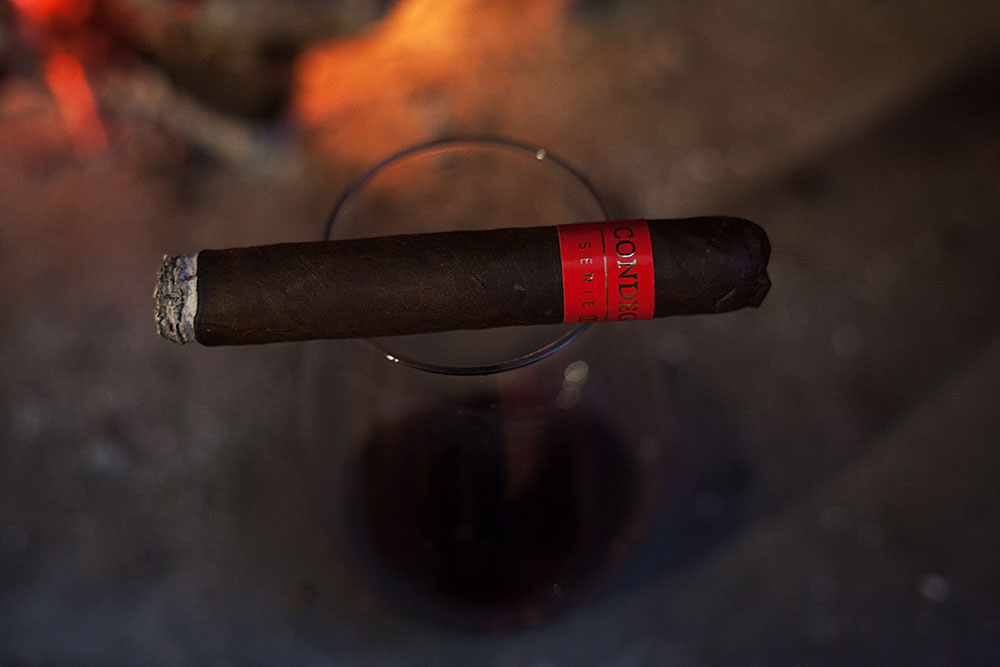 Pairing Conclusion
Maduro
coffee cherry sweet filled with flavour impressive slow burn sweet barbecue tastes smokey meaty flavours peppered steak but light Any time of the day cigar.
Habano
cinnamon food cigar caramel finish The Habano smokes fantastic after bacon and eggs with creamy coffee. It is a slow smoke. The slight toasty dryness makes the cigar a better choice after breakfast. After a savoury lunch, or dinner to complement the Habano wrapper.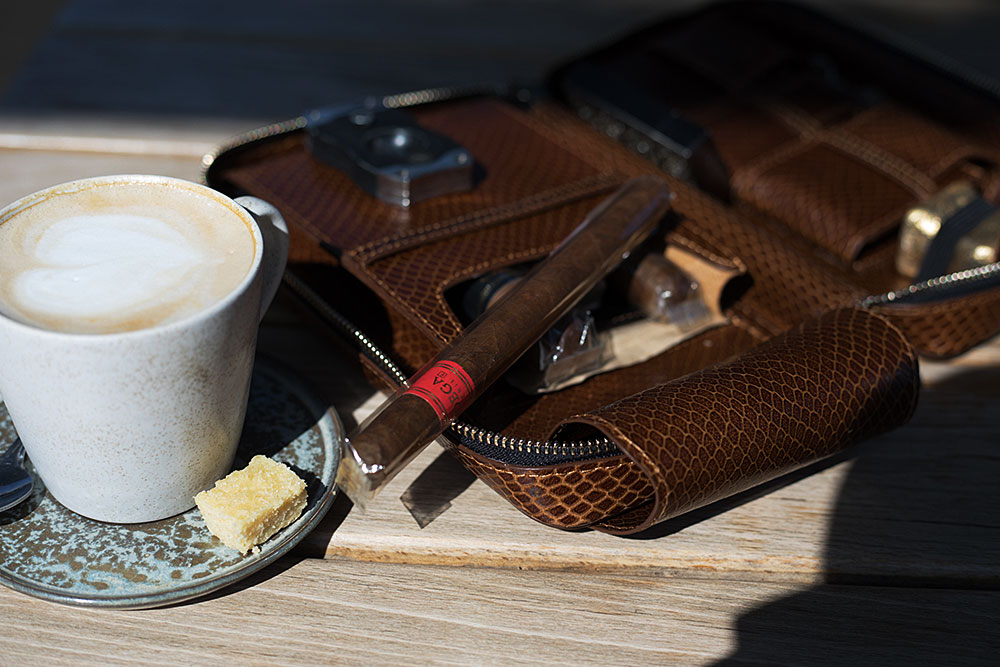 Condega Pairing Part 2
If you enjoy a cigar, smoke more. The time of the day does affect the cigar, but a great cigar smokes well any time of the day. Part two of the pairing is in warmer weather during the day.
Condega Maduro serie F Part 2
Condega Maduro Serie F Dry Draw
soil caramel Moisture creamy richness fragrant soil aroma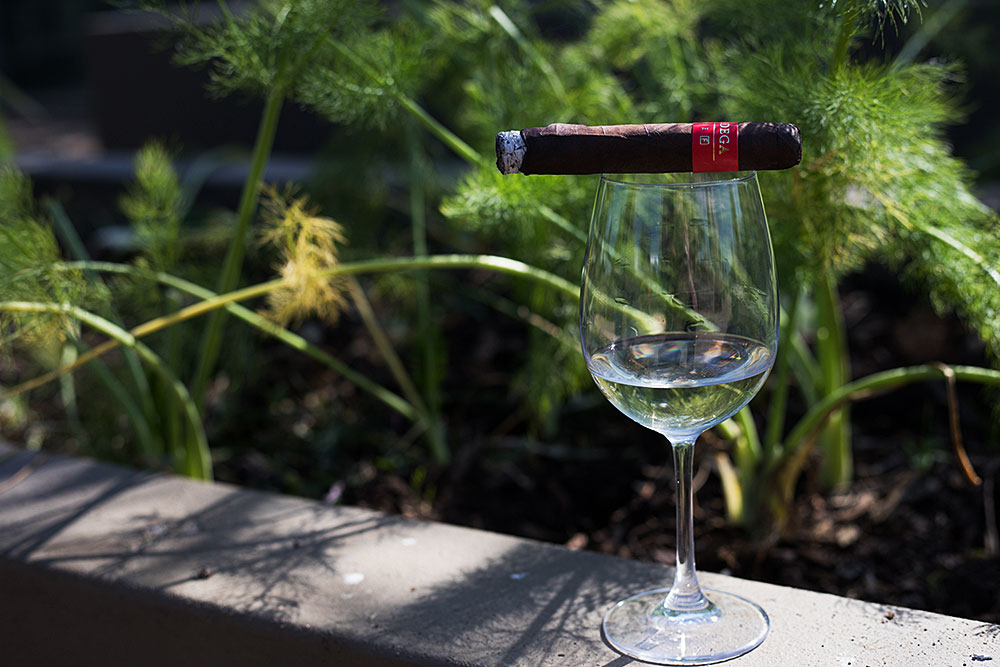 Condega Maduro Serie F Dry Aroma
figs Sweetness light pepper spice sweet and creamy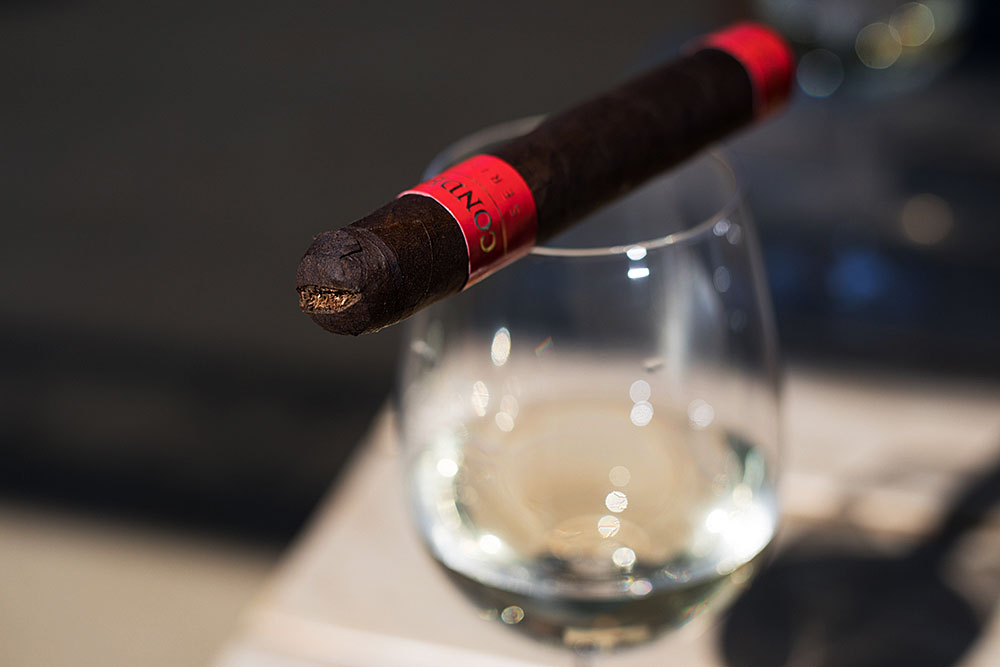 Condega Maduro Serie F second Puff
The Maduro has a beautiful sweetness from the start. The cigar pairs perfect with an espresso coffee. The coffee is a lighter blend that compliments the Maduro wrapper's sweet cocoa tastes.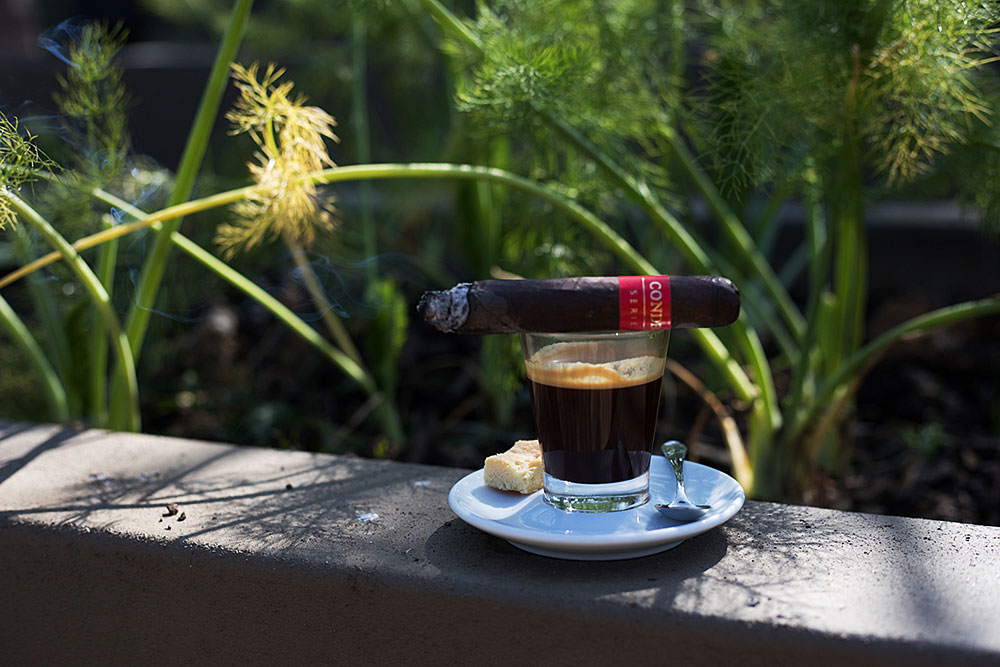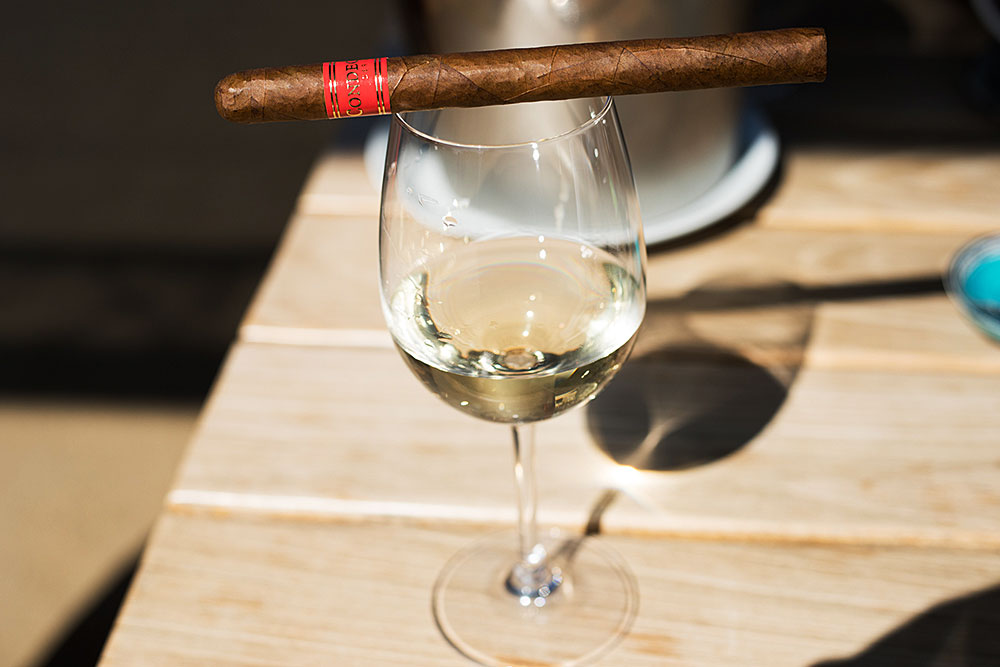 Condega Lancero
Condega Lancero dry aroma
pastry caramel sweetness shortbread white pepper
Condega Lancero dry draw
Figs
coffee
coacoa
carmale
potato bread
freshly bakes sourdough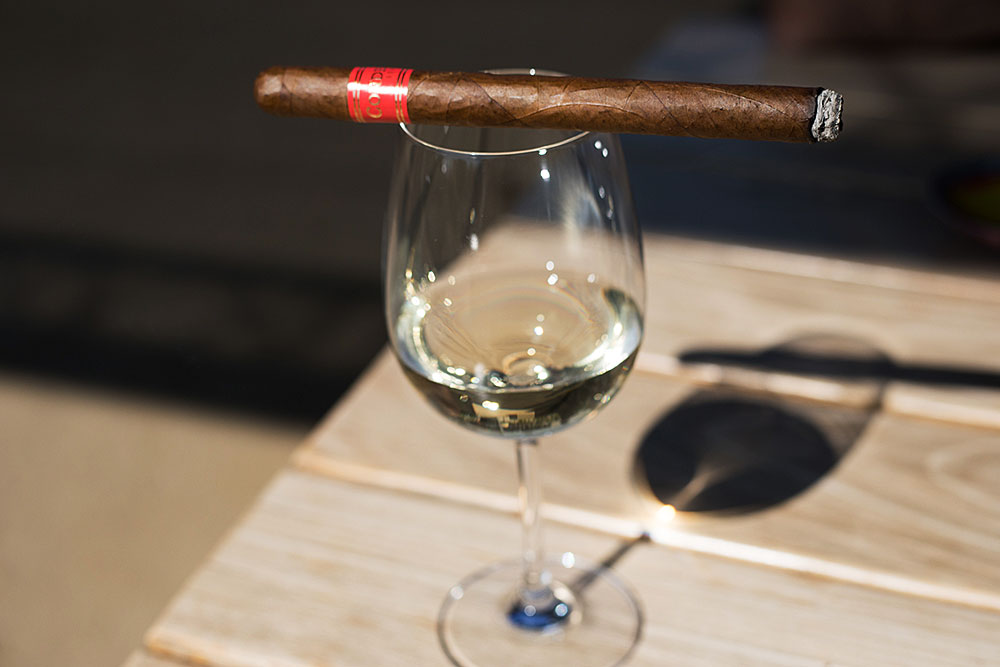 Condega Lancero First puff
A cigar with abundant flavour that delivers caramel and creamy flavours with a long pastry finish. The Lancero has a caramel and baking spice aroma. It's an incredible Lancero to enjoy at first light or any other time of the day.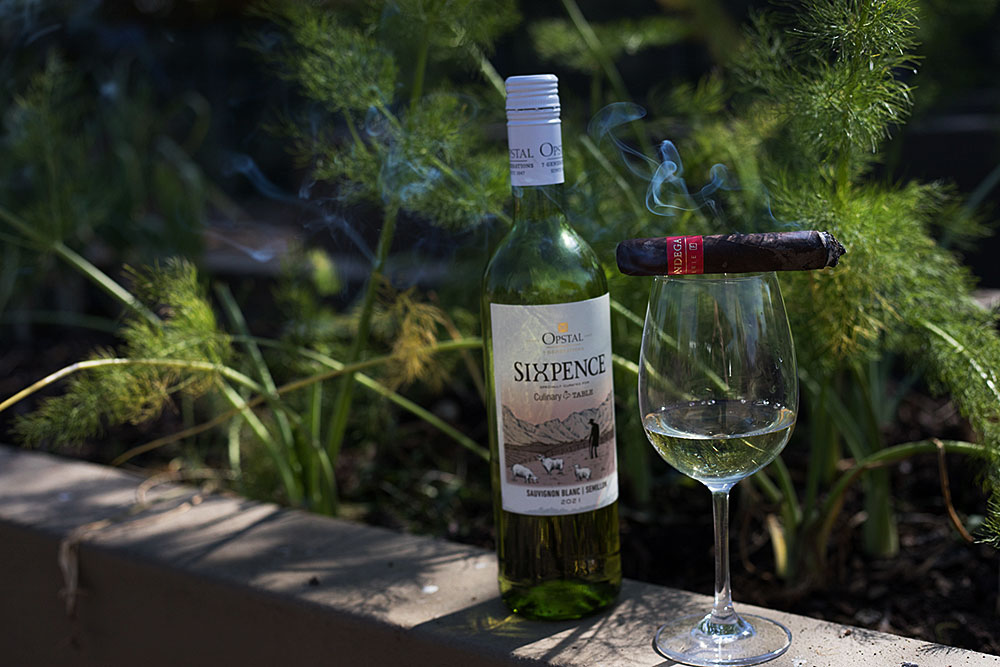 Opstal wines
A seven-generation wine story. A farm nestled in the picturesque Slanghoek Valley with breathtaking views of vineyards, fynbos and mountains. Opstal Estate's rich history dates back to 1847 when JC Rossouw acquired the farm De Opstal bij de Fonteine. Over a century later, in 1950, 4th generation Carl Everson decided to continue making wine. Today, Opstal has a wide range of quality estate wines under three different labels:
The fun, easy drinking and pocket-friendly Sixpence Range.
The classical and food-friendly Estate Range
The premium Heritage Range
Multiple 5-star Platter award-winning Carl Everson Chenin Blanc is the crop's cream. Thirty families live and work permanently at Opstal. They created the Sixpence range to tribute to all the people working on Opstal.


Opstal Sixpence white blend Pairing
Opstal Estate's fresh Sixpence white blend opens with an abundance of citrus notes. The wine has vibrant acidity and a well-rounded finish. The entry-level wine has a waxy mouthfeel with full citrus tastes and flavours but is light in alcohol. The wine complements the Condega cigars with citrus sweetness and a smooth white wine flavour blend.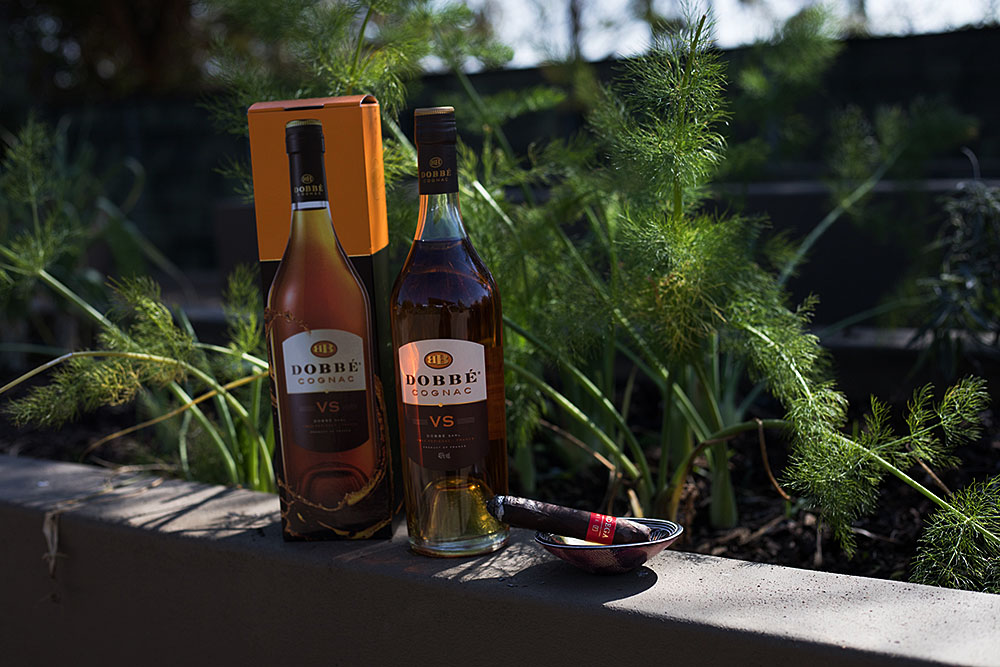 Dobbe Cognac
A family history
For ten generations, the Dobbé family has produced exceptional cognacs in Salignac-sur-Charente. A small village near Cognac in France. The family's vineyard estate extends over the Petite Champagne area. It is one of the largest and most prestigious crus in Charente.
Ten generations, one passion for cognac
It all started around 1787 when the family acquired a few acres of vines. Then, gradually, harvest after harvest, each vineyard began to produce its first cognacs. There have been ten generations of passionate wine growers and distillers on this challenging land, passing down from father to son and mother to daughter. The house of DOBBÉ has strong values and guided by generations who love the land.
Michel Dobbé and his wife, a descendant of the founder, have combined tradition and modernity to produce high-quality DOBBÉ cognacs. Today, the new generation continues the family heritage.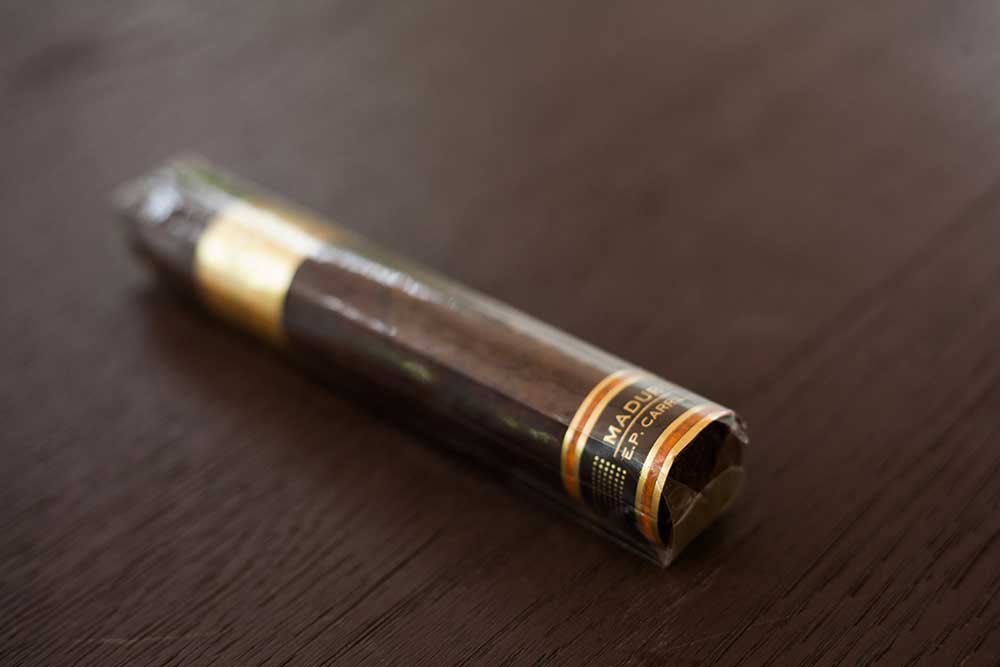 A family estate in Petite Champagne
The Dobbé family's vineyard estate covers 35 hectares, two-thirds located on the sun-drenched hills of Petite Champagne. The remaining third is in Dompierre in Fins Bois, on the banks of the Charente. It is a fertile area which produces full-bodied cognacs.
Dobbe Cognac Pairing
DOBBÉ Cognac VS (Very Special), the first cognac in the range, will appeal to those who love pure flavours. Its rich, golden hues reveal a well-developed character with floral and fruity notes.
The Cognac has a warm, intense finish. The fragrance of tea accompanies its wonderful aroma of vanilla oak, hazelnuts and dried figs. Enjoy the young, fresh cognac with your cigar.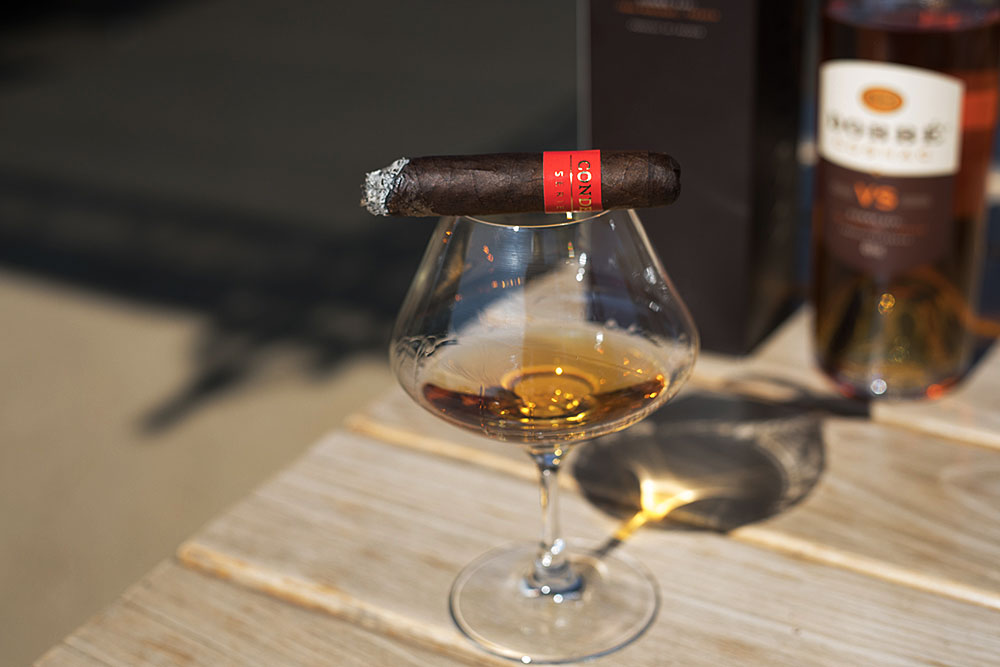 Dobbe Cognac Aroma:
Apricot
Dobbe Cognac Taste:
Silky with a smooth velvet mouthfeel. Perfumes have an oily aroma and are fragrant on the nose. Tastes and flavours of apricot jam with a waxy mouthfeel. The cognac release rose perfume scents with loads of caramel on the aftertaste. The cognac drinks are floral and light and add a caramel fruit finish paired with the Condega cigars.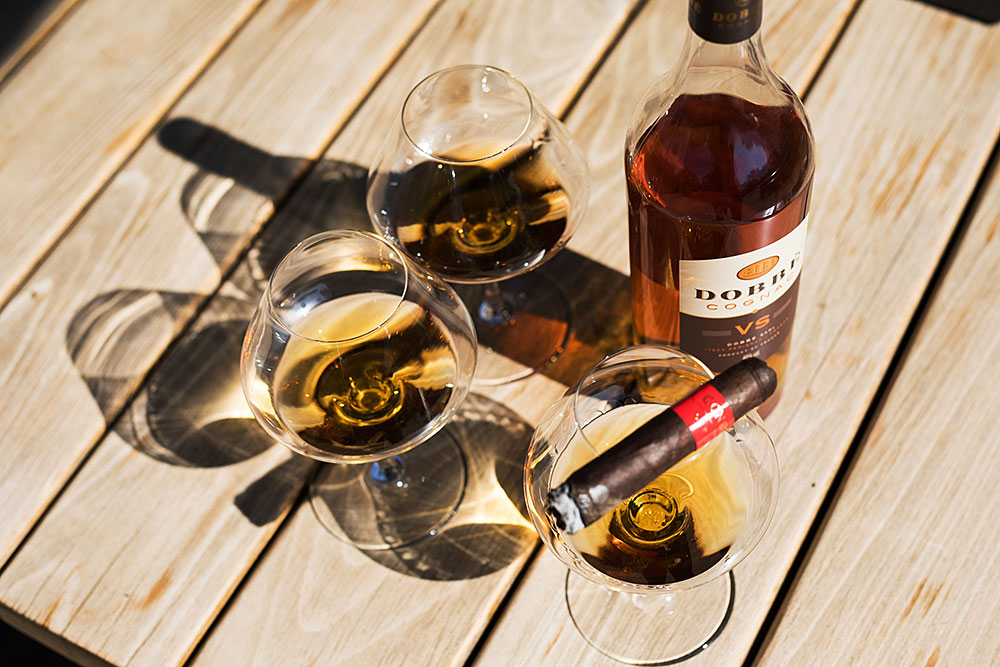 Touzeau Napolean Brandy Pairing
Brandy Touzeau Naoplean
TOUZEAU" BRANDY NAPOLEON Brandy (from Brandywine, derived from Dutch brandewijn, "burnt wine" is a spirit produced by distilling wine. Fermenting grapes produces brandy. Michel Dobbe, the founder of the House of Dobbe, has created a strong brand.
The marketing strategy of the House of Dobbe appeals to the younger generation. The creative and original packaging and advertising reflect its dynamic brand image. Touzeau is a noble and elegant brandy handcrafted and produced in prestigious vineyards in France.
Aged for years in oak barrels. This amber-coloured brandy stands out with abundant flavours and a unique velvety texture. Depending on the assortment, Touzeau brandy has a fragrant bouquet of dried fruits. A floral spectrum and a hint of vanilla or by strong floral notes supported by fruity notes.


Brandy Touzeau Naoplean Aroma
Red apples lemon peel
Brandy Touzeau Naoplean Taste
Oily and waxy with fruity apple acidity and flavours that swirl on your palate.
Brandy Touzeau Naoplean & Condega pairing
Sweet apple caramel with toasty baking spices makes the brandy a brilliant pairing for the Condega cigars.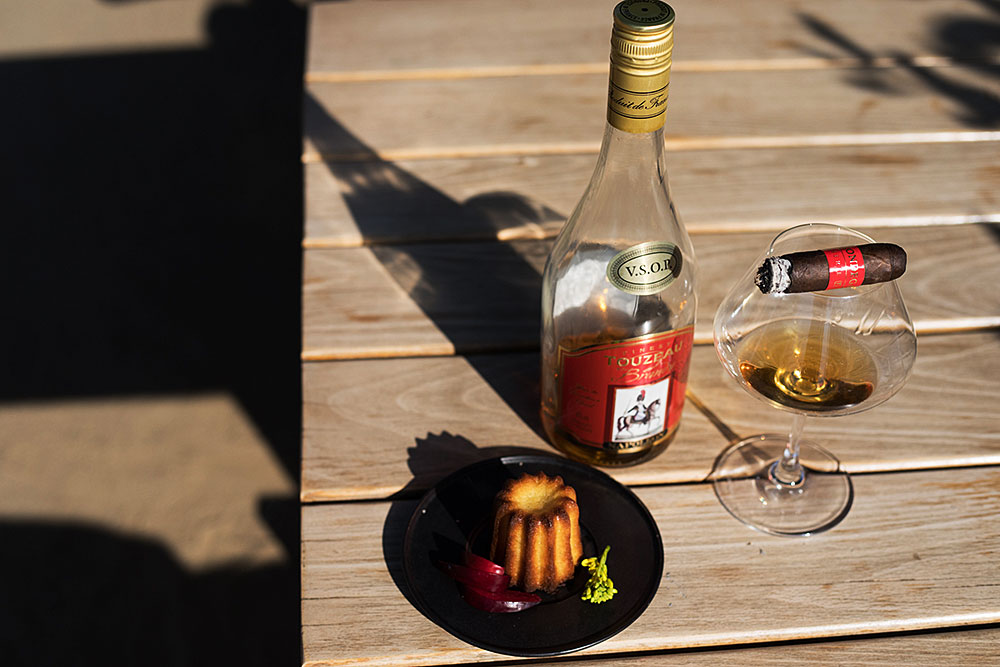 Canales Dessert Finish
The perfect pairing to wine, cognac, brandy and, of course, your Condega cigar. The rich, moist, custardy interior warms a thin, crispy, caramelized shell. As you bite into them, there is a distinct crackling sound. Then your teeth sink into soft, sweet and custardy goodness.
They are as beautiful to look at as they are delicious to eat. The thin, crisp, chewy crust is delicious. The butter-coloured interior has the texture of thick pastry cream. The smell and taste of dark caramel blend with a pleasant, subtle bitterness.


Canales taste and cigar pairing
Orange peel, crispy and crusty with orange cognac tastes. The canales add a creamy custard finish to complement the burned caramel of the Condega Maduro.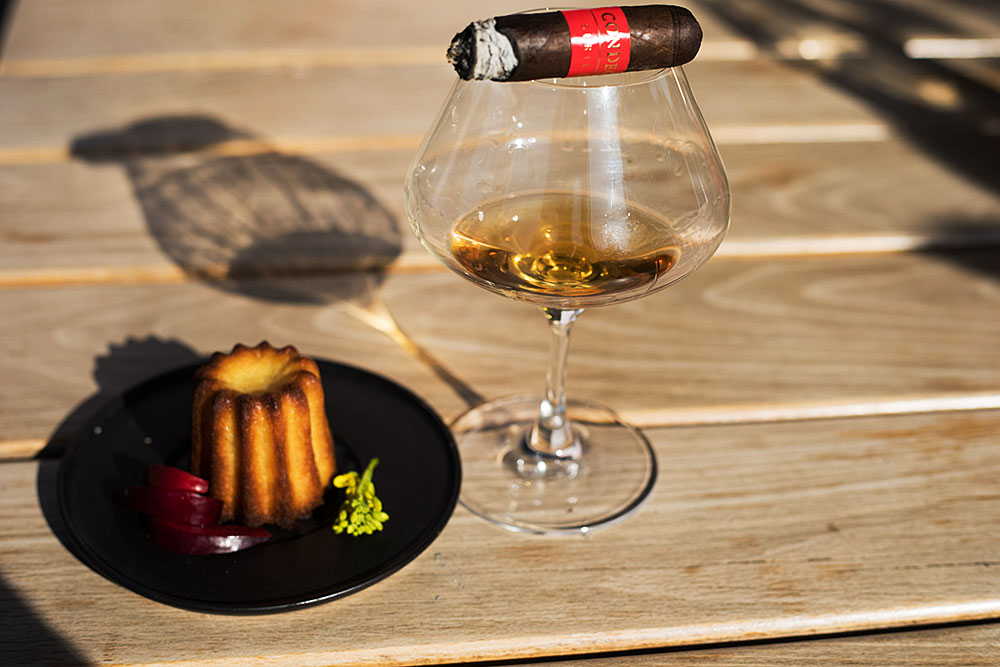 Condega pairing summary
With the Condega Series cigars, you get a decent Nicaraguan cigar at a great price. With a double pairing, there are many tastes and flavours to experience. I will say that French wine, cognac and brandy with Canneles dessert make the perfect complement to a cigar.
The Condega cigar range is a firm favourite. It offers you an excellent day-to-day smoke with flavour but not too strong. It is the perfect in-between cigar if you want an easy flavourful smoke between occasions and bolder cigars.
The Maduro is my favourite. Why? Because it has sweetness, cocoa, and light coffee tastes that blend with sweetness and smokes smooth from start to finish. Try the entire Condega range. There is a time of the day and food and drink to pair with the full range.
The Condega series cigars will load on the website soon.
If you are in or travelling to Gauteng, drop by Pedro Portia cigar lounge and sample the entire Condega Cigar range.
Click the link below to buy the ranage of Condega cigars